Personalization
Homepage Personalization: 3 Ways to Deliver Intelligent Shopping Experiences
Create a personalized homepage experience with these quick homepage personalization tips.
---
Did you know that 80% of consumers are more likely to buy from a brand that provides personalized experiences?
One way to deliver a shopping experience that sets you apart from the rest is to add personalized content to your homepage.
Your homepage is the front door to your online store. It's often your first touchpoint with new shoppers and a familiar stop for loyal customers. That's why it's the perfect place for personalized content.
Homepage personalization uses dynamic content. (Content that changes based on who is viewing it). Typically, the dynamic content your visitor sees depends on some type of user data—like shopping behavior or past engagements with sales promotions.
Intelligent, personalized shopping experiences pave the way to better customer relationships, increased conversions, and more sales.
Read on to learn three ways to start delivering intelligent shopping experiences your customers will love.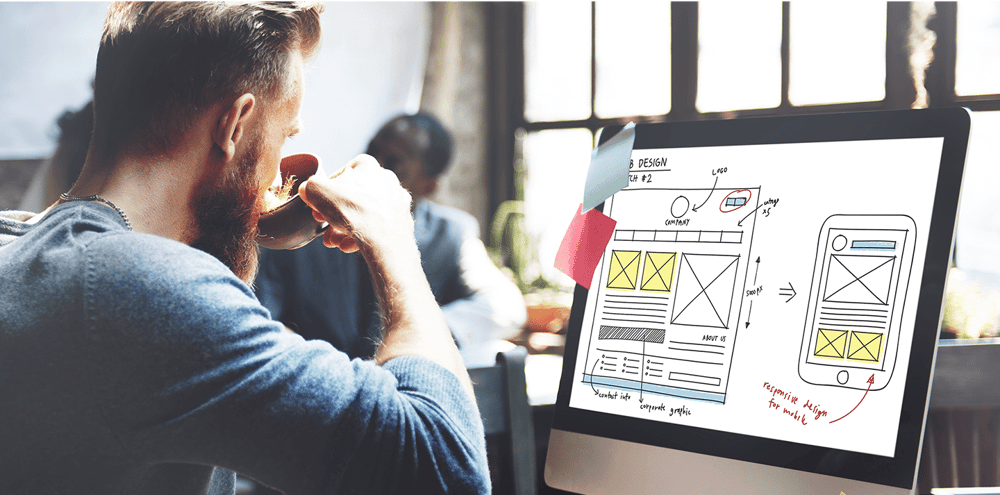 1. Customer ID (First Name)
Does your shop maintain customer profiles that include first name, customer ID, and other demographic information?
Here's the thing: Most teams are not using the data they already have.
Why not give your customers an experience they won't forget by greeting them by name on the homepage? Doing so can impress your customers who are logged in to your site and navigating from page to page.
Rebuy's rules engine allows you to display your customer's first name on any web page, including the homepage. The idea here is to create a rule that states: if any customer views this widget, show products previously purchased and display the customer's name in the title.
In the example below, notice the title includes the appropriate metadata to identify the customer.

And the result: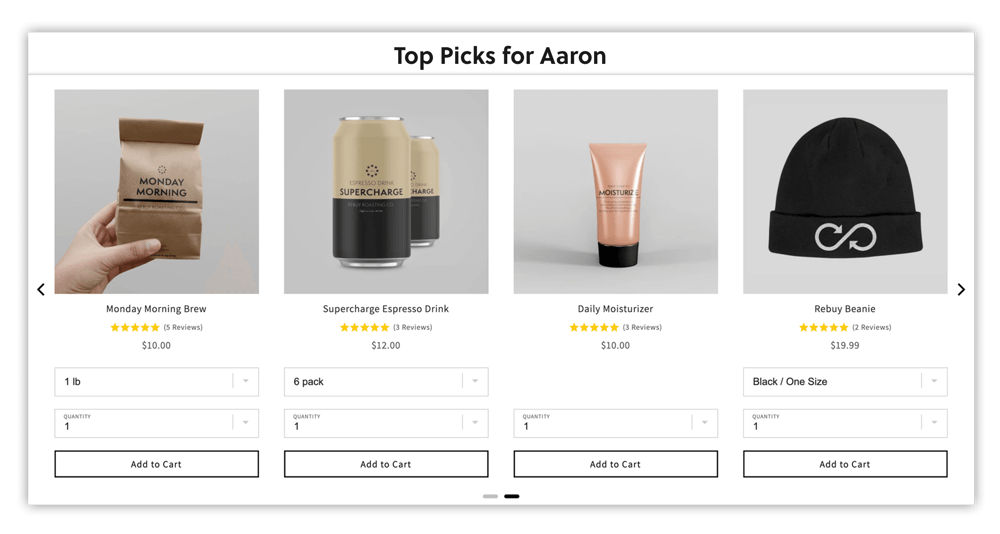 Using your customer's first name is a great way to personalize the homepage experience. Now, let's look at two more homepage personalization tips you can use to delight even more customers and boost sales in the process.
2. UTM Parameters
What is a UTM parameter? In short, UTM parameters are five tags you can include in the URL of a marketing page (blogs, landing pages, etc.). Marketers use UTM parameters to measure the effectiveness of multi-channel marketing campaigns.

UTMs allow analytics software to track campaign information, such as how visitors discover your site and which campaigns are bringing in the most traffic. You can also use them to power your dynamic homepage content.

There are many ways in which customers can discover your website. Paid social, email, SMS, and influencer marketing are a few examples.

Here's the problem: most brands greet every visitor with the same content and messaging.

This one-size-fits-all approach squanders the opportunity to personalize the shopping experience and convert more traffic.

Instead, pair a personalization engine with a UTM tag to create dynamic content and messaging based on how visitors discover your site.
"Understanding your shoppers is key to offering a personalized homepage experience."
Example: Beauty Influencer Campaign
Let's say a popular beauty influencer promotes your daily face wash, cleansing moisturizer, and similar beauty products. Your customer sees their social post and clicks to shop your store.
Now, when the customer lands on your homepage, you decide to recommend the same products featured by the influencer. You also decide to display a unique message for these visitors.
This level of personalization is possible using the Rebuy rules engine. In the example below, we have a carousel cross-sell widget with no UTM rule in place. Notice the generic title says "Featured Items" in small print. The product recommendations are displayed using default logic.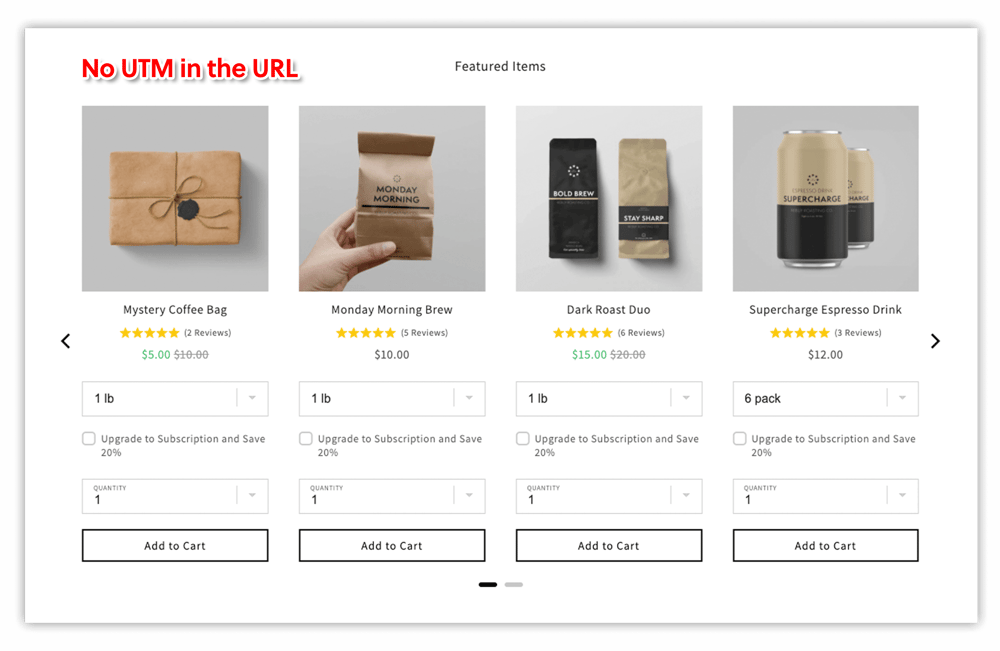 To recommend the same beauty products as the influencer, do the following.
Build a URL rule like Rule #1 below. The rule should contain your UTM parameter. (Influencer, in this case).
Add products you want to promote using a tag in the RETURN statement. (Since this is a beauty influencer, you decide to add your products that have the tag beauty.)
This setup will dynamically display beauty products to visitors referred by your beauty influencer.

Want to go one step further? Personalize the widget title. To do this, add another RETURN statement to include the influencer's name in the title. This adds a nice bit of personalization and continuity to your marketing campaigns.
Now, all visitors clicking through the influencer campaign link will see a personalized message and campaign-specific product recommendations on your homepage.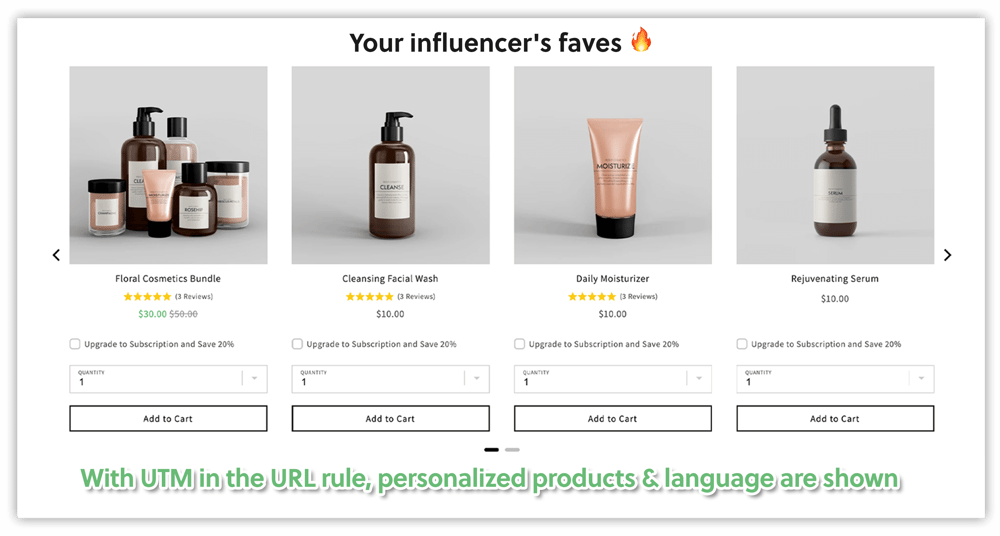 Example: Green Philosophy
The team at consumer goods brand
Green Philosophy
uses a simple UTM parameter in their rules engine to create a more personalized homepage experience for their site visitors.
By adding utm_source=ig to their marketing link, Green Philosophy personalizes the title on their homepage for shoppers visiting from Instagram. (Visitors from elsewhere will see the default title.)
As you can see, Rule #2 below says if the marketing URL contains the UTM parameter utm_source=ig, then the Rebuy rules engine will change the default widget title to "Trending On Instagram." This tactic creates continuity (and a better customer experience) for shoppers using social media to discover Green Philosophy's online store.
They use a similar rule to personalize the title for shoppers visiting from Facebook. So when a shopper clicks through from Facebook, they see this message on the Green Philosophy homepage:
A little personalization can go a long way. Check out our demo store for interactive
examples
.
3. Customer Segmentation

Understanding your shoppers is key to offering a personalized homepage experience. Segmenting your shoppers into groups is a proven method of better understanding their wants and needs.
A common approach is to segment shoppers using customer tags, order count, or total spend.
Then, you can display content dynamically based on each segment.
In our final example, say you have the following two business goals.
Drive email subscriptions
Increase signups to your loyalty program
You decide to entice shoppers to subscribe and sign up for the loyalty program by offering a 20% discount on all of your Top Sellers. Using Rebuy, you can set up a rule offering the discount only to shoppers who are likely to convert. You decide those most likely to convert are:
Customers who have placed more than two orders at your store AND are not already subscribers
Customers who have spent more than $200 AND are not already loyalty program members
Finally, you decide to use a personalized message to promote the offer on your homepage. You settle on "VIP Members and Subscribers Save 20%". Now, you have a unique message that displays your promotional offer only to the homepage visitors who are
most likely to accept the offer
. You decide to display the message directly above your Top Sellers.
If you're using Rebuy to achieve this, the rule would look like this in the rules engine: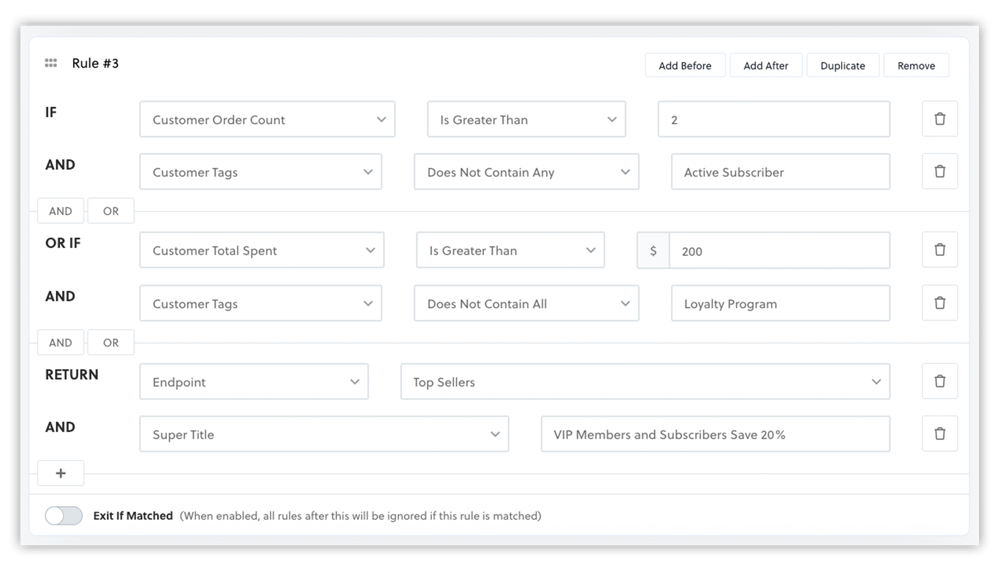 Turn Your Homepage Into An Intelligent Shopping Experience
Personalizing your homepage can help you build long-lasting customer relationships and keep your customers coming back for more. Whether you're looking to convert more traffic with dynamic content on your homepage or increase AOV with personalized upsells and cross-sells, Rebuy can help align the right products to the right customers at the right time.
•••