Optimization
Introducing Rebuy A/B Testing
Unleash the power of A/B testing to optimize your online store, enhance the shopping experience, and grow revenue.
---
You're taking steps to improve your ecommerce store. But how can you be sure you're making the right moves?
In ecommerce, the go-to method for learning what works (and what doesn't) is through A/B testing.
A/B testing (also known as split testing) is a powerful marketing experiment that allows you to confidently split your audience and test different variations of a piece of content. The goal of A/B testing is to determine which variation performs better, providing valuable insights to optimize your online store and merchandising strategy.
If you're not using A/B testing to improve your shop, consider:
A/B Testing is the most popular method of improving conversion rate optimization (CRO)
A/B testing can bring a 50% increase in the average revenue per unique visitor for ecommerce sites
While A/B testing is more widespread than ever, Shopify merchants often struggle to continuously improve their shops, especially when they don't have insights into what's working. And now that Google Optimize isn't available, researching, comparing, and acquiring a new testing solution is yet another item on the to-do list.
To help you overcome these challenges, we're thrilled to announce the launch of our newest product, A/B Testing! Rebuy's A/B Testing tool helps ecommerce operators like you test every step of your store's online shopping experience.
Introducing
Rebuy A/B Testing
Rebuy A/B Testing is the powerful optimization tool designed to fuel data-driven decisions and power scalable revenue growth. From web copy to page layouts to product recommendation widgets and more, Shopify merchants using Rebuy can now split test almost any element of their online store.
With Rebuy A/B Testing, you gain powerful capabilities to help you run more extensive testing and gain valuable insight to continuously improve your customer experience (and your bottom line) — all without additional spend.
Continuously optimize your store.
Gather data and insights to inform business decisions.
Run experiments with ease.
Improve the customer experience.
| | |
| --- | --- |
| BOOST | REDUCE |
| Customer Experience | Bounce Rate |
| Revenue | Cart Abandonment |
| Customer Lifetime Value (CLTV) | Customer Acquisition Cost (CAC) |
| Average Order Value (AOV) | |
➡️ Rebuy A/B Testing is a complimentary feature of the Rebuy platform, available to all Rebuy customers at no additional cost.
➡️ Rebuy A/B Testing is not compatible with Rebuy Post Purchase, Checkout Extensions, or third-party widgets.
Note to developers: Rebuy A/B Testing allows you to create experiments using JavaScript and/or CSS.
📈 Continuously Optimize
Your ability to continuously adapt determines the growth trajectory of your business. But how do you know what's working? Good news: Rebuy A/B Testing is packed with features that make continuous adaptation and optimization easier than ever.
For example, Rebuy allows you to create custom traffic splits, test up to 9 variations, and even run 'No widget' tests. This means you can test different elements of your store, from product recommendations to page layouts, to find the best-performing options.
Easily test every element of your site and gain insights into how each variation performs.
Test nearly every element of your site.
Split traffic for each new experiment.
Test up to 9 variations.
Run "No Widget" tests.
📊 Gather Data to Inform Decisions
Rebuy A/B Testing provides an easy-to-use dashboard where you can analyze your test results and gain valuable insights into customer behavior. This allows you to understand what resonates with your audience and make informed decisions to optimize your online store for maximum performance.
Review Easy-to-use dashboard.
Gather insights into how each variation performs.
Easily access historical test results.
Experimentation programs should help brands find their own 'best practices.' As a brand, if you're choosing to rely on someone else's ideas and experience (based on customers who never visit your website), then you're missing out on discovering what works best for your specific audience.
- Tony Castillo, Director of CRO, The Maze Group
🤩 Improve Customer Experience
Improving customer experience is crucial for merchants. A single bad experience can negatively impact brand perception, and 88% of customers say the experience a company provides is as important as its product or service.
By optimizing your site and gathering data, businesses can enhance personalization, increase revenue, and foster brand loyalty.
Improve site performance and personalization.
Ensure your customers have the best experience.
Uncover strategies and tactics that resonate most with your customers.
✏️ Iterate Quickly and Easily
No more test anxiety!
Rebuy A/B Testing offers easy-to-configure tests, allowing users to quickly set up and manage A/B tests in just a few minutes. Users can launch experiments immediately or schedule them for a future date, and have access to completed test information all in one place.
Set up an experiment and go live in minutes.
Configure settings with ease.
Launch experiments immediately or schedule them to start and end on future dates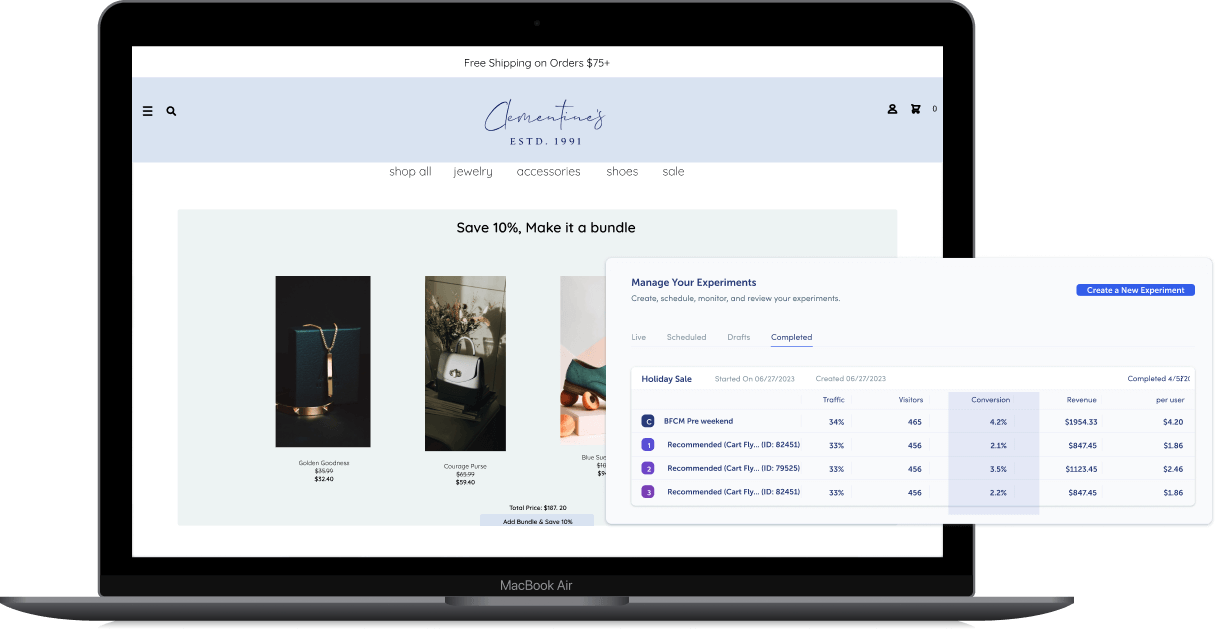 The Perfect Replacement for Google Optimize
Rebuy A/B Testing is the perfect replacement for Google Optimize, offering seamless integration with the Rebuy personalization platform, unlimited tests, and built-in behavioral analytics.
By fine-tuning your site based on specific metrics, you can improve conversion rates and create an enjoyable shopping experience. Rebuy A/B Testing allows you to gather data, analyze results, and continuously improve your online store, making it a robust and user-friendly solution for optimizing your ecommerce store.

Fire Bullets,
Then Cannonballs
Have you heard of this concept? The idea is this: run a low-stakes test first to determine the best approach, and once you have a proven strategy, go all-in with a cannonball.
Rebuy A/B Testing allows you to fire those bullets, experiment with different variations, and gather data-driven insights to make informed decisions before launching major changes to your online store. When you have a proven strategy, use Rebuy A/B Testing to launch those cannonballs of success.
With Rebuy A/B Testing, you can easily set up experiments, test multiple variations, and track performance data to ensure you're making data-informed decisions.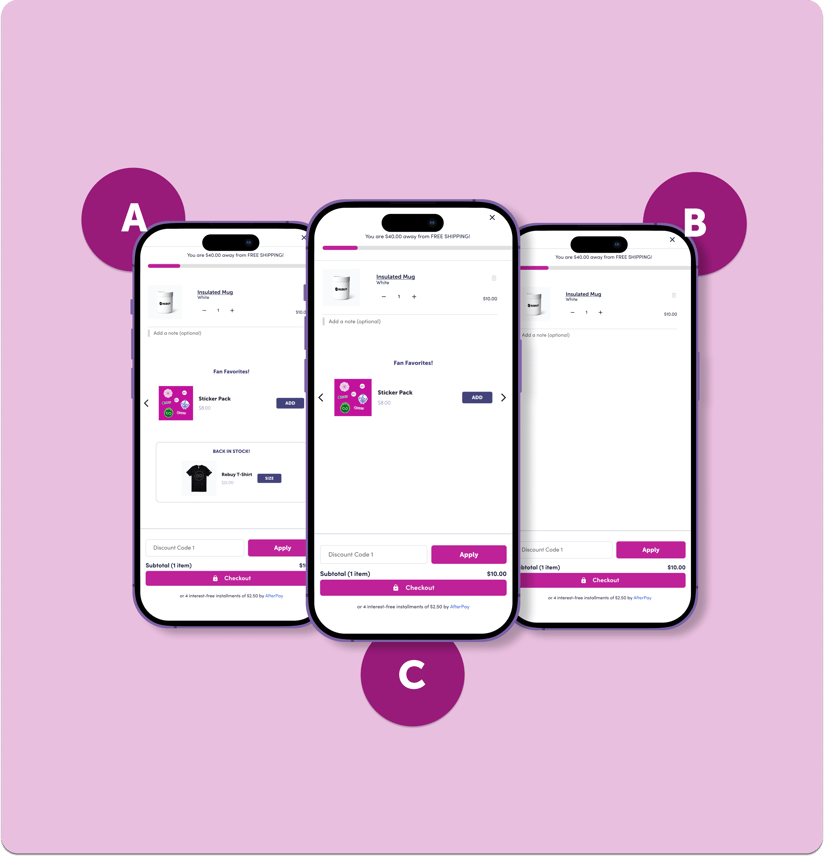 Use Cases
Rebuy A/B Testing optimizes your online store by running two types of experiments:
Widget experiments
General experiments
Widget Experiments
Test Different Widgets
Rebuy A/B Testing allows you to test a different widget type without risking your current revenue, making it easy to explore hypotheses and potentially find a more successful widget.
Test Widget Data Sources
You can also test a single widget with different data sources. Just duplicate the widget and modify the data source to conduct your tests. When testing the data source, you might try displaying different products, changing the language displayed on the widget, or tailoring the widget to each visitor based on the URL they visit from.
What should you test?
Data sources; Recently Viewed vs Recommended AI or your own custom logic
Aesthetics; elements, buttons, variants, layout, product images, graphics
Widget placement; for example, above vs below the fold
Discounts; Full price versus 10% off versus 20% off
Language; on buttons , variants, general text, CTAs
🏁 "We have a winner!" Once a widget experiments ends, Rebuy will automatically deploy the winning variation to site for you.

General Experiments
Unlike widget experiments, general experiments test the specific elements of your storefront.
For instance, you can test:
Rebuy Smart Cart vs a native cart.
The layout of your web page.
Landing page headlines and copy.
The color and text of CTA buttons.
And much more.
🏁 Unlike widget experiments, once a general experiments ends, simply add the winning JavaScript or CSS to your native theme to deploy the winning variation.
Rebuy A/B Testing:
Your Data-Driven Advantage
So, are you ready to take your ecommerce store to the next level? Looking to replace Google Optimize with a powerful and user-friendly solution? Unlock growth, optimize your customer experience, and stay ahead of the competition with Rebuy.
For information on building your first experiment, check out our A/B Testing Setup Instructions.
Request a demo of Rebuy A/B Testing today.
•••
Try Rebuy free and see why the world's top brands use Rebuy to accelerate sales growth.
Interested in partnering with Rebuy? Let's do it.
To keep up with the latest trends, platform updates, and more, follow us on LinkedIn.