Optimization
Using Standard Shopify? Supercharge Your Shop With Rebuy
A look at what standard (non-Plus) Shopify plans offer, and how to use Rebuy to get the most out of your standard Shopify store.
---
Standard Shopify plans offer a range of features that are often more than enough for small to medium-sized brands, such as the ability to add an unlimited number of products, track inventory, and sell products on multiple channels.
Shopify is continually adding new features to standard plans, such as combined discounts and access to Shopify Flow, the platform's automated workflow feature.
Rebuy, a low-code, no-code personalization platform, can further enhance the customer experience and help Shopify stores generate additional revenue by offering dynamic personalization, seamless upsells and cross-sells, and customizable language.


---
There's a lot to love about standard Shopify plans.
Whether you go with Basic, Shopify, or Advanced, one of them is sure to meet the needs of your small- to medium-sized business in terms of ecommerce functionality, innovative features, and pricing to fit your budget. Pair Rebuy with Shopify, and your shop might just be unstoppable.
As an online merchant, you've probably heard whispers about Shopify Plus, too. What business owner hasn't pictured themself running an ecommerce operation that requires every bell and whistle imaginable?
But here's the truth: Shopify Plus isn't the right fit for every online store. In fact, plenty of businesses are absolutely booming on standard Shopify plans. Let's take a closer look at what standard Shopify brings to the table and how to leverage Rebuy to get the most out of your Shopify business.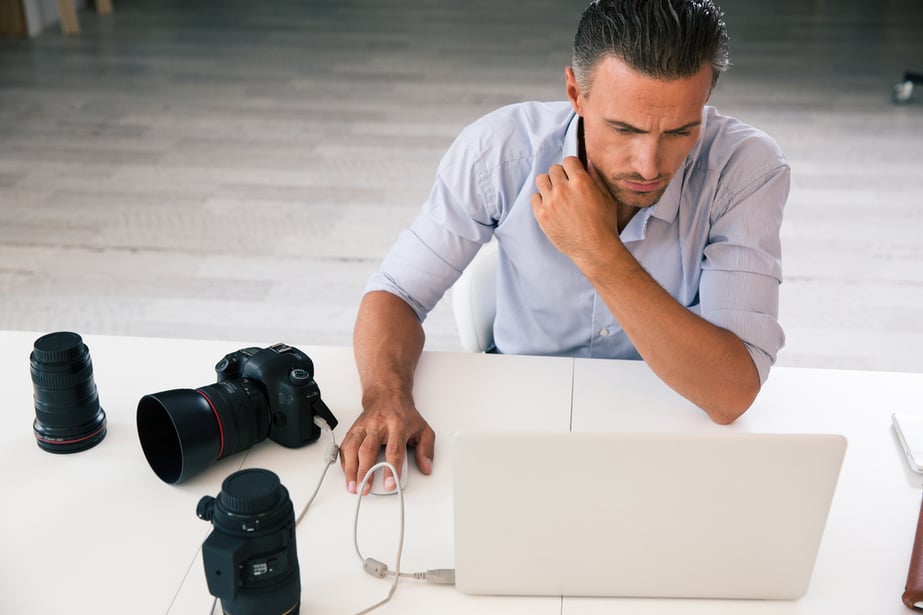 Boost Sales

With Standard Shopify & Rebuy

First things first: what can the standard Shopify plans do for you?

The answer: quite a bit. And in many cases, more than enough.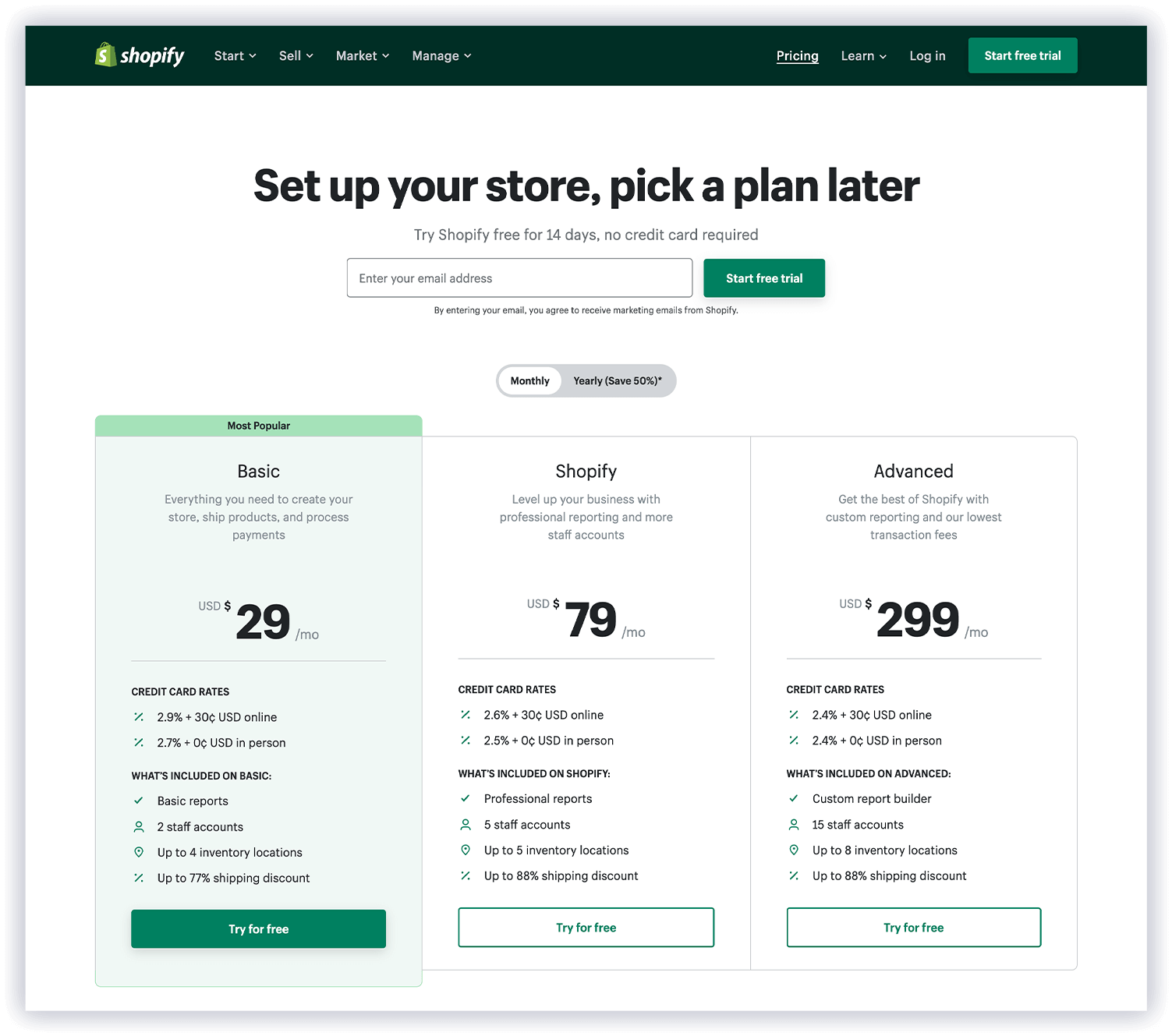 Here's just a sample of the features non-Plus accounts offer:
Add an unlimited number of products to your online shop
Keep track of inventory and fulfill orders across multiple locations (anywhere from two to eight, depending on the plan)
Sell products on multiple channels
Create multiple user accounts for help managing your store (ranges from two to 15 accounts, depending on the selected plan)
Send abandoned-cart emails to customers who left your shop before purchasing
Discount Features
The benefits don't stop there. Dante Maxwell, Merchant Success Manager at Rebuy, noted that Shopify is in the early stages of rolling out a combined discount feature across all plan tiers.
"Before, a major limitation was you could either use a discount code, or have an automatic discount, but you couldn't use both," he said. "You couldn't use two of one type of discount, and you would only qualify for one automatic discount. They've changed that to some degree now."
Shopify Flow
Another game-changer is Shopify Flow, he platform's automated workflow feature. Shopify Flow was originally exclusive to Shopify Plus merchants, but now merchants using Shopify's Advanced plan can access this time-saving tool.
"Shopify Flow gives merchants access to create workflow automations that are conditional to a number of different behaviors, either on the frontend of your store or on the backend of the administrative area," explained Maxwell.
One example of this is using the Skip The Line Line option to prioritize order fulfillment. (Think "rush processing.") Merchants can create a Shopify Flow where orders containing products designated as "Skip The Line" items are flagged in the system and given priority during order fulfillment.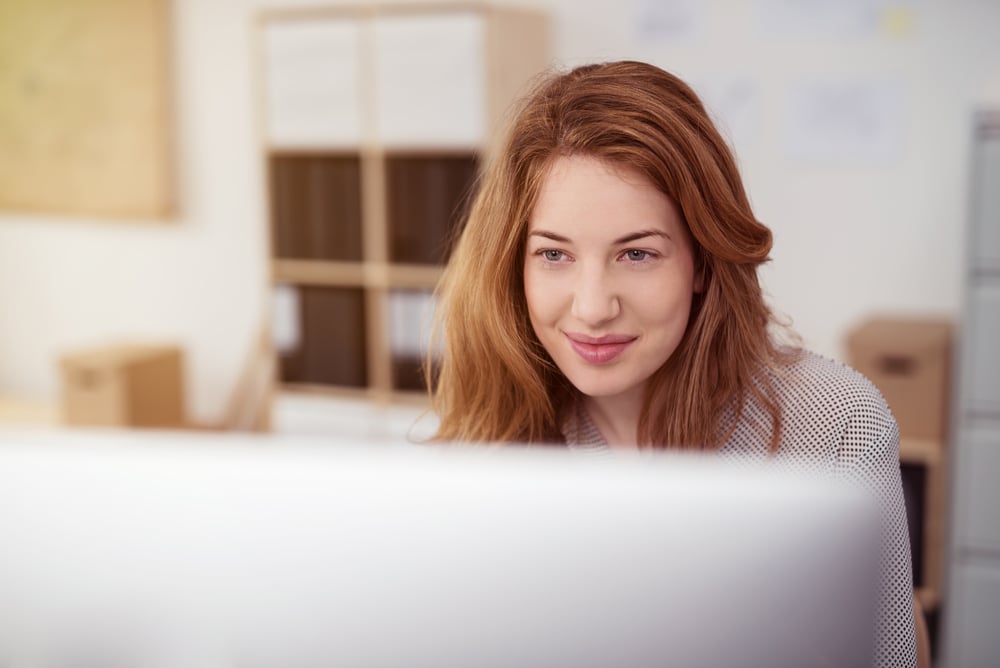 Boost Shopify Sales

With Rebuy

Now that we're clear on how you can be awesome with standard Shopify plans, let's talk about how Rebuy can further enhance the customer experience and help your non-Plus Shopify store grow.
Fully Customizable Merchandising Rules
It's your Shopify store, so it should look like your store and work exactly the way you want it to. That's why we make it easy to fully customize your shop without having to hire a developer. Our low-code, no-code solution makes it easy for you to write If-Return statements using the Rebuy Rules Engine so your customers see the most relevant product offers possible.
"Once you've set up Rebuy to surface products conditionally, you're so much farther ahead by clicking some buttons than if you had to custom code all of that into your Shopify theme," Maxwell said.
Dynamic Personalization
Shoppers give plenty of clues as to what they want when they're clicking around your site. Rebuy helps you use those clues — past purchase history, last viewed product, preferred product categories — to personalize AI-powered shopping experiences using dynamic language and smart merchandising at key times in the customer journey.
Seamless Upsell and Cross-Sell Offers
Those personalized product recommendations create plenty of opportunities for cross-selling and upselling, which commonly appear on the product detail page (PDP) and work well almost anywhere on your site from the home page to the thank you page. We've even thought a step ahead (we know, we're helpful like that) and offer a one-click post-purchase feature to really capitalize on purchases.
Examples:
Data-Driven

Shopping Experiences

Let's look at two standard (non-Plus) stores using Rebuy to unlock Shopify's full potential.
Curie
Our first example comes from maker of natural body care products (and Shark Tank alum), Curie. They've written a simple rule to cross-sell Top Sellers in the shopping cart.
They customized the language ("Don't Forget These") to encourage customers to add more products to their orders and thus boost conversions AOV (average order value).
With a little custom language and a powerful in-cart cross-sell widget, Curie significantly increases catalog engagement. Their customers have responded with their approval, too. As a brand on a standard Shopify plan, Curie has used Rebuy to boost sales and increase AOV well into double digits.
Marine Life Mission
Our last example comes from Marine Life Mission, a growing shop using a standard Shopify plan. They want to use Rebuy's AI to recommend relevant products to their customers. So, they wrote this rule that states:
If a customer adds Anything (any product) to the cart
RETURN (AKA "offer") products selected by Rebuy's powerful AI algorithms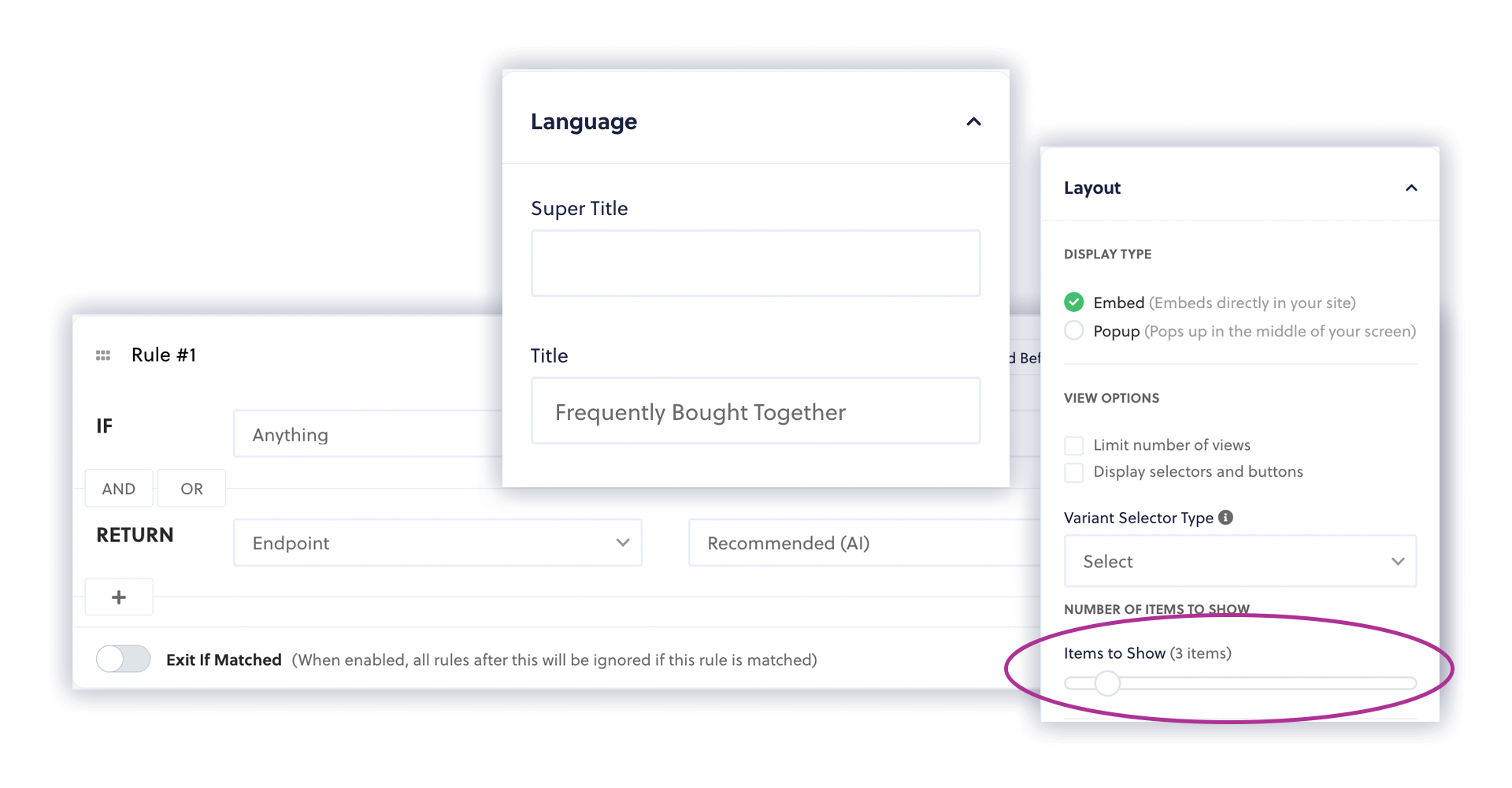 Notice the Language and the Layout parameters. First, the merchant has edited the language that appears in the cart.
And in the Layout section, the merchant chose to show three AI-driven product recommendations in the cart. Solid choice!
Finally, Marine Life Mission goes one step further, adding to the cart a manual 1:1 cross-sell widget (not shown) that offers matching earrings to the Keepsake Necklace.
Here is the result: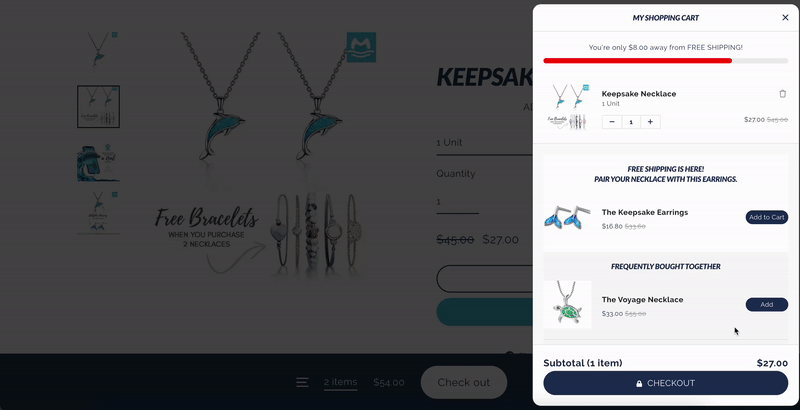 This strategy, a manual rule paired with a powerful AI-driven cross-sell, is an effective way to generate additional revenue. It's a simple yet sophisticated no-code example of a brand using standard Shopify to introduce new and relevant products to its customers.
On a Standard Shopify Plan?
Grow Your Store With Rebuy
Shopify on its own has a lot to offer online merchants, but it's always nice to get an assist from a friend. Rebuy offers the strategic customizations and industry-leading integrations businesses need to create an even better and more personalized online shopping experience.

Brands use Rebuy to boost AOV and facilitate a smooth customer journey. Maxwell explained, "What we never want shoppers to do is use the back or forward arrows in their browser. We want to say, 'We see you bought that; here's what we think you'll like next.'"
•••
Try Rebuy free for 21 days.
Interested in partnering with Rebuy? Let's do it.
To keep up with the latest trends, platform updates, and more, follow us on LinkedIn.