INTRODUCING REBUY SMART CART™
The Intelligent Shopping Cart
Ecommerce stores see an average cart abandonment rate of 69.8%. Stop losing customers due to poor cart performance.
INTRODUCING REBUY SMART CART™
The Intelligent Shopping Cart
Ecommerce stores see an average cart abandonment rate of 69.8%. Stop losing customers due to poor cart performance.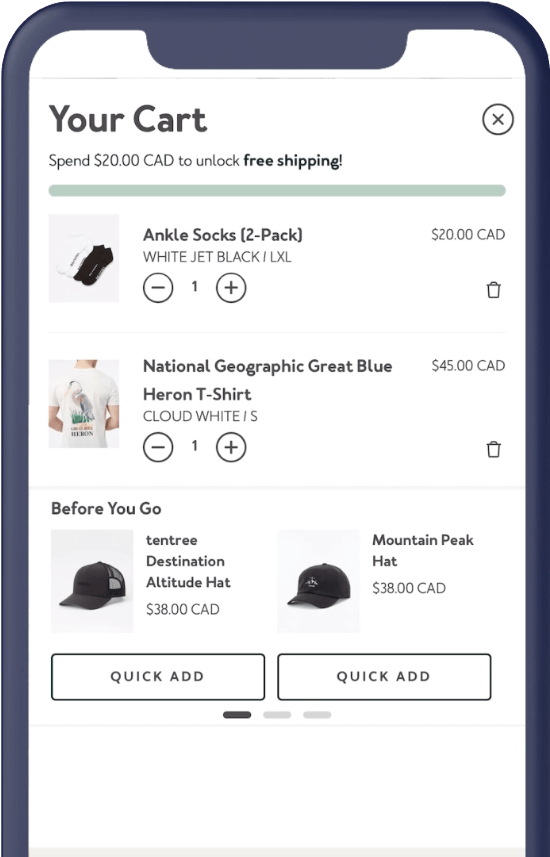 REBUY SMART CART
Outsmart

the Competition

Do it all with the intelligent all-in-one shopping cart replacement for Shopify.

Boost AOV
Lift order values with personalized upsells and cross-sells in the Rebuy Smart Cart™.

Convert More Traffic
Eliminate extra clicks and scrolling to reduce cart abandonment and lift conversions.

Improve UX
Optimize the shopping experience with remarkably faster checkouts.
COULD YOU ASK FOR MORE?
Smarter, Faster, and
More Flexible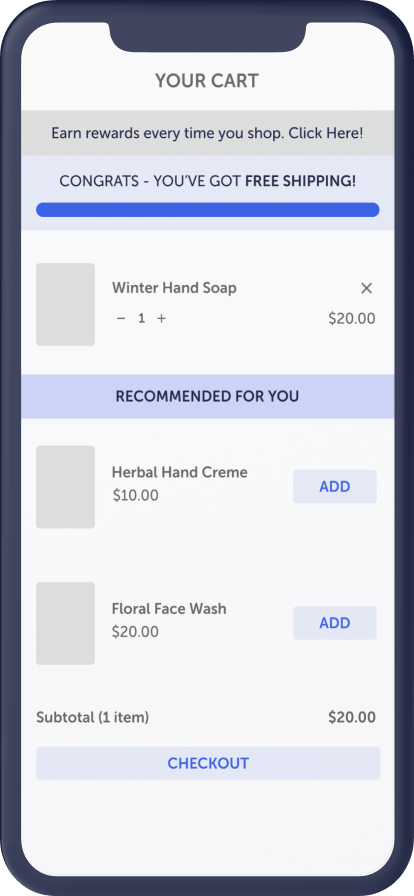 Free Shipping Bar
Encourage shoppers to buy more and unlock free shipping with this stylish visual prompt.
Marketing Messages
Announce your promotions at checkout with unique messages for your shoppers.
Countdown Timer
Create urgency at the point of sale to increase conversions and reduce abandoned carts.
Multi-Currency Support
Convert prices to your customer's local currency based on market exchange rates.
Fully Customizable
Modify styles, colors, layouts, and fonts to fit your brand perfectly across all devices.
Powerful Analytics
Track and measure the performance of every upsell and cross-sell widget in every Smart Cart.
CONVERT MORE CUSTOMERS
The

Intelligent

Shopping Cart

Create personalized shopping experiences that build trust with every customer, increase lifetime value, and boost revenue. Superfast personalization is an engineering challenge overcome with Smart Cart. Whether you want to plug-and-play or customize every upsell, total control is at your fingertips.
Future-Proof Your Cart
Consistent and automatic updates ensure your Smart Cart is equipped with the newest and best intelligence. Rest easy knowing your online store will always be on the cutting edge of cart technology.
Leverage Best Practices
We've collected best practices learned from helping thousands of ecommerce brands grow and packaged them into a superfast, superintelligent shopping cart for your online store.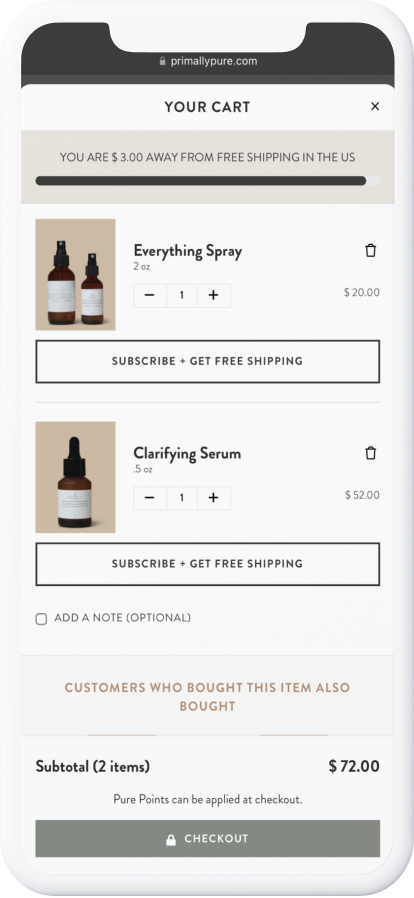 CASE STUDY
Licorice.com Sees AOV Soar
17%

Overnight

A family of entrepreneurs launch a new business with no developers and enjoy the sweet taste of success.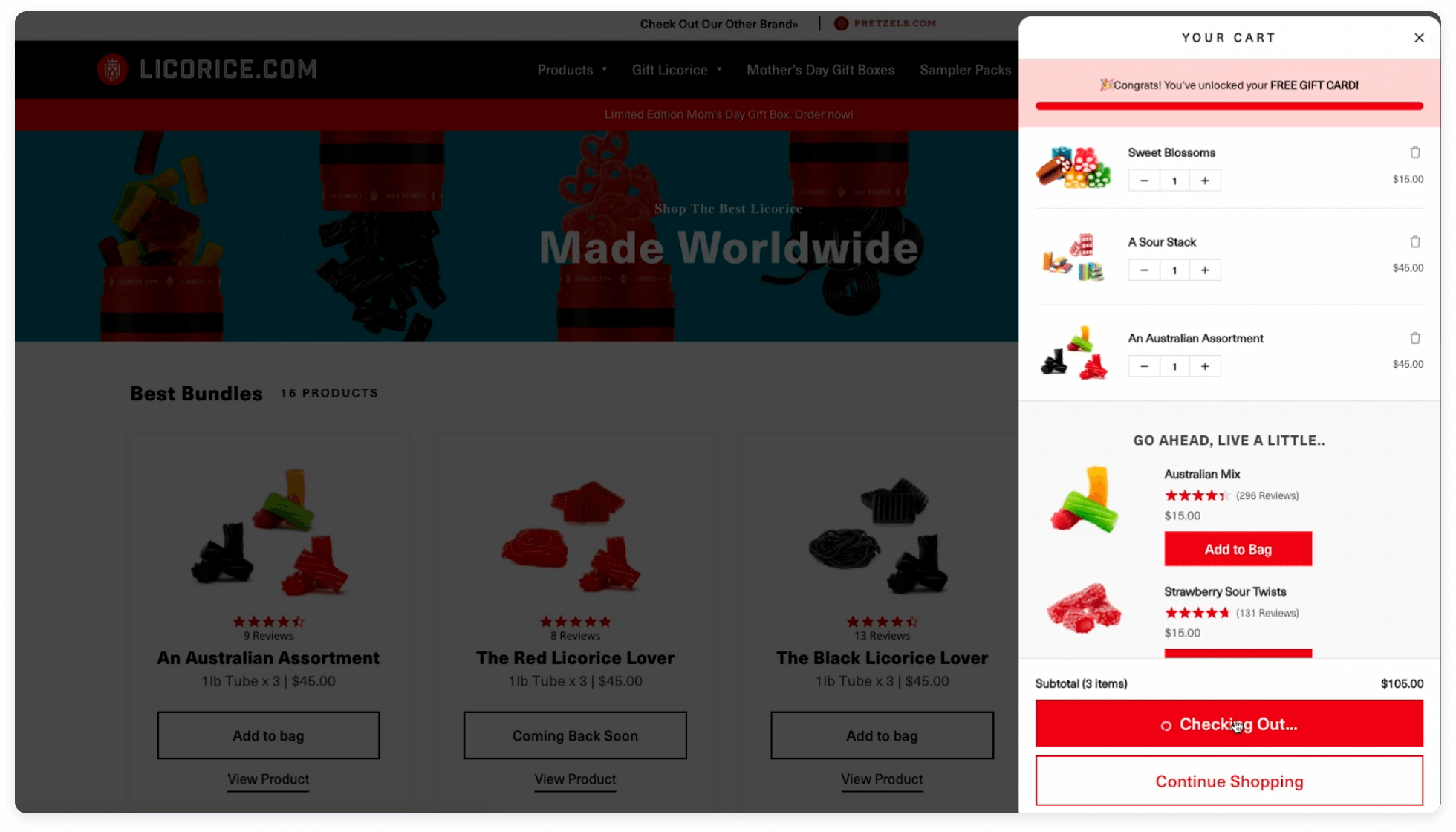 MERCHANTS LOVE SMART CART
REVENUE GENERATED EVERY DAY BY BRANDS USING SMART CART
Have used this app on multiple stores, the ease of use and helpfulness of the staff is impeccable. Amazing features like pre and post offer checkouts, smart cart, product recommendations and bundle features. Lots of creative ways to utilize this app and can be integrated/customized to any theme.
The Used Shop
Rebuy has been a great tool for our site to help increase AOV. We implemented the Smart Cart which has been great in easing the customer experience and also in cross-merchandising product. The support team is amazing. They're quick to respond to any questions and truly care about optimizing your site experience.
Printfresh
Seamless
Integrations

With Shopify, Shopify+, and Other Top Ecommerce Apps

We integrate with best-in-class technology providers to ensure your store offers seamless and intelligent shopping experiences across the buyer's journey. See our integrations.
THE INTELLIGENT SHOPPING CART
Upgrade

Your Cart Experience

Supercharge your online store and grow your AOV to new heights with Smart Cart™, the intelligent ecommerce shopping cart.
Get Notified on New Marketing Insights
Need new content. Be the first to know about new B2B SaaS Marketing insights to build or refine your marketing function with the tools and knowledge of today's industry.