AI & ML
AI and ML in Ecommerce: A Primer
AI is revolutionizing ecommerce. Learn how AI and ML are being used to personalize online shopping, engage customers, and drive maximum sales.
---
Artificial Intelligence (AI) is revolutionizing the ecommerce industry by helping merchants create personalized shopping experiences, and it's here to stay.
Not only that, AI-powered ecommerce is poised for unprecedented growth with expectations to grow by $11 trillion over the next five years. There's also stiff competition: estimates are that between 12 and 24 million ecommerce sites exist.

Within this competitive field, it is more important than ever to understand AI, machine learning (ML), the powerful ways they are being used for online retail, and the best tools to engage customers while driving maximum sales.
Understanding the Basics of
AI and ML
AI and ML are often used interchangeably because most people don't usually understand the basic differences. However, 65% of customers claim that their digital experience strongly influences whether they recommend a brand. With digital consumer experiences holding such strong sway over brands, it's critical for retailers to understand how to optimize these experiences using AI and ML.
So let's cover the basics of these ecommerce solutions.
Artificial intelligence (AI) is the larger umbrella term for any technology simulating human intelligence. Behaviors may include learning, reasoning, sensing, or adapting. Applications for AI are generally referred to as machine learning and include a variety of technologies aimed at different types of data.
For instance, natural language processing (on text), voice recognition (on speech), and computer vision (on images or video). On the most basic level of AI, humans write rules to return an output given certain conditions.
Machine learning (ML) goes one step deeper. It is one component of AI and uses patterns of behavior charted through input data to create a set of rules (known as an algorithm) for output. The primary difference is that in machine learning, the developer doesn't codify the intelligence; he or she doesn't write the logical tree. Instead, the machine learning application will generate the algorithm based on the training data.
Machine Learning can typically be formulated in three steps:
An input
Data-dependent processing
an output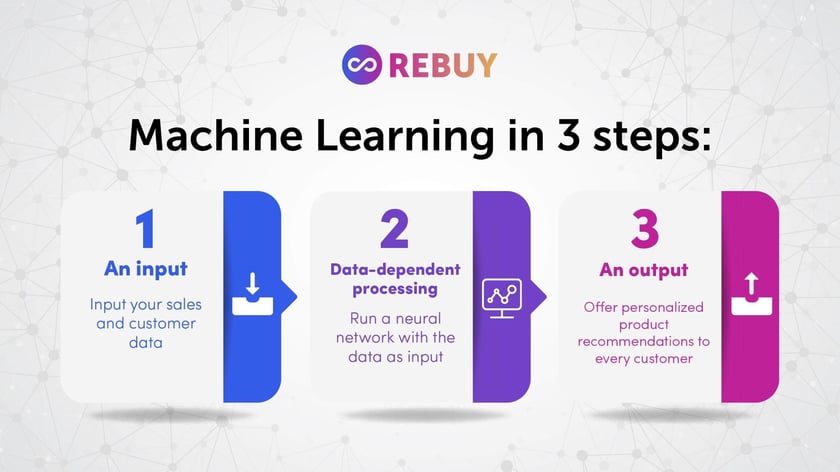 For example, one possible natural language processing task could involve these steps: First, take an English sentence. Second, run a neural network with the sentence as input. And third, get a Spanish translation of the input sentence.

ML is powerful for your business in several ways, but specifically in personalization. There are millions of data points on each person on the Internet that include how and where they live, things they like to do, and even what they think about or to which they aspire, all making up who they are. Machine learning uses that information about each person to create customized experiences

Think about an outdoor clothing store with a global audience. To achieve a personalized shopping experience, they should market differently to customers in Australia versus customers in Colorado. In January, a customer in Australia will feel isolated from your brand if he or she gets recommendations for ski gear over swimsuits. That's why it's critical for ML to develop deeply tailored insights into each customer experience.
Your Customers
Expect

Personalized Shopping Experiences

Personalization used to be an added bonus.
Now, it's an expectation.
Customers increasingly expect retailers to make personalized product recommendations to fit the customer's lifestyle, budget, and preferences, and to offer 24/7 smart customer service so they can have immediate answers to their questions.
Digital shoppers want to feel understood and not like a company is "out of touch with reality." ML allows a retailer's ecommerce experience to be agile and adaptable from person to person at every digital touchpoint.
How Ecommerce Brands Use AI and ML to
Personalize Shopping Experiences
In ecommerce, everyone shopping on your site is a little bit different. Your website should reflect those differences with an intelligent shopping experience spanning the entire customer journey.
Let's walk through a customer journey leveraging optimized smart tools.
Customer-centric Searches
Your brand can know a lot about your customers, such as their location, gender with which they identify, and browsing and buying habits. For example, a personalized customer journey immediately registers that a person identifies as male, is located in the northern US, and has browsing habits of winter sports such as skiing. In the winter, your website should reflect these preferences with collection sorting showing long sleeve shirts, pants, and other winter (specifically, ski) gear on the homepage. Likewise, your homepage preferences should reflect seasonal changes based on user data.
Dynamic Recommendations
ML allows dynamic changes on your website and recommendations reflecting changes in trends, seasons, etc. As customers shop, expose them to the right recommendations. If a customer already has socks in their cart and a static display is set up to recommend socks, you've lost an opportunity to show them a compatible product.
Using ML tools on your ecommerce site enables you to offer a more logical upsell or cross-sell option by automatically reading what's in the customer's cart and finding a trending, compatible product based on the user's information. This tells the customer that your brand understands who they are and what they need before aiding in new product exploration.
Smart Support
Personalization shouldn't end at purchase. To build loyal lifetime customers, personalization should extend to off-site experiences, including technical support, returns, and follow-up. Here's how businesses can offer smart support.
1 - 24/7 Customer Service Worldwide with ML Chatbots
Customers expect answers to their questions instantly and chatbots have come a long way. A smart bot can be an effective solution to frequently asked questions so customers always have access to answers — even when you're sleeping.

Conversational chatbots that can learn and adapt are not only more powerful but can reduce your costs up to 30%. These ML-powered chatbots are effective technical support solutions for customers in Bangkok who need to know if you ship there and your UK customers who wants more info on a specific product.
2 - Returns with Unique Recommendations
Following product categorizations and logic, the returns process should automatically lead the customer straight to the solution.

If someone returns a pair of ski pants and the site recommends socks in the process, it feels disconnected from reality. When a customer returns ski pants because they didn't find them warm enough, your website should be able to:
categorize that the customer made a return.
note the function of the pants.
understand the customer needs pants for lower temps.
offer recommendations based on the categories.
With machine learning tools, the process is automated and lightning-fast. The customer immediately knows, "We're sorry these ski pants weren't as warm as expected. Here are some highly-rated, high-performing waterproof recommendations for lower temps."
3 - Product Discovery Follow-ups
Personalization is equally important within off-site experiences, such as SMS or post-purchase email campaigns. These campaigns should be able to offer compatible products within the follow-up. For example, "We hope you're loving your high-performance ski pants. Here's a jacket you may like as well."

During the summer, your follow-up campaign should be able to help push the discovery of relevant products to that customer. If you try to sell the same ski pants he just bought, it may feel like you don't know the customer. But if your messaging reflects buying habits and seasonal changes, it builds trust, lifetime value, and loyalty. Something like, "We're sad to see ski season go, but check out our new line of camping gear," reflects the changes in season, behavior, and needs.
Understand Your Customers

With AI-Powered Personalization

Personalization should touch every interaction of a customer's lifecycle: from shopping on a site to product discovery to technical support. ML tools help read and understand data, personalize customer experiences, reflect trends and changes, and help you better understand your actual consumers, without any extra effort on your part.

Global survey data shows that 79% of ecommerce retailers found that AI in marketing and sales increased business revenue. Is it time to find better AI solutions for your business? If so, try Rebuy free for 21 days and transform your basic online store into an intelligent shopping experience.

•••

Interested in partnering with Rebuy? Let's do it.

To keep up with the latest trends, platform updates, and more, follow us on LinkedIn.