Upsells and Cross-sells
Dominate the Checkout Page: 5 Ways to Capture Hidden Profits
Turn your checkout page into a money maker with these 5 upselling and cross-selling tips.
---
Transform your checkout page into a revenue-boosting tool by implementing upselling and cross-selling strategies to increase customer loyalty, average order values, and overall profitability.

Use product recommendations on your checkout page to boost conversions, increase average order values, and provide personalized suggestions based on customer behavior and preferences.

Enhance the customer experience and drive sales by offering bundle offers, setting free shipping thresholds, and incorporating subscription upselling options, all backed by data-driven insights and tailored to your customers' needs and preferences.
---
The checkout page is often seen as the finish line in your customer's shopping journey. But it doesn't have to be.
In fact, if you want to generate more business, it shouldn't be.
With the savvy use of upselling and cross-selling strategies, your checkout page can also serve as a launching pad for boosting customer loyalty, increasing average order values, and improving overall profitability. Nail this, and your checkout page isn't just a "checkout" anymore — it becomes a valuable tool for fostering deeper customer relationships and encouraging repeat business.
In this blog post, we'll explore five powerful ways you can transform your online store's checkout process from a mere transactional endpoint to an engaging platform for cultivating loyalty and driving sustainable growth.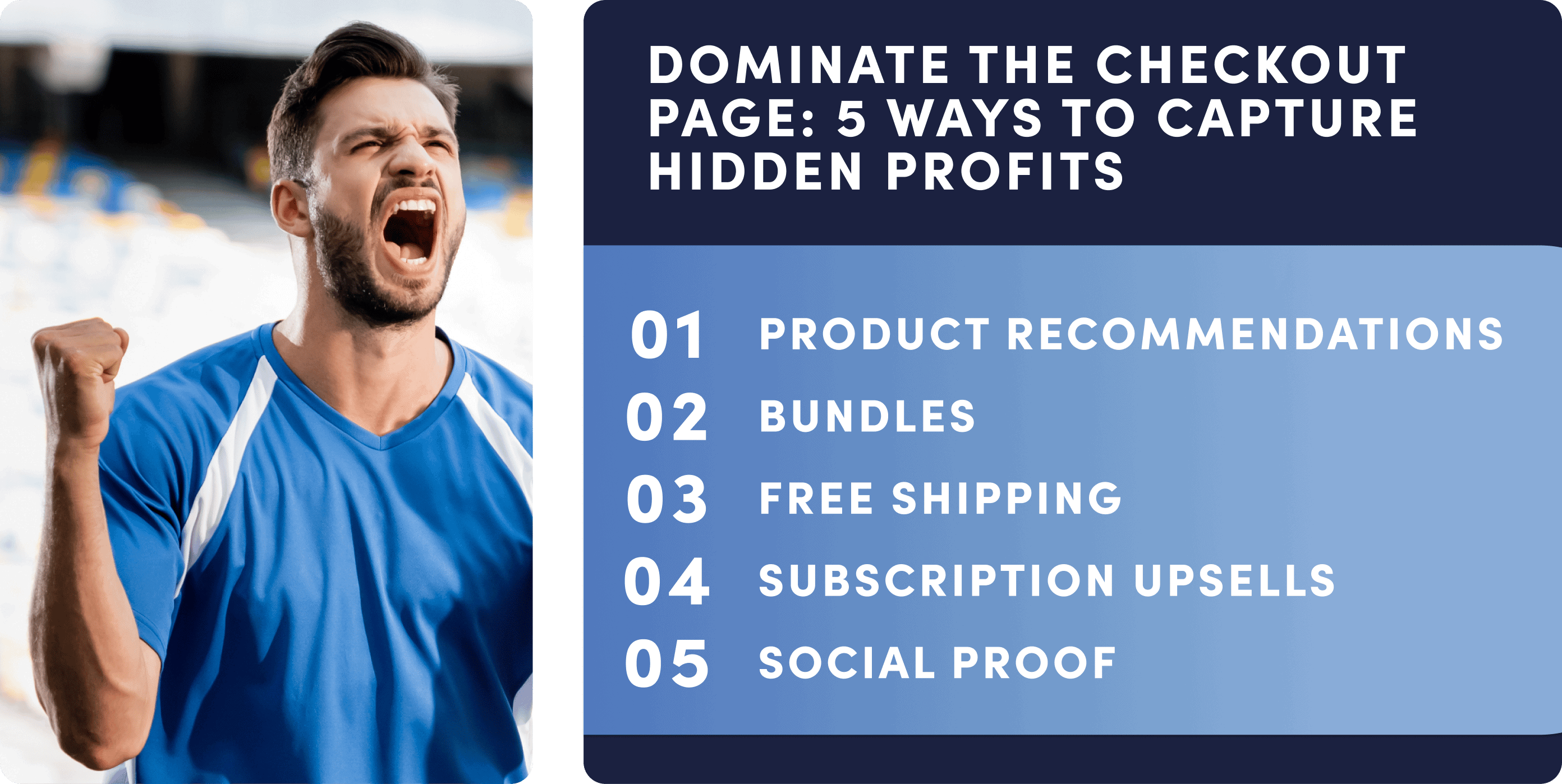 1. Boost
Conversions
With In-Checkout Offers
We've said this before: personalized product recommendations are a great way to boost conversions. But don't just take our word for it. Salesforce data reveals that shoppers who clicked on a recommendation were almost twice as likely to revisit the site. Not only that, purchases involving a recommendation had a 10% higher Average Order Value (AOV), and the per-visit spend for a shopper interacting with a recommendation was five times higher.
Sold yet? Here are a few product recommendation strategies you can use on your checkout page:
Frequently Bought Together: This is like telling your customers, "You know those people who bought that laptop in your cart? They also grabbed this cool bag and mouse." It's an excellent way to upsell related items.
You Might Also Like: This is a broader recommendation strategy that suggests products related to the customer's browsing history, preferences, or items in their cart. It's useful for introducing customers to products they might not have considered otherwise.
Bestsellers: Use this to show your returning customers the top-selling items on your site. It's a way to keep them in the loop and strengthen that customer-brand bond.
New Arrivals: This feature puts forward the newest products in your store — a perfect strategy if you're in fashion, home décor, or any rapidly evolving industry. Let's say a customer is checking out a dress; they'll also get a peek at the latest accessories or shoes that just hit your shelves. This keeps your customers updated while also showcasing your fresh inventory.

Source: Duradry
Hot Tip 🔥: Your recommendations must be relevant and offer real value to the customer to be effective. Look for a solid AI product recommender that connects your inventory to your customers' shopping behaviors, preferences, and histories. A capable tool should serve personalized recommendations that turbocharge sales and elevate the customer experience.
2. Add Greater Value to Purchases With Bundle Offers
Bundle offers work like a charm because they give customers the impression of savings and added value. It's the age-old "Buy one, get one" or "Three for two" strategy but remixed and tailored for products that perfectly complement each other. By creatively packaging related products together at a discount, you can incentivize customers to spend more than they'd originally planned.
Here's a play-by-play of how you can incorporate these bundles on your checkout page:
Pre-Made Bundles: These are carefully selected product combos that pop up on the checkout page. So if a customer's cart has a laptop, a pre-made bundle might toss in a mouse, keyboard, and headphones — all at a price that's friendlier than buying them individually.
Customizable Bundles: This is where you give the power to the customer. Let them call the shots on their own bundles from a bunch of related products. They could see an enticing "Build Your Own Bundle" option at the checkout offering a neat discount.
Bundles Based on Shopping History: Leveraging customer data, you can whip up personalized bundles reflecting past purchases or browsing habits. Imagine a "Recommended for You" bundle popping up at checkout, with items handpicked based on their shopping history.
Bundle Add-Ons: This is where add-ons appear as soon as something lands in the cart. Imagine a customer buying a mobile phone and getting an offer for a case, screen protector, and earphones as an add-on bundle at a steal.
Hot Tip 🔥: When creating product bundles for your checkout page, remember to keep it simple. Stick to a few related products, ensure a clean and straightforward presentation, and use clear language to describe the bundle. Avoid "choice overload" to make the decision easier for your customers and boost your sales.
3. Delight Customers With Free Shipping
Seventy-six percent of online shoppers admit that free shipping offers motivate them to hit the "buy" button. It's a crystal-clear strategy — encourage customers to spend a certain amount to qualify for free shipping.
For example, on the checkout page, they might see a message like, "Spend $25 more to qualify for free shipping." Not only can free shipping thresholds boost the average order value and ramp up your overall sales, but they can also significantly enhance the customer's shopping journey. Many customers relish the chance to dodge shipping costs, and offering this perk can help build a strong bond of goodwill and loyalty.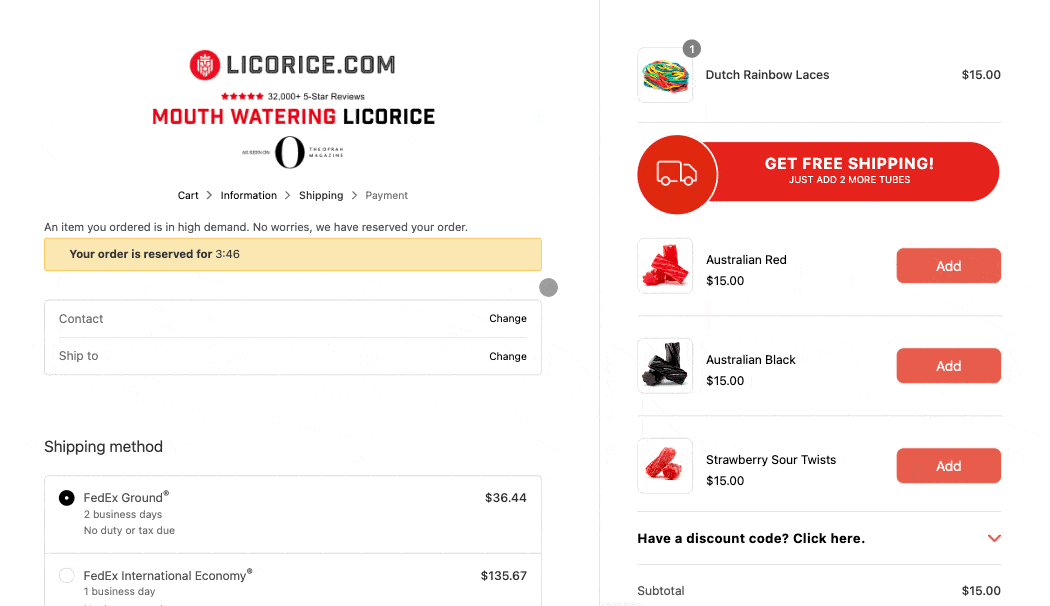 Source: Licorice.com
Hot Tip 🔥: Set your free shipping threshold slightly above your average order value. This encourages customers to drop an extra item or two into their cart to secure free shipping, potentially giving your sales a healthy boost over time.
4. Unlock Regular Sales With
Subscription
Upselling
Got a product that customers need to repurchase regularly? Like consumables? Consider offering customers the option to subscribe to regular deliveries at a discounted rate. It's a win-win. They get their favorite products delivered regularly (and for less), and you enjoy consistent sales.
Here are several ways you can lay out subscription upsells on your checkout page:
Subscribe and Save: This well-known model offers customers a discount if they agree to regular product deliveries. Imagine a customer buying a pack of coffee and they see an option saying, "Subscribe and save 10%." This could sway them to commit to a monthly delivery rather than a one-time purchase.
Membership Upsells: If memberships are part of your business model, consider upselling customers to a higher tier packed with extra benefits. For example, say you run a fitness app. With the basic subscription, a user might gain access to a limited set of workout routines or diet plans. But if they upgrade to a premium membership at checkout, they get the full package: personalized programs, a broad diet plan, advanced tracking, and a community of fellow fitness enthusiasts.
Add-Ons for Subscribers: This approach rewards subscribers with added benefits like exclusive products, free shipping, or priority access to new launches. Customers might see a message on the checkout page, like "Join the club and enjoy free shipping on all orders."
Trial Subscriptions: Let customers test the waters. Offer a low-cost or free trial subscription as an upsell. This lets customers experience your service before fully committing.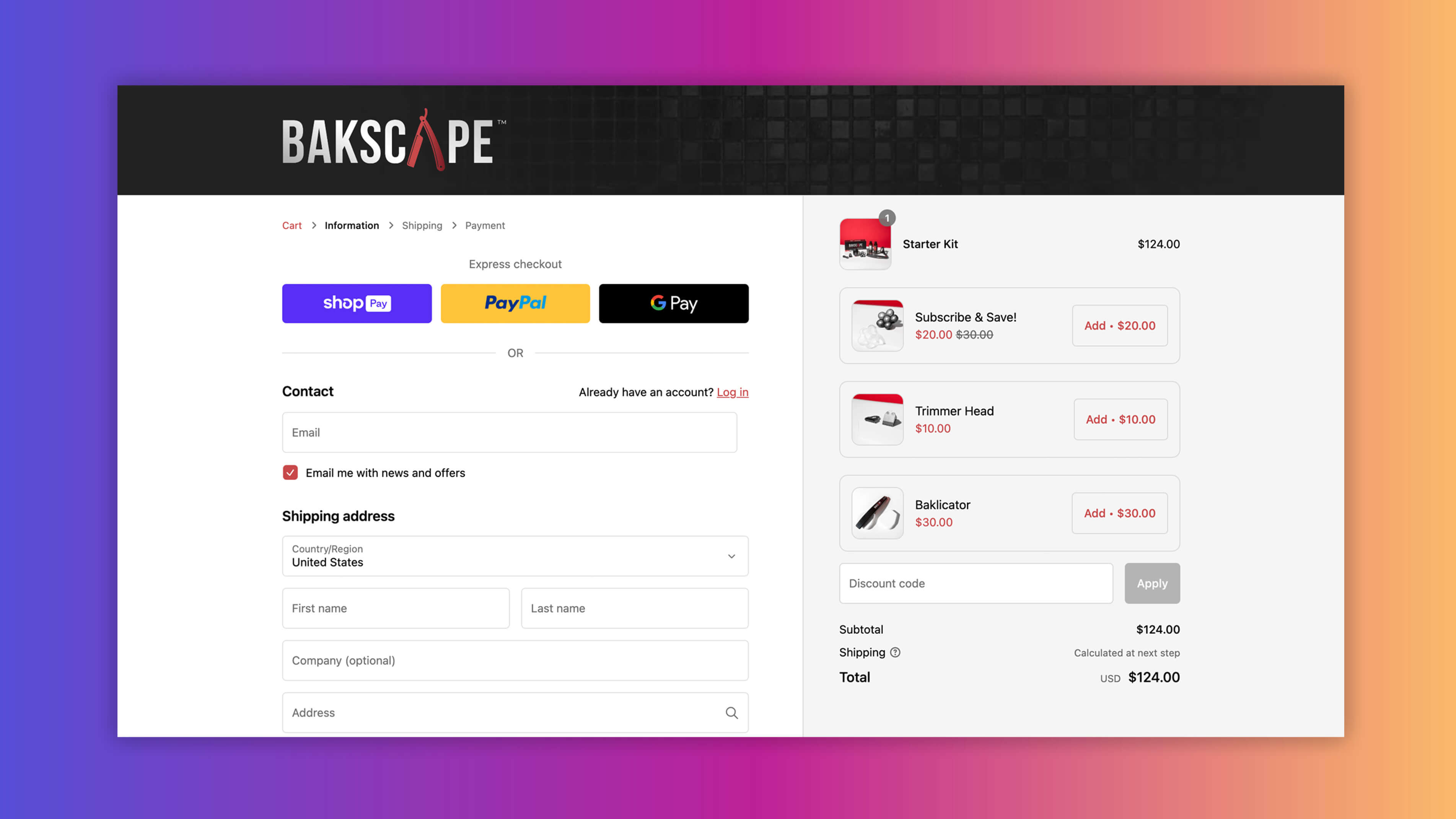 Source: Bakscape
Hot Tip 🔥: For these strategies to work well, they should offer tangible value to the customer and align with their needs and preferences. Aim for a user-friendly subscription process. With Rebuy's integration with Recharge, customers can automate subscriptions, take advantage of discounts, and enjoy a personalized shopping experience.
5. Build Trust With Social Proof
Social proof is a powerful psychological phenomenon where we tend to mirror the behavior of our peers, especially in new situations. It's a compelling strategy that can help build trust, alleviate purchase anxieties, and positively tip the scales in customers' buying decisions.
On your checkout page, social proof does double duty — it affirms the customer's choice and simultaneously pitches relevant upselling and cross-selling options. Let's say a customer has an item in their cart. If they see testimonials from other customers who also purchased a related or complementary product, they might be encouraged to add that product to their purchase, too.
Here's how social proof can be integrated into your checkout page:
Ecommerce Personalization: The Complete Guide for Founders, Merchants, and Marketers
Your ecommerce personalization journey starts here👇
Customer Reviews: Highlight a few glowing reviews about the product(s) in the customer's cart. This could nudge the customer to finalize their purchase. These can take the form of star ratings, text reviews, or video testimonials.
User-Generated Content: Display photos or videos of customers using the product. Remember: 79% of people say user-generated content highly impacts their purchasing decisions.
Real-Time Activity: Some online stores showcase real-time updates of other customers buying the same product. This creates a sense of urgency and FOMO (Fear of Missing Out), pushing customers to quickly secure their purchase.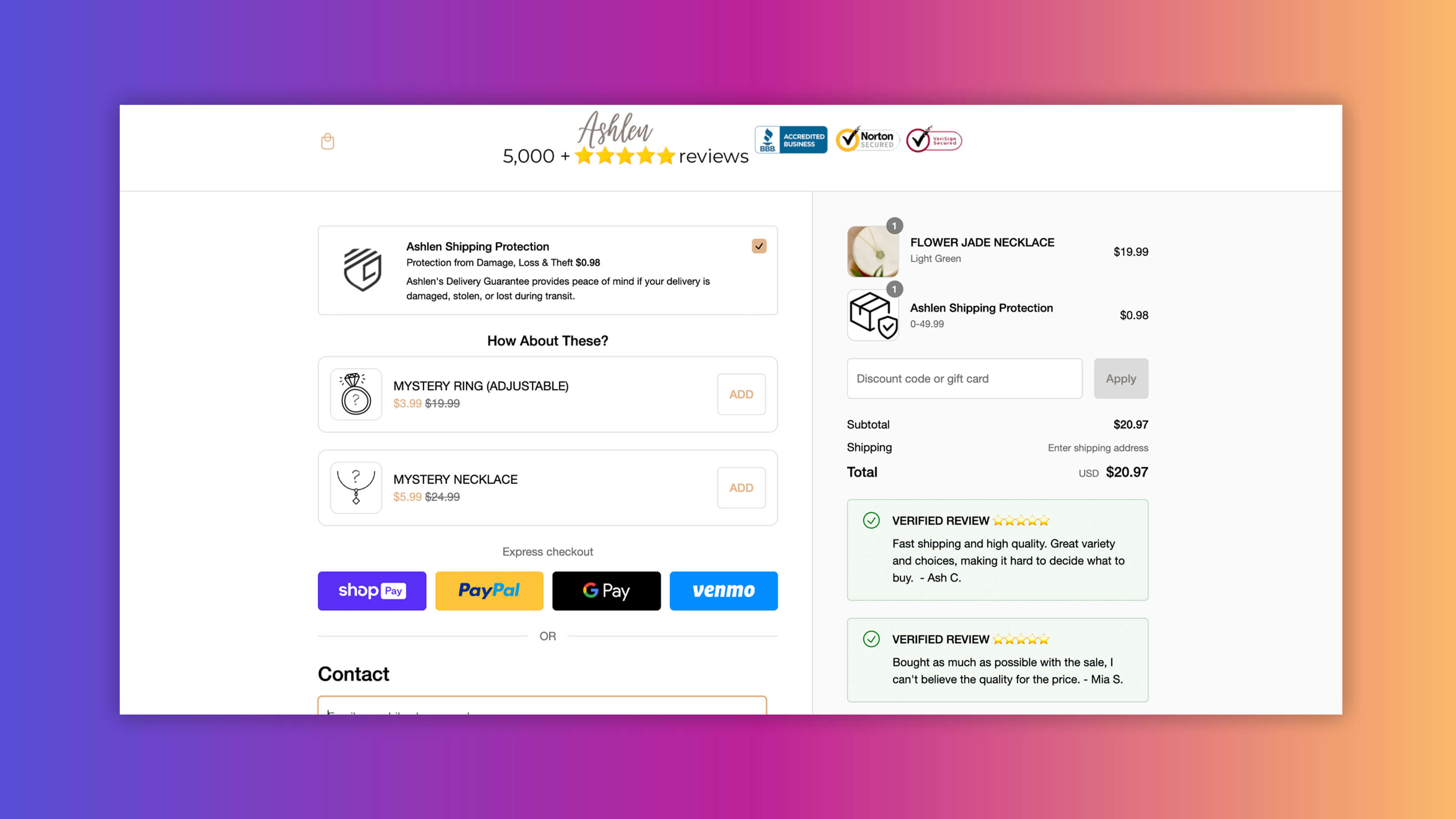 Source: Ashlen
Hot Tip 🔥: Encourage your customers to share their experiences with your products by hosting contests, offering discounts or rewards, or simply requesting their feedback. Make it easy for them by providing a platform or hashtag for them to share their photos, videos, or reviews. But remember, while you're encouraging feedback, it's crucial that the reviews and UGC are genuine and don't seem forced or fake.
Turbocharge Your Checkout Page With Data-Driven Insights
Ultimately, the key to success is ensuring these five strategies truly resonate with your customer's needs, preferences, and shopping habits. Tap into the power of data to gain a more thorough understanding of your audience to tailor your strategies effectively.
By using customer analytics, you can identify shopping patterns, preferences, and behavior trends, allowing you to personalize product recommendations, create enticing bundles, and set free shipping thresholds that genuinely motivate your customers.
Remember, the most effective checkout page isn't a one-size-fits-all solution. It's a custom-tailored, data-informed strategy that is hyper-focused on enhancing the customer experience. Learn more about how Rebuy's personalization platform fuels these data-driven shopping experiences, propelling growth for ecommerce brands.
•••
Try Rebuy free and see why the world's top brands use Rebuy to accelerate sales growth.
Interested in partnering with Rebuy? Let's do it.
To keep up with the latest trends, platform updates, and more, follow us on LinkedIn.