Press
Rebuy Raises $17M Series A to Make Online Retail Personal
The investment will be used to expand and enhance the platform, hire world-class talent, and accelerate the development of new, innovative products.
---
It's an exciting time at Rebuy!
We're thrilled to announce that we've just closed an oversubscribed $17M Series A round of funding, led by M13, with participation from Dynamism Capital, R-Squared Ventures, and follow-on investments from Peterson Ventures and Sidekick Partners. The round also included strategic investments from Ben Jabbawy of Privy and Nik Sharma.
This new round brings Rebuy's total funding to $21.4 million after raising a $4.4m seed round led by Peterson Ventures in late 2021.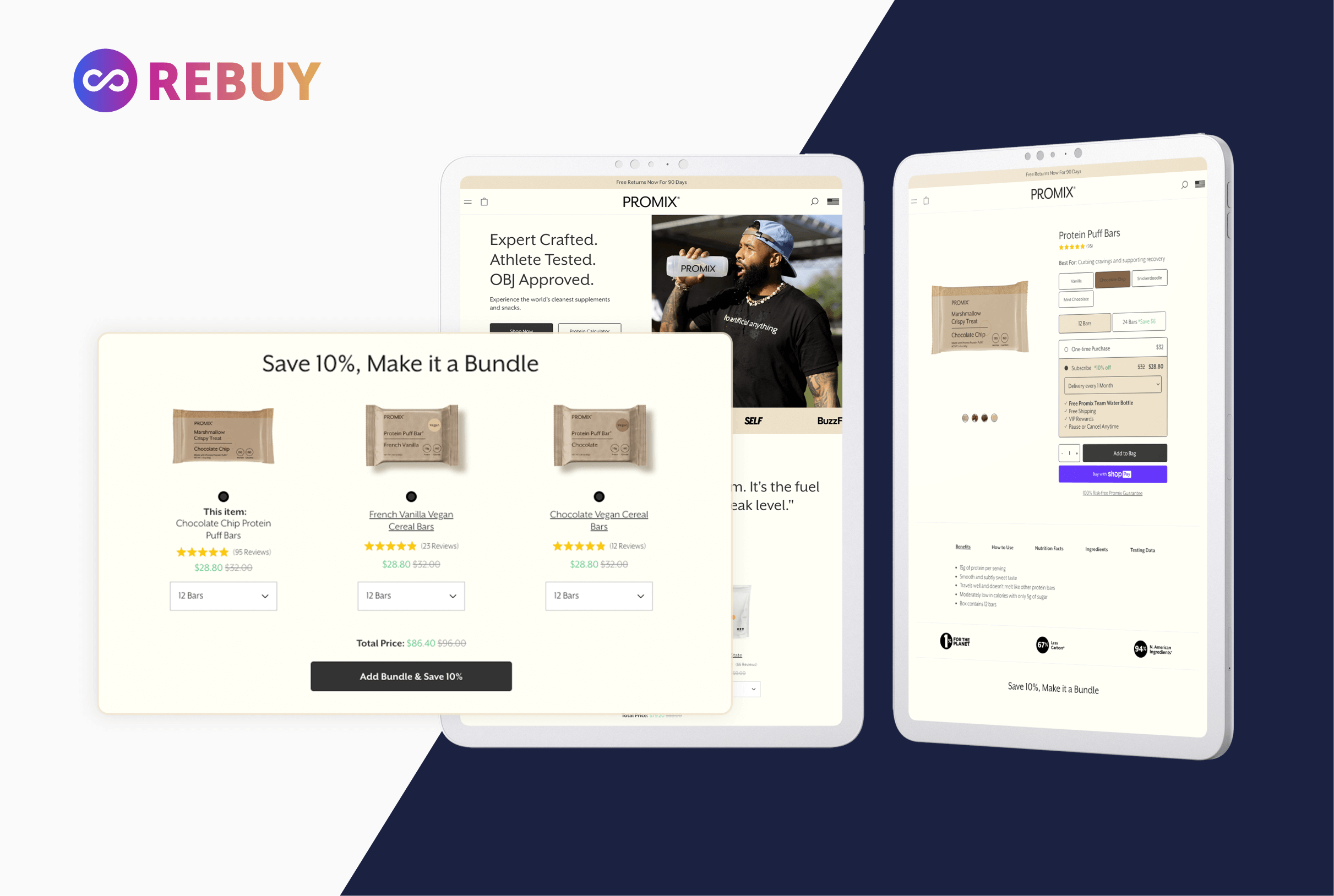 "I'm thrilled about our next chapter and the opportunity to bring our solutions to more retailers and consumers worldwide." - John Erck, CEO & Co-Founder, Rebuy
Bringing
Intelligent Shopping

to the People

Combining the power and precision of artificial intelligence with the flexibility and scalability of no-code, low-code, and custom-code technology, Rebuy is revolutionizing ecommerce by unlocking intelligent buying experiences for innovative brands everywhere.

Our end-to-end personalization platform enables brands and agencies of every size and industry to deploy hyper-intelligent shopping experiences across every stage of the buying journey.

Our CEO and Co-Founder, John Erck, had this to say: "From day one, Rebuy's mission has been to unlock intelligent buying experiences for innovative brands across the world. Modern consumers expect buying experiences as unique as themselves, and Rebuy unlocks intelligent buying experiences for next-gen ecommerce with AI and intuitive technology. I'm thrilled about our next chapter and the opportunity to bring our solutions to more retailers and consumers worldwide."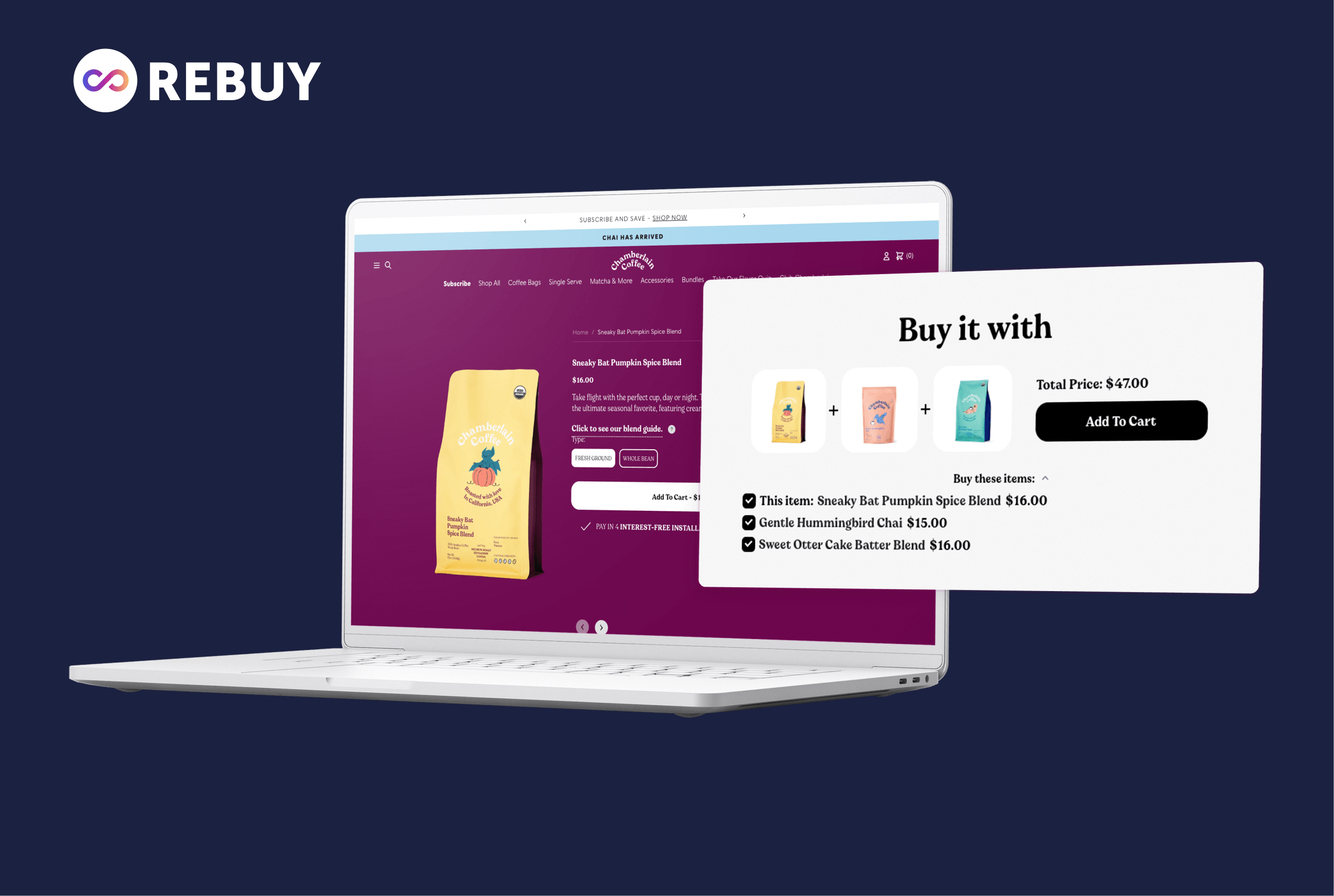 Brands Choose Rebuy to

Elevate Online Experiences
We're proud to have tripled our revenue in the last year, released 218 new products or feature enhancements, and launched integrations with some of the most prominent solutions in ecommerce, including Klaviyo, Attentive, and Tapcart.
Thousands of brands, including 10% of all Shopify Plus merchants, are already using Rebuy to elevate their online experience and unlock new revenue streams.
We're on our way...
Thanks

To You

None of this would be possible without the support of our amazing team, family, friends, partners, and customers. We're incredibly grateful for all of the hard work and dedication that has brought us to this exciting moment, and we can't wait to show you what we have in store for you this year.
"A
Must-Have

For DTC Brands"

"Over the last several years, we've seen CAC levels rise over 50% in ecommerce. As a result, brands have shifted their focus to maximize every customer encounter on their site," says Brent Murri, Principal at M13.

"We were amazed by the results Rebuy's customers saw after adding Rebuy's personalized recommendation engine to their website. The increase in conversion rates and AOV provided immediate ROI to the brand. We see Rebuy as a must-have for direct-to-consumer brands in today's competitive customer acquisition landscape."
What's
Next
We're excited to put these funds to work and will use this investment to:
Enhance Rebuy's intelligence engine
Expand the capabilities of our platform
Hire world-class talent
We also remain laser-focused on innovation and will accelerate the development of new and innovative products like Rebuy Search, Rebuy Intelligence Graph, and Visual Editor.
Rebuy's 2023 roadmap aligns closely with Shopify's more recent announcements around Functions and GraphQL, with a focus on ensuring merchants can make the best decisions with the right data.
According to Forrester, 43% of customers go immediately to the Search bar. "We see the opportunity to not only facilitate customer intent with Smart Search but to accelerate it," says Erck. "With Rebuy's product and partner ecosystem, our users will be able to leverage their collective data along with our AI to go beyond product discovery and into customer conversion."
Rebuy Graph is a project that aims to help users make better product recommendations for their customers. It does this by taking into account anonymous customer data from all users across the Rebuy platform. This means you can use not only your own customer data but also data from other customers to create personalized recommendations for every shopper.
To help drive the vision forward, Rebuy recently announced the appointment of Jason Nelson as SVP of Revenue and Cameron Wolfe as Director of AI. Nelson's ecommerce and SaaS experience will accelerate growth and expand Rebuy's global footprint. Wolfe's experience in data science and machine learning will drive innovation and help Rebuy develop useful products using modern deep learning techniques.
Reimagining
Online Retail
At Rebuy, we're on a mission to make ecommerce more personalized, intelligent, and innovative than ever before. With this new round of funding, we're more committed than ever to bringing our solutions to retailers and consumers around the world.
Thank you for joining us on this exciting journey! 🚀
Read the interview with John Erck and James Van Erck on TechCrunch.
•••
Try Rebuy free
and see why the world's top brands use Rebuy to accelerate sales growth.
To keep up with the latest trends, platform updates, and more, follow us on
LinkedIn
.