Integrations
How to Use Social Proof to Build Trust and Increase Conversions
Social proof is crucial in ecommerce. Here's how you can use it to increase conversions and build confidence in your brand.
---
Most of us have been there: tracking your most recent online purchase, getting psyched for its arrival, only to be disappointed by what actually shows up.
It's not the wrong product, necessarily—it's just not what you expected. If only you'd looked at the product's ratings and reviews beforehand.
Credible evidence demonstrating a product or service's reliability, popularity, and/or value is known as social proof. Ecommerce shops use social proof — such as star ratings and customer reviews — to build better relationships with customers, increase lifetime value (LTV), and generate more sales.
In this post, we'll highlight some of the best ways you can use social proof to benefit your customers and your business.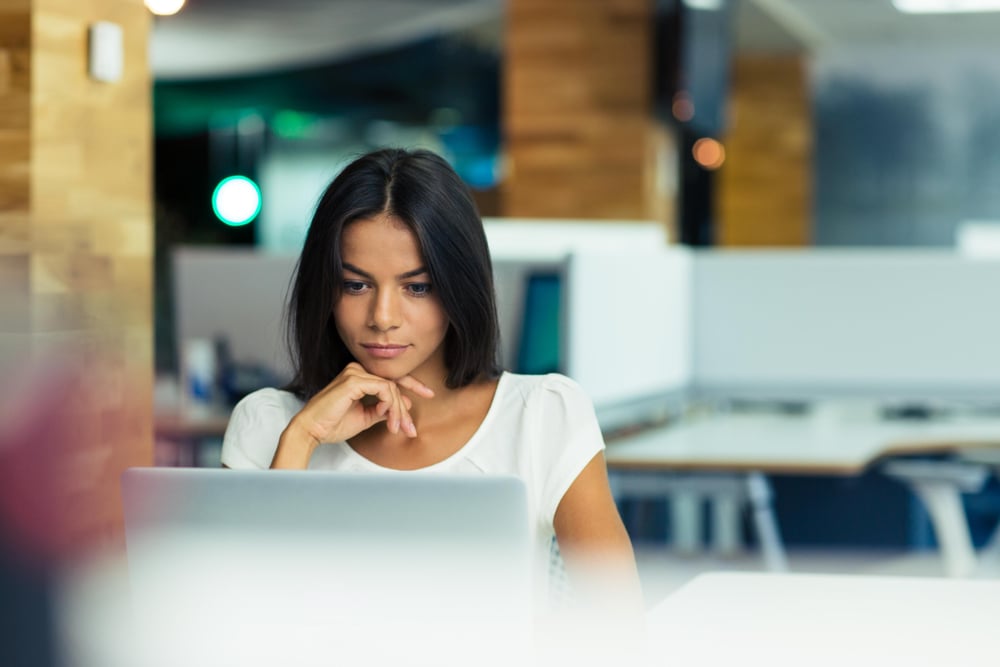 Why Social Proof is
Crucial in Ecommerce
Social proof is a big part of ecommerce success because trust is vital in the digital landscape. Annette Snow, Partner Manager at Stamped, explains, "We're a lot more leery of pulling out our credit cards when we can't see who we're interacting with. Trust alleviates that. Building social proof through reviews and user generated content builds trust that converts to sales."
Recent data confirms this: nearly 55% of online shoppers read a minimum of four reviews before buying online. Consumers expect product images from the seller to be perfectly composed, and those can go a long way in generating interest.
But images and feedback from people who aren't affiliated with the brand are what generate confidence.
Using clothing as an example, Snow said, "Viewing the actual picture or video where you can see real people trying on this product, showing how it fits, telling you their size, weight, height, the size that they purchased…you get a true sense of what it's going to be like, as if you did go to the store and try it on yourself. All of that is really important to customers."
Social Proof Methods That
Build Trust and Increase Conversions
Social proof comes in many different forms. Below, we dive into three key social proof methods.
Written reviews
Recent statistics show that product pages featuring reviews have 3.5x higher conversation rates than pages without reviews. And we're not just talking about positive reviews. Customers actually want to read about potential drawbacks or defects, and a majority won't support brands that censor negative reviews.
Snow said that not showing negative reviews actually makes customers more distrustful of a brand. "It's like, '100% of the people who purchase this product absolutely love it and don't have a bad thing to say?' That's a little suspicious. That's what makes it important for the purchaser to see all the different types of feedback."
Manssion is a brand that doesn't censor negative reviews. Which is one reason they're able to build trust with their customers, resulting in wildly popular products and thousands of 5-star reviews.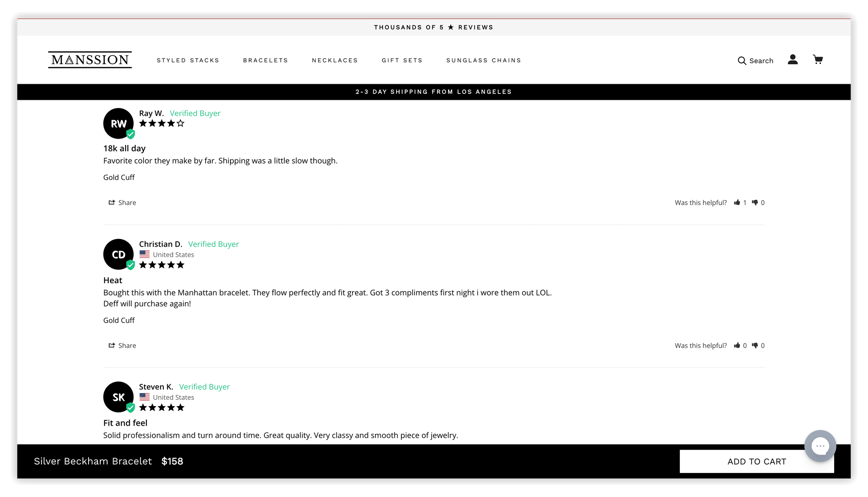 User-generated content
Product images and videos created by real customers are considered user-generated content, or UGC. Whether its shared from personal social media accounts or uploaded to your ecommerce site, this type of social proof is essential for customer confidence. Bazaarvoice found that 53% of shoppers said UGC gives them more confidence in purchase decisions than professional photos.
Have a look at this UGC uploaded from Tik Tok to the Hush Blankets product detail page (PDP). Pretty slick!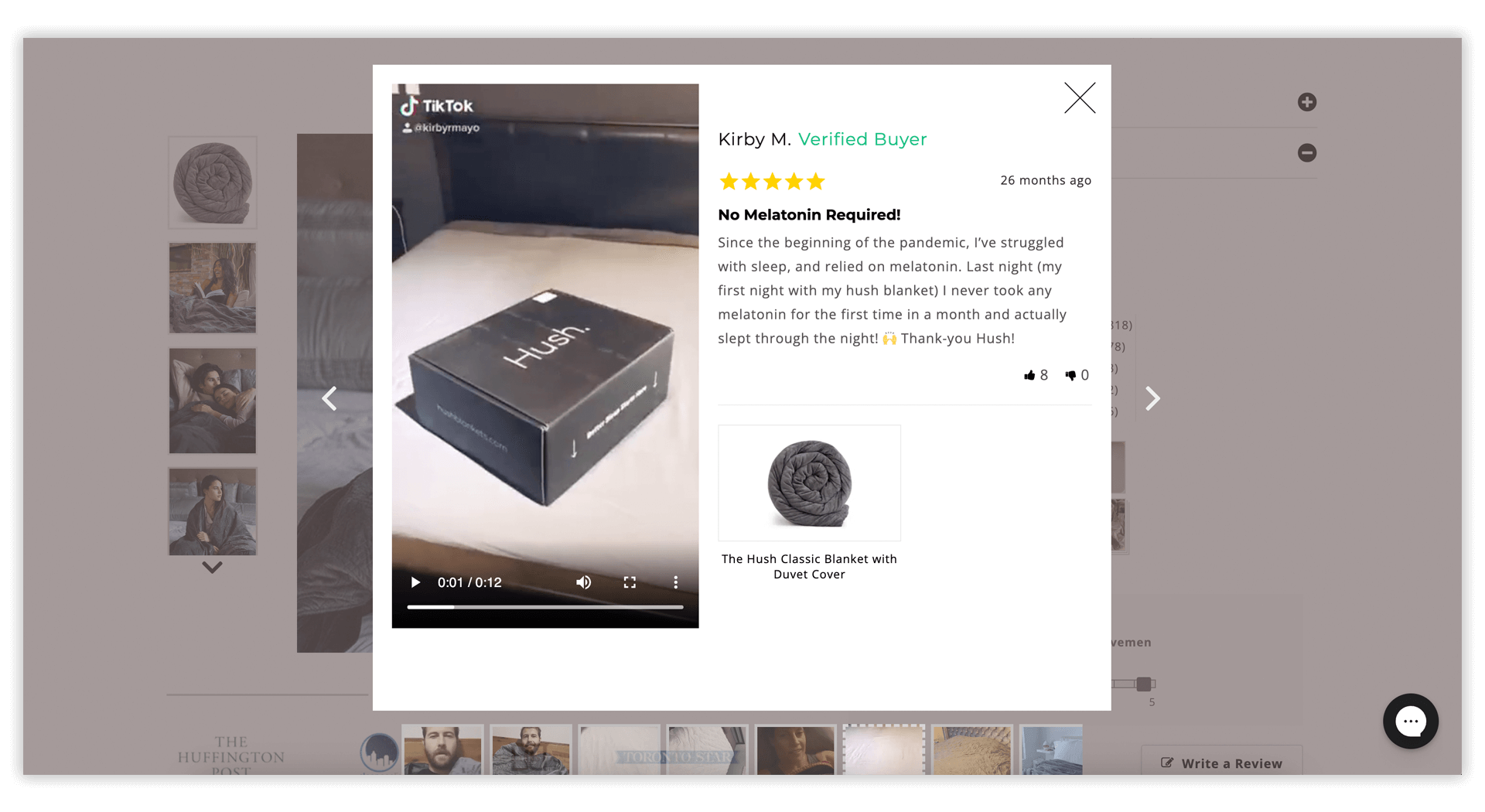 Going a step further, Snow said, "The people who use social proof the best are the ones who have a loyalty program that complements the review program. They can use their loyalty program to incentivize more UGC, more reviews, and that all comes together in the sales cycle. So now they're not just a one-time purchaser; they're a lifetime advocate of your brand."
Media mentions and expert opinions
Most people are interested in what others are talking about, so take advantage of media buzz around your brand.
Feature logos of businesses or publications who believe in your business on the homepage alongside customer reviews. Include links to press releases or feature articles, and prominently display any relevant certifications and industry awards to boost your shoppers' confidence in purchasing from you.
Companies like Secret Lab and Purple offer excellent examples of this social proof strategy. The J.D. Power award assures customers they're making the right choice.
Acquiring

Social Proof
So how do you fill your site with the kind of social proof customers expect?
"The best way is to look at your existing customers and say, 'How can we work together?'" said Snow.
Reach out to recent customers asking them to rate and review their purchase or site experience. If you have a loyalty program, present an offer to earn points by posting a review or sharing UGC. As Snow said, the more you can connect the incentives to a rewards system, the better, because it gives them a way to earn usable points to put toward your products.
Another route is to use social proof and product rating apps on your online shop. Rebuy integrates with several of the most popular options, including Stamped, to provide social proof for every personalized product recommendation.
For example, a shopper using Smart Cart™ could see a star rating and the total number of reviews for a given product and be encouraged to add it to their cart.
Increase Conversions

And Engage Shoppers With Social Proof
The inherent uncertainty that comes with shopping online heightens the importance of credible product info from other consumers like us. By using social proof, "Not only are you helping new buyers, you're also keeping existing customers in that funnel, keeping them engaged, and making your brand sticky."
•••
Ready to see Rebuy in action? Schedule a demo.
Take advantage of our 21-day free trial and install Rebuy today.
To keep up with the latest trends, platform updates, and more, follow us on LinkedIn.