Integrations
New Integration: Rebuy & Stamped
We are excited to announce that Rebuy is now integrated with Stamped.
---
We are excited to announce that Rebuy is now integrated with Stamped, the leading reviews and loyalty platform for ecommerce. Stamped combines Reviews & Loyalty to build trust and give your customers a voice.
Social Proof

Helps Your Customers (

And Your Bottom Line

)

Imagine walking down the street shopping for a place to grab tacos. Two of the restaurants have several taco lovers inside enjoying lunch. The third restaurant is empty. Which one do you choose?

Chances are you'd choose one of the restaurants with people inside. After all, when we see a long line of people at a restaurant, it signals to us that the dining experience (and hopefully the food) inside is high quality.

Social proof helps your customers make buying decisions more quickly. In the example above, shoppers trust that a busy restaurant means the food is good.

And that's the power of social proof. As P.T. Barnum put it, "Nothing draws a crowd quite like a crowd."

But how can you use social proof to grow your online store? More and more merchants are using product reviews and ratings to build trust with their customers and grow. Positive ratings and reviews signal to shoppers that the products they're viewing are desirable and worthy of purchase. If your product has enough 5-star ratings to appear valid and desirable to customers, it's more likely to sell.

Have a look at the following data points.
93% of customers read a review before making a purchase
88% of consumers trust online reviews as much as personal recommendations
Just one review on your product page can boost conversion rates by 354%
Online product reviews and ratings are growing in popularity and easier than ever to add to your online store.
Power Your Social Proof With
Stamped
Introducing Stamped - the reviews and loyalty platform for ecommerce. Boasting two signature products (Reviews and Loyalty), the Stamped platform empowers merchants to quickly and easily build brand credibility and trust with customers.

Stamped makes it easy for Shopify stores of all sizes to increase the volume and quality of their product ratings and reviews.
"The Stamped + Rebuy integration brings personalization and social proof together to build trust at key moments in the buying journey. The credibility built by embedding reviews into your personalization strategy leads to outcomes like higher conversion rates, increased AOV, and better brand engagement." - Teala Beischer, Product Marketing Manager, Stamped
And ratings and reviews are just the beginning. With Stamped, you can:
Uncover actionable insights about your products and consumers.
Strengthen customer relationships with their VIP Program.
Survey your customers to measure customer happiness.
Stamped delivers compelling social proof for thousands of fast-growing brands like Baltic Born, Daily & Co., and more.
Showcase Your
Star Ratings

Where It Counts

To help Shopify merchants unlock the power of social proof, Rebuy has integrated with Stamped, used by 40,000+ high-growth Shopify brands to build shopper trust and excitement.

Customers using Stamped to build trust online can now display product-specific star ratings within Rebuy's personalized product recommendations.

Ritual Zero Proof, a maker of non-alcoholic spirits, recently saw a 46.3% improvement in average order value (AOV) while featuring Stamped star ratings in Rebuy's upsells and cross-sells.

Other brands already using the integration have seen significant increases in both AOV and sales volume.
Enabling the
Rebuy-Stamped

Integration

It's easy to enable Stamped ratings to appear in your Rebuy upsell and cross-sell widgets. After activating the Stamped integration, open the Integrations drop-down menu and click "Enable Stamped Reviews" while editing a Rebuy widget.

Now, you can unlock the power of social proof and create personalized onsite experiences for your customers when you pair Stamped ratings and reviews with Rebuy-powered product recommendations.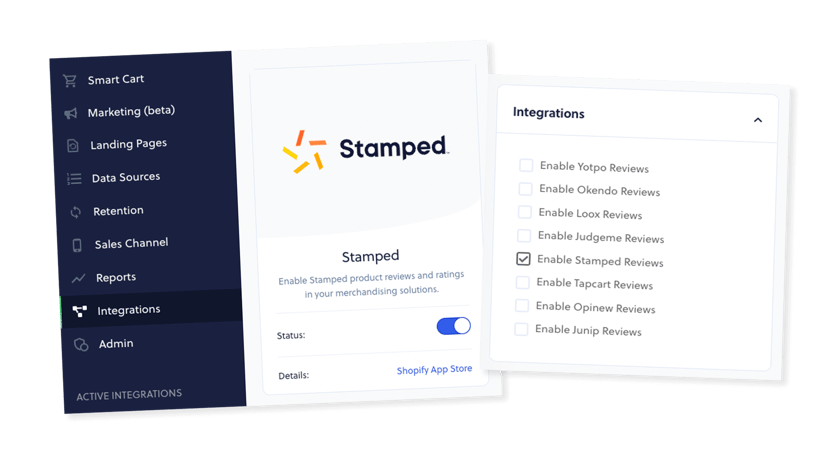 Implementation
Examples
Stamped users can surface ratings and reviews in all Rebuy-powered personalization experiences. Popular touchpoints include:
Home Page
Product Description Page (PDP)
Cart Page/Flyout
Checkout Page
Post-purchase
Thank You Page
Early adopters of the Rebuy <> Stamped integration are enhancing Rebuy's personalization touchpoints with high-impact social proof from Stamped.
Ritual Zero-Proof
Ritual Zero-Proof has seen tremendous success featuring Stamped star ratings in their Rebuy-powered in-cart cross-sells.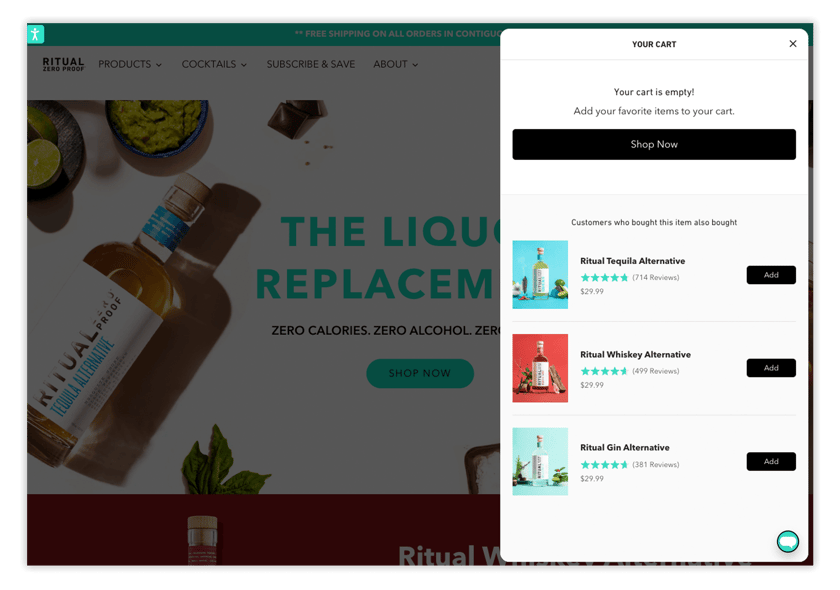 Hush Blankets
Hush boasts 10,000+ product reviews and also features Stamped star ratings in the cart.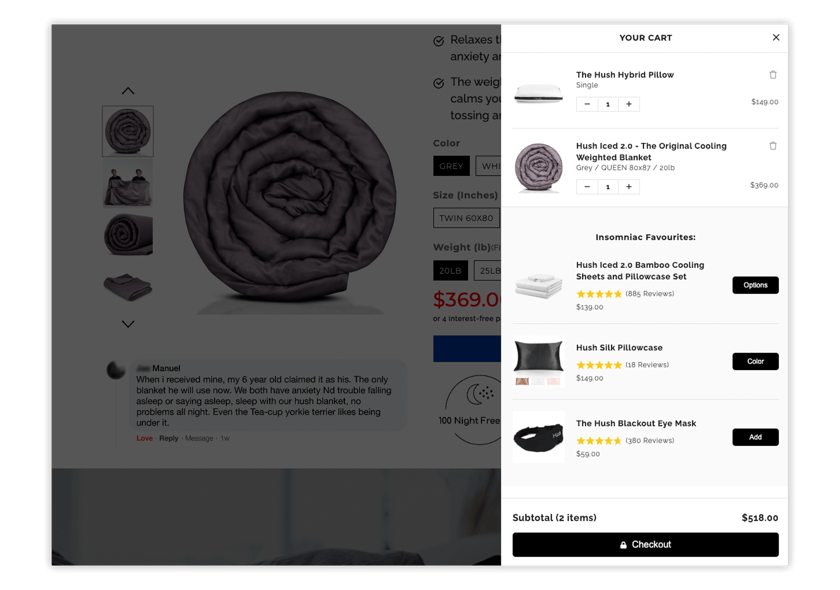 Manssion
In this example, Manssion, maker of premium men's jewelry, showcases star ratings on the PDP.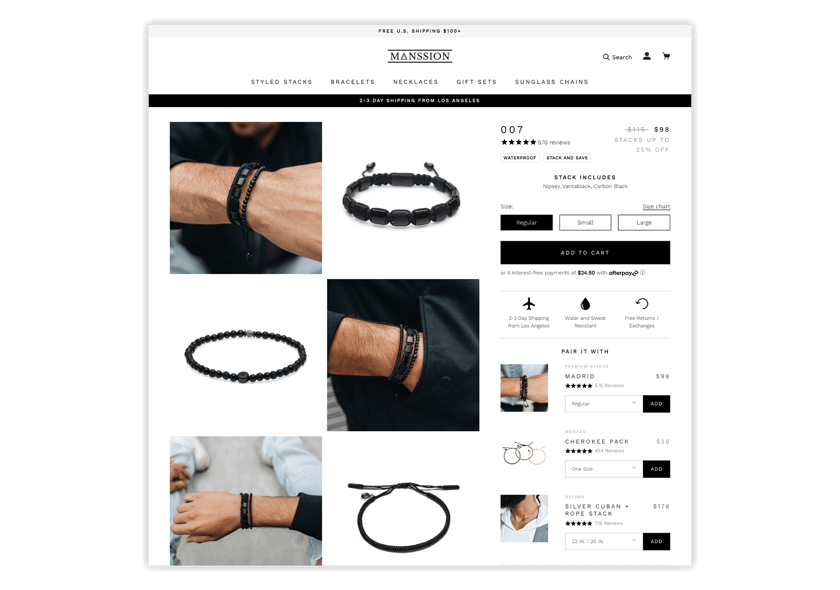 A
Special Offer

for Stamped Users

Amplify your ratings and reviews with personalized upsells and cross-sells when you use Stamped and Rebuy together. (Are you a Stamped user? Claim your special offer here!)
Rebuy & Stamped
Now available on all Rebuy payment plans, the Stamped integration makes it easy for Shopify merchants to leverage the power of social proof in Rebuy's intelligent product recommendations.
Try Rebuy free for 21 days. Interested in partnering with Rebuy? Let's do it. To keep up with the latest trends, platform updates, and more, follow us on LinkedIn.