Case Study
Cheers! Ritual Zero-Proof Boosts AOV by 46.3% 🍹
Ritual Zero-Proof, a maker of non-alcoholic spirits, drives subscriptions and AOV to intoxicating levels with Rebuy.
---
Result
Subscription revenue +66.7%
AOV +46.3%
Industry
Spirit Alternatives
Use Case
Bundles, Cart UX, Subscriptions
Challenges
If you own or manage a subscription business, you know how challenging it is to turn a new shopper into a loyal subscriber.

Overcoming this challenge is top-of-mind for Brennan MacKinlay. MacKinlay is the ecommerce manager of Ritual Zero-Proof, a maker of premium non-alcoholic spirit alternatives with the taste, smell, & kick of liquor.

To grow the business, MacKinlay focused on two strategies: bundles and subscriptions. Subscriptions to increase LTV. And bundles to boost AOV. (Spoiler alert—he was wildly successful.)

After a single-function bundling app didn't meet functional or aesthetic expectations, MacKinlay sought advice from the support team at Recharge. "Is there an app out there that can handle both smart subscription upsells and dynamic bundles for an online store powered by Shopify Plus?" he asked. They recommended Rebuy.
"Subscriptions started to increase more rapidly than they ever have."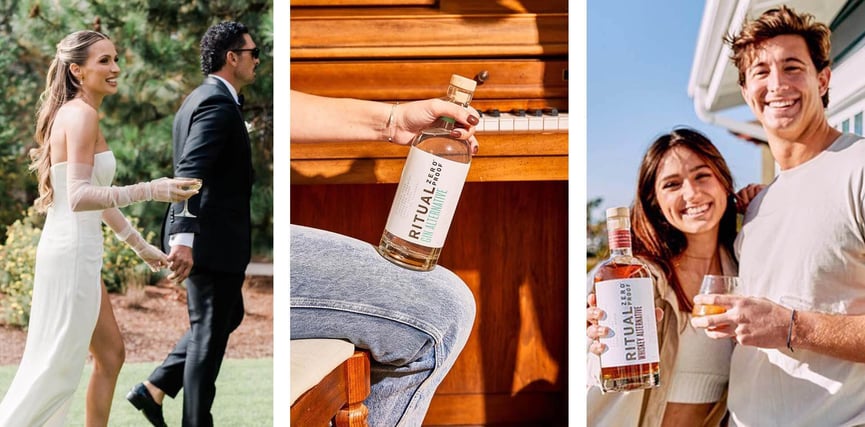 Strategy
MacKinlay tackled subscriptions first. After installing the Rebuy Smart Cart™, he added powerful subscription upsells to it. These upsell widgets let customers upgrade their products to a subscription with a single click. "It reminds customers they can purchase a subscription instead. And we saw a nice uptick in subscriptions afterward."
MacKinlay appreciated that customers can add to their order directly from the cart instead of visiting a separate product detail page (PDP). "It's a lot easier for the customer. Anything that reduces clicks is good."
To increase AOV, MacKinlay decided on a tried and true merchandising strategy: bundles.
To make it easy for shoppers to buy the bundle, MacKinlay placed a Rebuy Smart Link on the "Shop Now" product page. Rebuy Smart Links are links that, with a single click, auto-fill the shopping cart with any number of products you choose. They're ideal for filling the cart with related items that can sell as a bundle. The idea was to bundle all four alcohol alternatives with a branded tote bag and sell it at a 10% discount.
"Something that I liked right away was Smart Cart and the ability to switch to subscription in one click."
Finally, on the main product page, he added a featured image and a CTA button that says, "Buy Now." The discounted price appears to show the savings offered.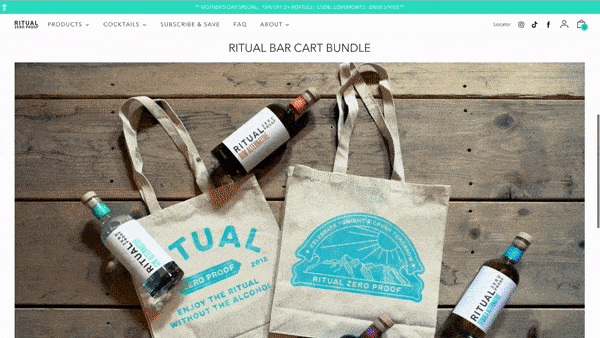 Results
The goal was to drive more subscriptions and increase AOV. Check and check! MacKinlay and the team at Ritual Zero-Proof are seeing more subscriptions than ever before. "We started growing subscriptions much more rapidly once we switched to the Smart Cart," says MacKinlay.

There was an extra benefit here, too, as MacKinlay explains, "It saves us a ton of money because I don't have to advertise for those customers to buy. They don't even have to come back to the site." Ah, yes. The subscription business model has plenty of advantages. Especially, when you can easily feature switch-to-subscription upsells in a well-designed and on-brand cart flyout.

And the AOV? Well, let us put it to you like this:
Ritual Zero saw a massive
66.7%

increase in subscription revenue and a

46.3%

boost to AOV. In addition,

31.7%

of total sales were attributed to Rebuy.

We'll drink to that! 🍹

•••
Want to see if Rebuy can meet your upsell, cross-sell, and merchandising needs? Let's chat. To keep up with the latest trends, platform updates, and more, follow us on LinkedIn. Visit the Ritual Zero-Proof online store here.