Partners
5 Questions With Jonathan Snow, DMD: The Perfect Mix of Dentistry, Military Service, and Marketing
Proof that a unique background and a diverse skill set can help you reach the top.
---
In our April interview, you'll learn how a wide range of knowledge and a diverse skill set has helped COO and Co-Founder of The Snow Agency, Jonathan Snow, DMD, partner with his brother Daniel to build one of the country's top creative digital marketing agencies.
Snow reveals the importance of creative testing, how his diverse mix of knowledge and experience helps him shape the culture at The Snow Agency, and the killer tech stack that helped generate $17MM in 8 months for one of their star clients.
The Snow Agency is a cutting-edge provider of digital marketing services specializing in e-commerce and local businesses. They were ranked as the #1 US Digital Marketing Agency & Digital Agency in January 2021 by DesignRush, a top B2B marketplace connecting brands with agencies.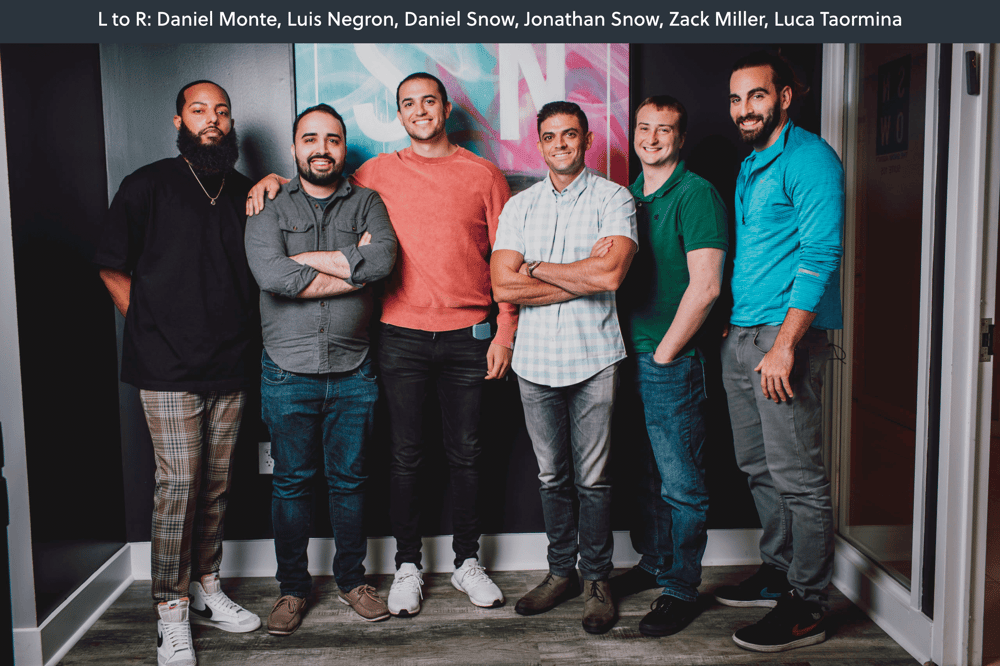 1. You were a Captain in the US Air Force. You're an entrepreneur. And you're a Dr. of Dental Medicine. How has your range of experiences informed your marketing career?
My background and professional experience are unique in that they combine totally unrelated fields: dentistry, military service, and marketing. While they are entirely different in scope, I have taken these diverse experiences and used them to help improve and grow our agency at a rapid pace.
I completed my Orthodontics Residency and took all of my insights from that experience, and my time as an Active Duty Officer in the Air Force, to help shape the environment that exists today at The Snow Agency.
The 6 core tenets and pillars of The Snow Agency closely align with the pillars of being a medical provider and an Officer in the Armed Forces: Excellence, Transparency, Innovation, Growth, Accountability, and Teamwork. We constantly reflect on these tenets internally and externally, which were shaped and influenced by the range of experiences I have been fortunate enough to have.
My experience as an Orthodontist has refined my diagnostic, problem solving, and critical thinking skills which are certainly applicable to marketing, funnel optimization and troubleshooting conversion rate issues.
My time as an Officer in the Air Force gave me exposure to complex organizational policies, procedures, and systems. At scale, processes and procedures are critically important in upholding standards, quality of work, and excellence, especially when you have a large team that is expanding rapidly, like the one we have at The Snow Agency.
2. What practical advice do you have for smaller eCommerce brands looking to grow?
In order for eCommerce brands to scale profitably, it is ALWAYS important to strategize ahead of time and have a game plan that accommodates scale. Their tech stack and marketing plan should be decided on in advance so traffic is maximized on a refined site with optimized Average Order Value & Conversion Rates, email & SMS capture forms, etc.
Fulfillment for a brand with plans to scale should be hashed out beforehand so there are no hiccups along the way.
Brand owners today are generally individuals who are masters of product design/engineering or have a significant influence on social media. I always recommend brands to stick to what they're good at and leave the technical, arduous operations (like fulfillment & marketing) to those who specialize in it.
"Invest in a constant influx of direct response content."
My last, most important recommendation is to invest in a constant influx of direct response content, regardless of whether or not they are doing the marketing themselves. Ecommerce brands largely rely on paid traffic and without an abundance of engaging content, it will be difficult to succeed in the current competitive landscape of digital marketing.
You can have the best product in the world, but if it's not conveyed in an engaging way on social media, it will get lost in the noise that is the social media feed, and sales and profits will suffer. Creative testing is ultra important and without a routine abundance of creatives at a brand's disposal it will be near impossible to survive long term if it's relying on digital ads.
The 3 most important words for digital marketing success: Rampant creative testing.
3. The Snow Agency helped Hollywood Hair Bar generate $17MM in 8 months. What strategy or tactic contributed to that success the most?
Hollywood Hair Bar is one of our favorite success stories! Tiffany, the Founder & CEO, is a superstar who has big ideas and goals and implements a bunch of our recommendations in all facets of her business.
With a large marketing budget, we knew we needed to optimize everything on the site before sending traffic. We implemented email & SMS capture forms along with a comprehensive email/SMS marketing strategy to leverage the soon-to-be-huge customer base into brand awareness and extra revenue.
"You should never make an assumption about a creative because the only way to find out if it will be effective is to test it."
We made sure she had an adequate tech stack, which included Rebuy, for increasing AOV; ReCharge for subscriptions since she sold consumable products; Okendo for social proof and free user-generated content (UGC); ReConvert for customizing the Thank You/Order Confirmation page which we leveraged for extra revenue through upsells; and FENIX Commerce for shipping and fulfillment optimization.
We combined this optimized tech stack with explosive Direct Response marketing campaigns across Facebook/Instagram, Google/YouTube, Snapchat, Email, and SMS. Having all of these channels pumping simultaneously into a website perfectly optimized to convert was like adding fuel to a fire.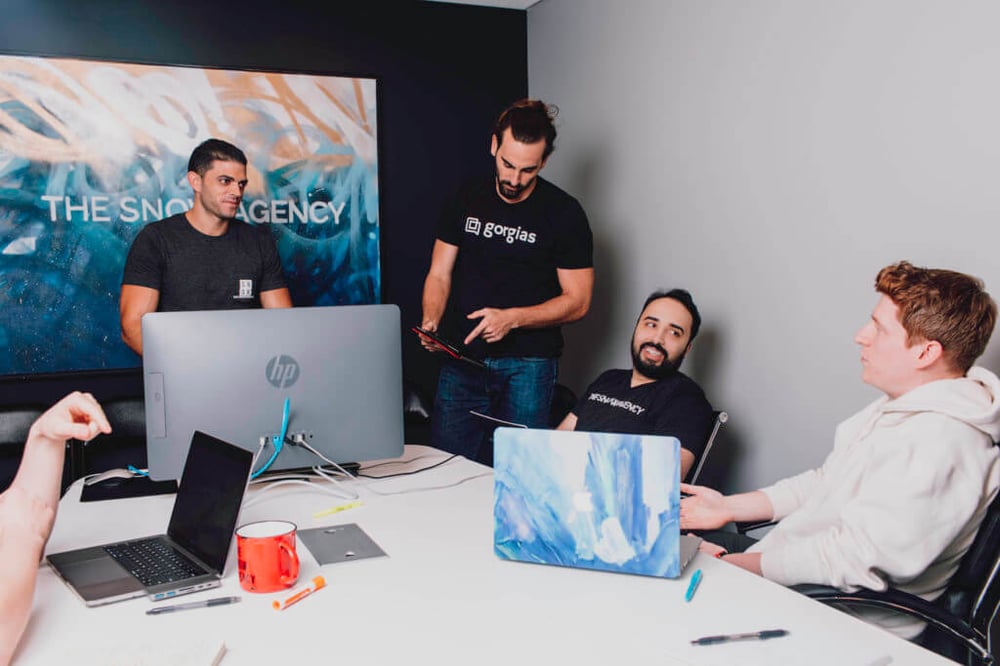 4. What is the key to managing a full team of creative marketing experts?
The absolute key is to remind any creative or direct response marketer that testing is key! Sometimes you will have a creative that you think will absolutely crush and it flops, sometimes you have a bad initial feeling about a creative's efficacy and it ends up surprising you, and the brand can ride it for a while. You should never make an assumption about a creative because the only way to find out if it will be effective is to test it!
Rapid creative iteration and testing in ads are of utmost importance to scale a brand quickly. Without learning which creatives will perform well or poorly, you will be delayed in finding the winning creatives which will allow you to scale brands to infinite heights. You always need to go through the weeds to get to the flowers!
5. What is the most difficult marketing decision you've had to make? How did things turn out?
In 2020 we put a huge emphasis on launching email & SMS marketing in-house. With the rise in competition, and volatility present in the digital marketing landscape, we realized how important it was to supplement Facebook and Instagram ads for clients with extra low-hanging fruit revenue streams like email and SMS.
Without having a holistic marketing strategy in place for our clients, we wouldn't be able to control all of the factors that contribute to their success. We don't want to just help our clients succeed on Facebook ads. We want our clients to succeed in all facets of their business.
"By controlling the content process...we can achieve a higher level of predictability in terms of ad success rates."
This initiative has returned amazing early results for our clients, as we've generated over $5 million in email and SMS revenue in just under 6 months. We offer our clients a very low barrier to entry with packages that require no money down, and our fees are entirely performance-based as they are tied solely to the revenue we drive for them.
Bonus Q #1. What is The Snow Agency working on in 2021? Any big projects or initiatives we should watch for?
We just launched our full-blown content production studio in a beautiful state-of-the-art 10,000 sf space in Q4 of 2020. Because CONTENT is everything these days if you want to sell anything online. We offer high-end, luxurious product shots, lifestyle shots, mood and hero shots, and of course, direct response video content. We saw a major void in the space in terms of content quality and we decided to take this into our own hands and not rely on third parties to deliver ad creatives that convert.
By controlling the content process for clients who choose to utilize our studio services, we can achieve a higher level of predictability in terms of ad success rates. This will be the primary focus for 2021 and is certainly an initiative that will positively impact the quality and performance of our clients' ads.
Bonus Q #2. What are you reading lately?
I just started reading High Output Management by Andrew Grove, the ex-CEO & President of Intel—phenomenal read so far. In this book, Grove outlines his principles of effective management and how to elevate the performance of a growing team and management alike. He grew Intel to be one of the world's largest corporations, so it's definitely worthwhile to get inside his head and learn from the best.
The Snow Agency has grown to 70 full-time employees in just 16 months, so there is a ton of useful information I can apply from his philosophy to management output at The Snow Agency.
•••
Follow Jonathan Snow, DMD on LinkedIn and on Twitter @drjonathansnow.
If you think The Snow Agency might be a good fit to work with your brand, send them a note at thesnowagency.com. Check them out on Yahoo Finance to learn more about their prestigious #1 ranking here.
Try Rebuy free for 21 days. Interested in partnering with Rebuy? Let's do it. To keep up with the latest trends, platform updates, and more, follow us on LinkedIn.