Integrations
Enhanced Integration: Rebuy & Klaviyo
We are excited to announce that Rebuy is integrated with Klaviyo.
---
Rebuy has enhanced its integration with Klaviyo, a unified customer platform for email, SMS, and more. Klaviyo empowers online brands like Unilever, Bonobos, and TaylorMade to turn valuable customer data into texts and email marketing that grow your business.
Table of Contents:
Bang For Your Marketing Buck: Email Marketing
Create More Personalized Email and SMS Flows
Drive Repurchase Rates With Reorder Landing Pages
Enabling Reorder Landing Pages
A Special Offer For Klaviyo Users
Bang For Your Marketing Buck:
Email Marketing
Email marketing has come a long way since the first-ever email marketing campaign was sent in 1978. Today, email marketing is essential for brands looking to make direct connections with their customers.
So where should you allocate your marketing budget for maximum ROI? It's easy to make the case for email. After all, your customers still prefer email to other channels.
Have a look at the following data points.
Email drives an ROI of $36 for every dollar spent, higher than any other channel
Email marketing revenue is estimated to reach almost $11 billion by the end of 2023
Seventy-one percent of consumers expect companies to offer personalized communication, and 76% get frustrated when they don't find it
After considering innovations in email marketing like automation, dynamic content, and personalization, it's clear that merchants can reap major rewards by optimizing their email marketing programs to grow their businesses and better serve their customers.
Acquire, Engage, and Retain With
Klaviyo
Enter Klaviyo, the ecommerce marketing automation platform for email marketing and SMS. Designed specifically for ecommerce, Klaviyo integrates with platforms like Shopify, WooCommerce, BigCommerce, and many others.

Klaviyo helps merchants sync valuable data from their entire tech stack and use it to send targeted email and SMS messages to their customers. What's more, any data syncing to your Klaviyo account can be used to trigger and target automated flows.
💡 What's a flow? A sequence of automated actions, which can include email and SMS messages, that triggers when a person performs a specific action — such as when someone joins a list, is added to a segment, makes a purchase, or abandons their cart.
With Klaviyo, you can:
Acquire new customers and grow your email and SMS subscriber lists with simple, pre-built signup forms.
Engage existing customers with powerful automated flows based on customer actions.
Nurture retention and increase lifetime value (LTV) with pre-built behavior-triggered automations like back-in-stock and price-drop alerts.
With over 1,000 5-star reviews on the Shopify app store, Klaviyo stands out as the leader in email and SMS marketing for the ecommerce industry.
Create More Personalized

Flows
To help Shopify merchants create more personalized campaigns, Rebuy has supercharged its integration with Klaviyo, used by over 65,000 Shopify brands to power their email and SMS marketing.

As part of this enhancement, Rebuy's personalization engine can now analyze billions of data points that funnel into personalized product recommendations based on Klaviyo event data.
💡 What's a Klaviyo event? Put simply, an action taken by a customer. For example, when a customer begins to check out, Klaviyo will track this as a Started Checkout event. Other common events are Placed Order and Viewed Product. For more information about Klaviyo events, click here.

This means that, as a Klaviyo customer, you can now drive higher average order values (AOV) for every email and SMS by including personalized product recommendations in your marketing messages.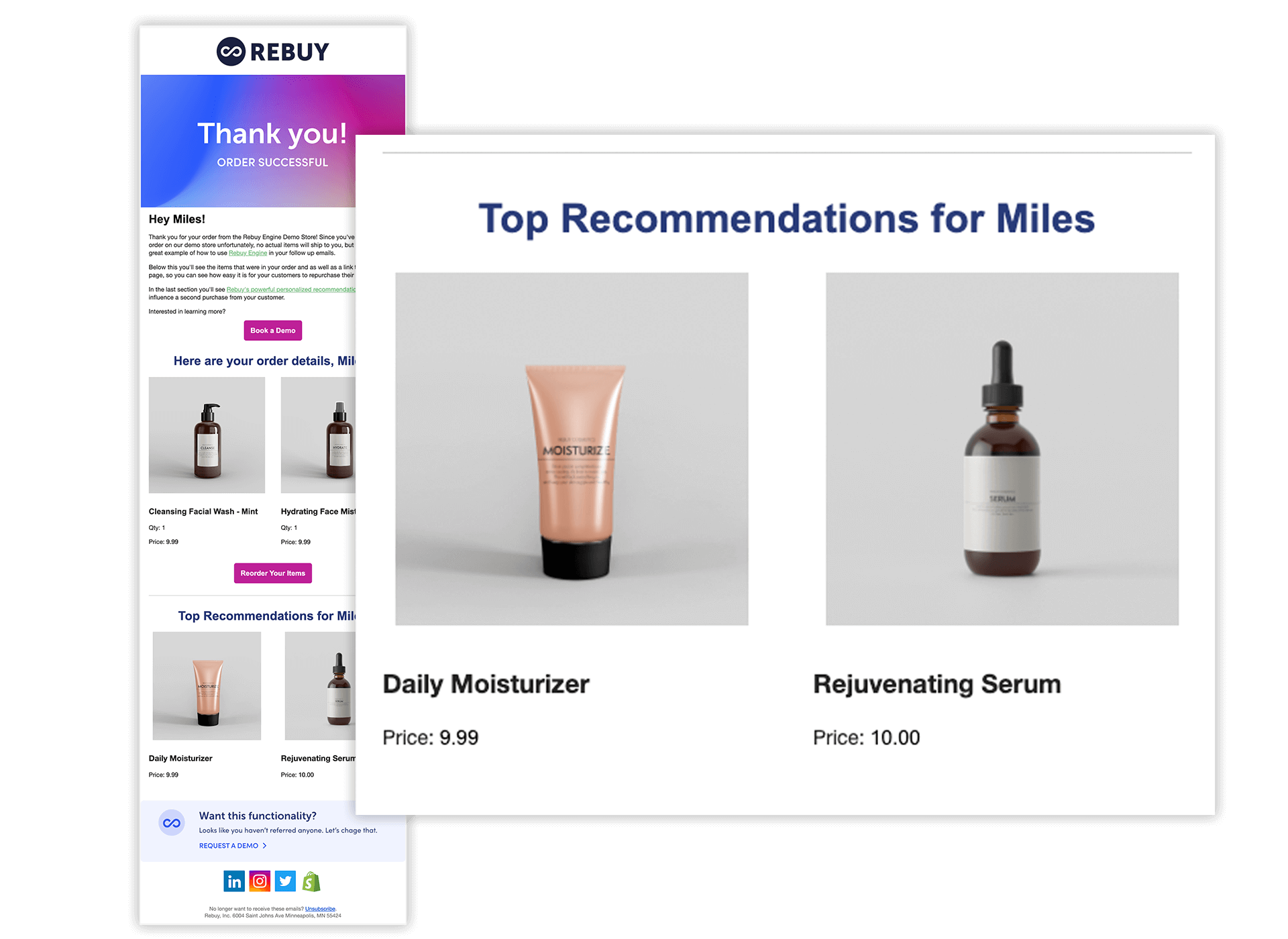 "Partnering with Rebuy unlocks strategic opportunities for Shopify merchants to provide multiple personalized options to consumers at the right time with the right products." - Chathri Ali, Klaviyo Technology Partnerships
Where should you plug in personalized product recommendations within Klaviyo? Consider adding them to popular flows like these:
Welcome series: Introduce subscribers to your brand and convert them into first-time customers; try 'most popular' and 'top seller' product offers in these flows.
Post-purchase: Follow up promptly with recent customers to make personalized cross-sell offers based on their shopping behaviors, profile data, and more.
Winback: Re-engage customers who purchased in the past, but haven't bought again in a while; try 'top seller' offers and offers based on previous purchases.
Coming soon: Personalized Abandoned Cart Flows
Abandoned cart flows allow you to send a triggered email or SMS reminder to customers who have abandoned their shopping cart. Functionality is coming soon that will allow you to include Rebuy-powered product recommendations in these flows as well.
Drive Repurchase Rates with
Reorder Landing Pages (RLP)
Another major enhancement: Klaviyo flows can now be used to direct your customers to their own unique Reorder Landing Page.
Designed to fit neatly into the replenishment campaigns you create in Klaviyo, Reorder Landing Pages are dynamic pages that make it crazy easy for your customers to reorder their favorite products. Just add a link to the RLP from your Klaviyo campaign and boom, a personalized reorder experience for your customer!
For example, say you manage the online store for a coffee brand and you want to automatically remind your customers to restock their supply of coffee after 30 days.
To do this, create a replenishment campaign in Klaviyo that triggers 30 days after the purchase date. Then, you can include a Rebuy-generated RLP link in the email that sends your customers to their own personalized landing page where they can repurchase their previous order.
You can even include personalized upsell and cross-sell offers on the page to increase AOV and introduce new and related products. A powerful mini-cart and bold Checkout button help to retain these customers by making it easy to complete the purchase.
For example, Gamer Supps uses Rebuy's RLPs to drive repeat purchases of their flavored supplements, and cross-sell related products at the same time.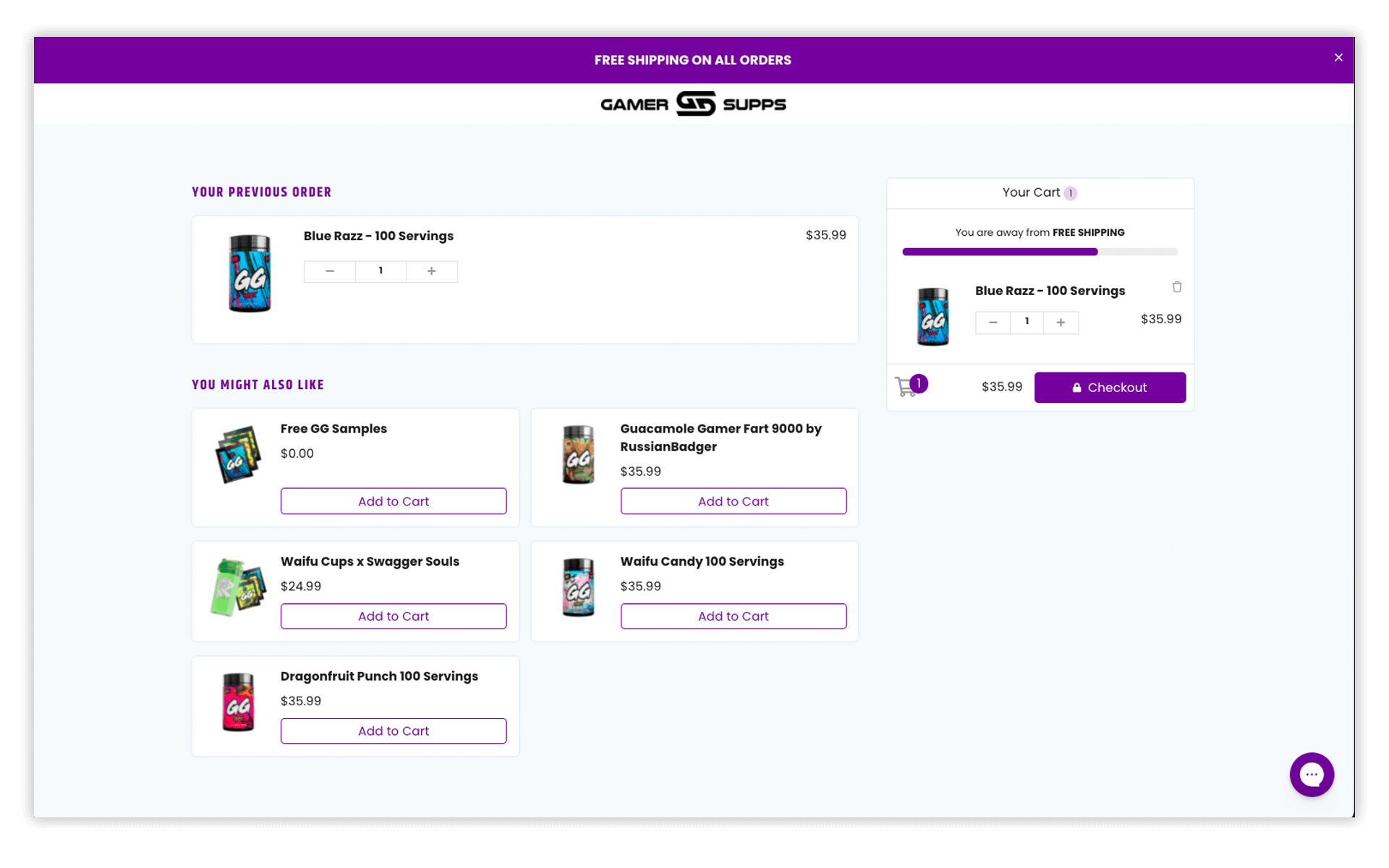 To use Reorder Landing Pages in your Klaviyo replenishment campaigns, click here.
Enabling the
Rebuy-Klaviyo

Integration

To start using Rebuy with Klaviyo Events, simply visit your Rebuy dashboard and enable the Klaviyo integration. Then, add the Public API Key as well as the Private API Key. Once enabled, you'll see a new section in the left margin called Klaviyo Events. That's where you can manage how your upsells and cross-sells appear in reorder landing pages and Klaviyo emails.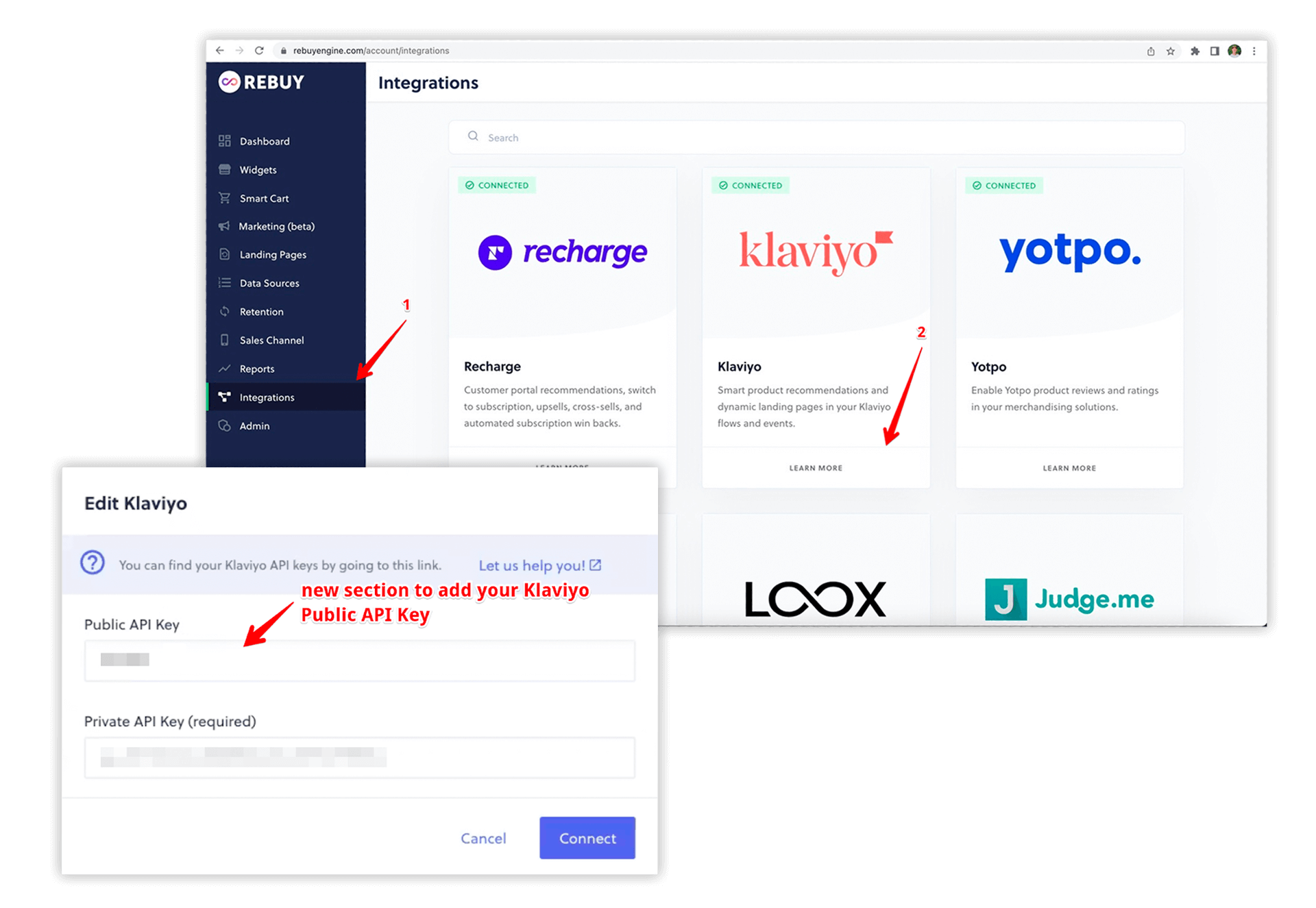 Enabling
Reorder Landing Pages
Enable RLPs by clicking on Landing Pages in the left margin, then click Reorder Landing Page. Slide the Enable toggle in the upper-right to enable. (Note: If the page is not enabled and someone clicks on reorder page link, they will be auto-redirected back to the homepage.)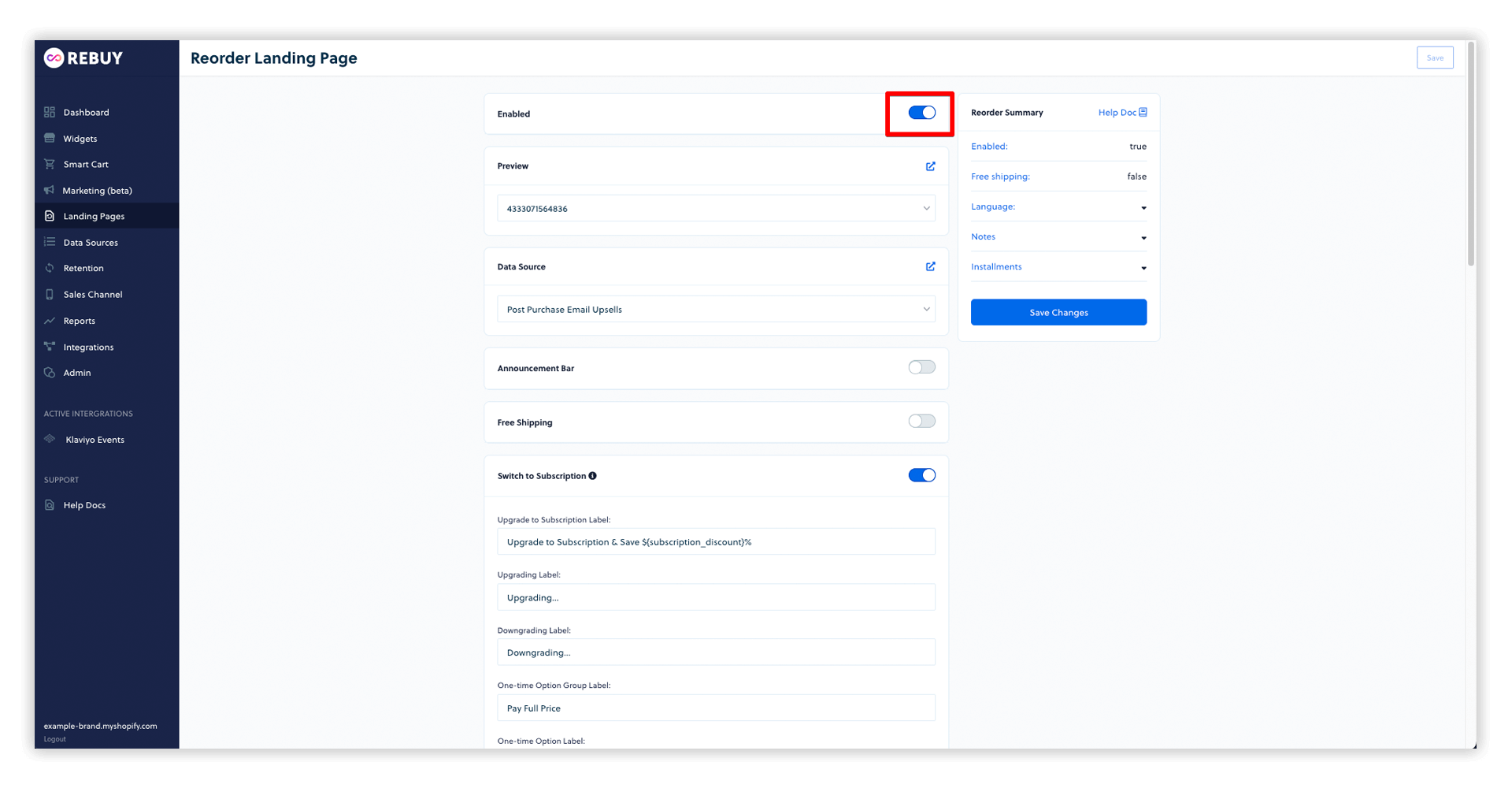 To learn more about using RLPs with Klaviyo, click here.
A
Special Offer

for Klaviyo Users

Supercharge your flows with personalized upsells and cross-sells when you use Klaviyo and Rebuy together. (Are you a Klaviyo user? Claim your special offer here!)
Use Rebuy & Klaviyo
Together
Now available on all Rebuy payment plans, the Klaviyo integration makes it easy for Shopify merchants to leverage the power of personalized upsells, cross-sells, and repeat purchases in Klaviyo campaigns.
•••
Try Rebuy free for 21 days.
Interested in partnering with Rebuy? Let's do it.
To keep up with the latest trends, platform updates, and more, follow us on LinkedIn.