Rebuy
Upgrade: Maximize Conversions with a Lighter, Faster Rebuy
Discover a new era of Rebuy performance—31% faster and 10X lighter.
---
Rebuy is now 31% faster

and 10X lighter.


Rebuy employs a multi-layer caching strategy, seamlessly weaving shop data, endpoints, definitions, and product responses, resulting in lightning-fast access to your product data.


Rebuy has made vast improvements to data fetching, delivering sub-1 millisecond response times and operating in near real-time.
---
In the world of ecommerce, every second counts.
Picture this: a new shopper lands on your Shopify store, excited to explore your popular new product line.
But the page stalls.
Precious seconds tick by.
The customer gets impatient.
And just like that—they bounce. Off of your site and straight into the arms of a competitor.
A slow website isn't a minor inconvenience. It's bad for business. Slow site speed reduces your store performance and leaves your shoppers empty-handed and disappointed. Consider the following stats:
| | |
| --- | --- |
| Site Speed | Conversion Rate |
| 7 sec | 1.50% |
| 6 sec | 1.76% |
| 5 sec | 2.02% |
| 4 sec | 2.28% |
| 3 sec | 2.55% |
Source: Bidnamic
It's clear: those first couple of seconds a customer spends on your online store can determine the success or failure of your online business.
You're probably familiar with the mind-numbing ritual of refreshing Google Lighthouse and Google Pagespeed Insights, crossing your fingers and clicking your heels that your Shopify store speed score finally hits 85.
You likely know the stress of wondering which Shopify apps can manage the volume of traffic you get at peak shopping periods.
You've spent too long juggling too many apps that drag down your Shopify site speed.
To solve these challenges and embody our dedication to the ongoing journey of site speed enhancement, we're excited to announce the following Rebuy Speed Enhancements for all merchants on Shopify and Shopify Plus.
Introducing Rebuy Speed Enhancements: A New Era of Performance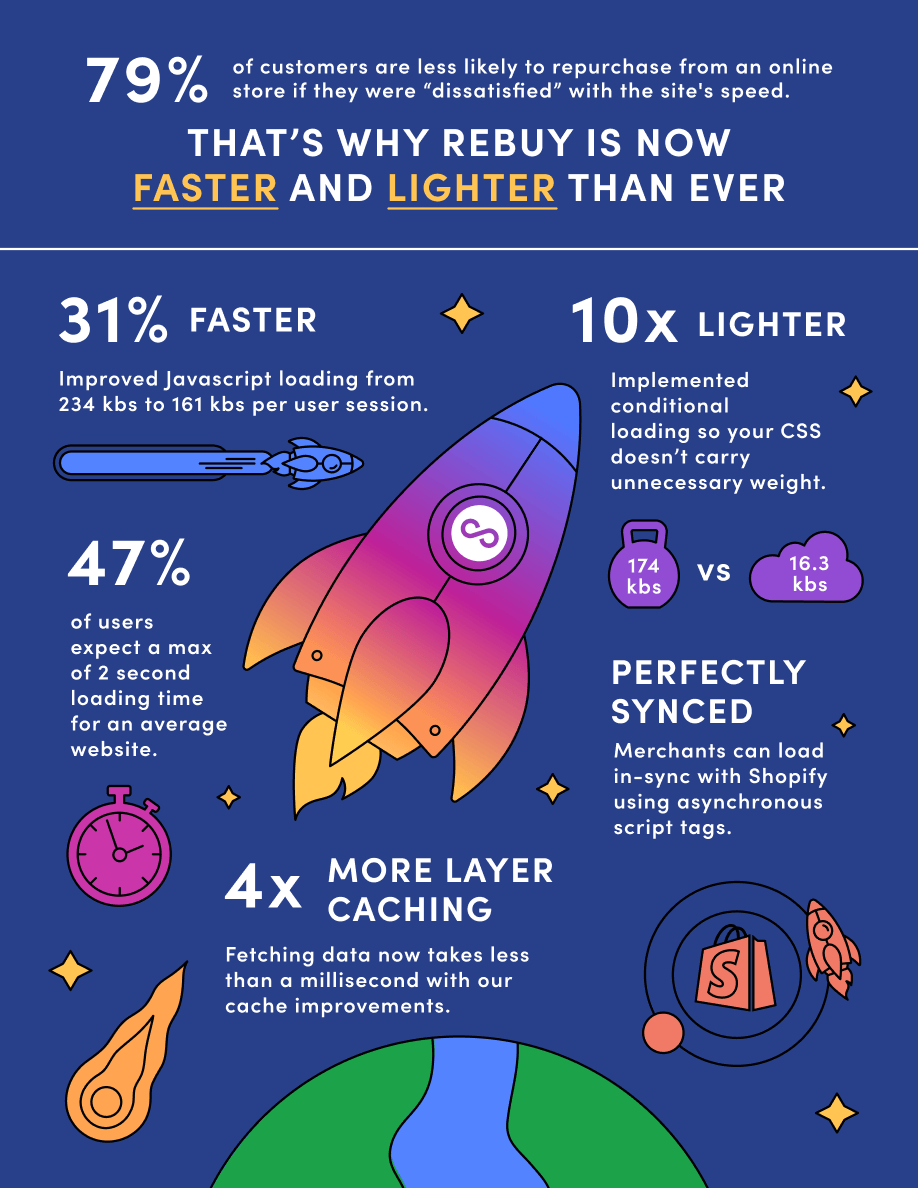 We take pride in listening to our customers and building what they need to be successful. Many of the key improvements we've made to the Rebuy platform have come from direct feedback from Shopify store owners.
So when merchants asked for a new way to improve their site speed, we did what we've done since our inception: we built it.
The reason is simple: We want your overall store speed to be as fast as possible so you can continue to deliver intelligent shopping experiences to every customer.
Introducing Rebuy Speed Enhancements. Unlock a new era of Rebuy performance and speed up your Shopify store with dramatically enhanced load time and site speed.
How Rebuy Speed Enhancements
Speed Up Your Shopify Website
We've made a number of powerful improvements to the Rebuy platform. Our aim is to help your Shopify store achieve faster load speed and improve your overall site performance.
We've categorized these improvements into four pillars: JavaScript, CSS, Caching, and Backend Improvements.
Let's look at each improvement area one by one.
JavaScript
Historically, Rebuy has loaded JavaScript components all at once (known as "eager loading"). While eager loading reduces the total number of trips to fetch data, in certain cases it can overwhelm web browsers, leading to slow rendering and potential crashes.
Rebuy's new conditional loading (known as "lazy loading") addresses this problem head-on. Instead of loading all Javascript components simultaneously, Rebuy now loads each component separately and only when needed, prioritizing the order in which it loads each component.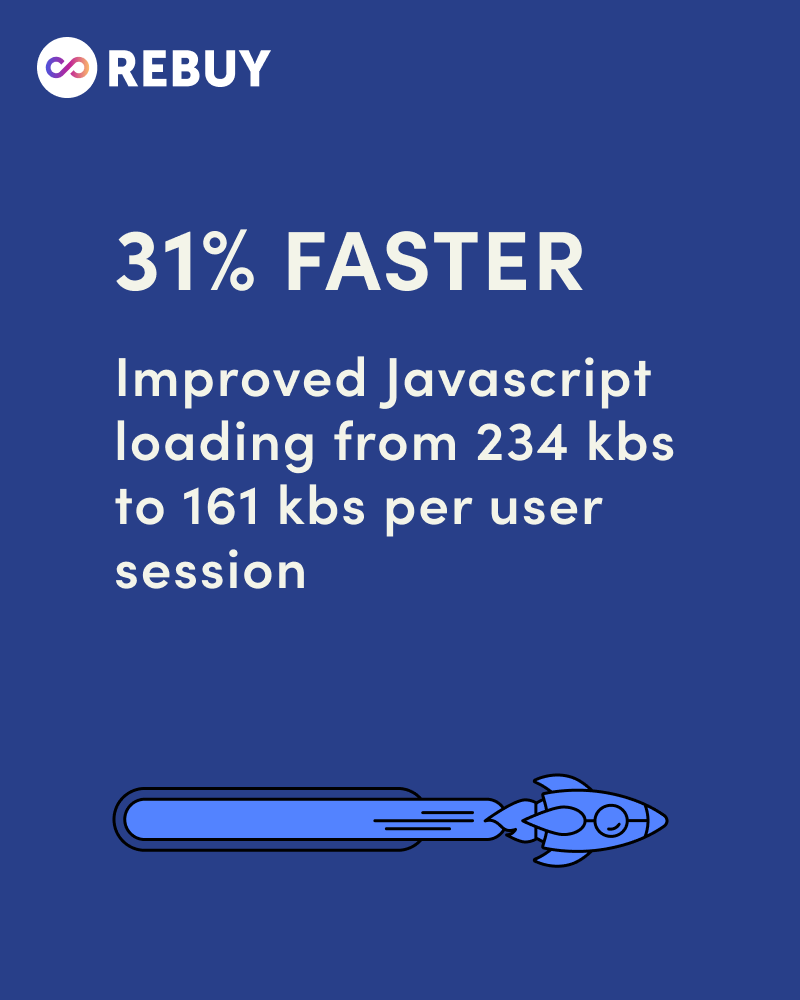 For example, let's say you have two Rebuy products active on your Shopify store: Smart Cart™ and Post Purchase. Smart Cart loads only when necessary—the instant your shopper navigates to the cart page. Similarly, Rebuy Post Purchase loads only after an order is completed, and not before.

This hyper-efficient approach to loading JavaScript ensures essential elements are available first and allows each web page to load more quickly.

⚡ The result? Rebuy now loads 31% faster. What's more, Rebuy has reduced the amount of JavaScript that loads per session on the user's front end from 234kbs to 161kbs.
CSS (Cascading Style Sheets)
By loading only the fonts and components used by the merchant's Shopify theme, Rebuy now loads a mere 1/10th of the CSS it did in 2022. Certain styles even load asynchronously.
Previously, every available font would load in the background, even when the merchant only used one or two fonts.
By implementing conditional loading onto specific style sheets, Rebuy has shaved off over 150kbs per session, from 174kbs to 16.3kbs.
⚡ The result? Rebuy is now 10X lighter.
Caching Improvements
We've enabled Shopify merchants to dramatically speed up Shopify load time by improving Rebuy's multi-layer caching and TTL (Time to Live) performance.
Multi-layer Caching: Igniting Lightning-Fast Performance
Rebuy now harnesses the power of multi-layer caching, intricately storing information at multiple levels, all working harmoniously to magnify speed.
We have 4X'd the number of layers caching at once for easy asynchronous data retrieval. These layers cache the following information simultaneously:
Shop data
Endpoint Definitions
Endpoint Responses
Product Responses
Recommendations
⚡ This means AI-powered product recommendations can be fetched and displayed on your Shopify store with a sub-1 millisecond response time.
TTL (Time to Live): Less Time Waiting, More Time Shopping
When a shopper visits an online store with outdated information in their local browser cache, there's a chance they could end up seeing the outdated data instead of fresh site content. (Think of a product bundle displaying an outdated discount offer; the outdated discount could fail at checkout and result in a poor customer experience.)
Historically, Rebuy has cached and stored product data in memory every 20 minutes. We refer to this as "Time to Live" because cached data "lived" in the cache for up to 20 minutes.
💡Time to Live (TTL) is the time that an object is stored in a caching system before it's deleted or refreshed.
As the Rebuy platform continues to scale and evolve, we are committed to giving our customers the speed they need to accelerate their revenue and earn repeat customers.
Today's TTL? A mere 5 minutes. Put differently, Rebuy caches data for no longer than 5 minutes before fetching the latest information.
While improving TTL is a significant step to ensuring your customers see fresh product data, we've gone one step further: We actively monitor product updates via active caching. (Also known as "cache-busting.") So when product data changes, Rebuy immediately deletes the current cache (or "busts the cache") and quickly re-fetches the new data to display fresh web content to the customer.
Pairing a 5-minute TTL with active caching is a powerful combination helping ensure your shoppers see the most up-to-date version of your website at any given time.
⚡The result? TTL is 4X shorter to ensure the freshest data is always available to your customers.
Rebuy users can rest assured that even the biggest flash sales won't bog down their site or interrupt the shopping experience for their customers.
Backend Improvements
At Rebuy, we are constantly focused on improving speed. In H1 2023 alone, we dedicated around 1,000 hours to Rebuy Speed Enhancements.

For this upgrade, we have:
Upgraded back-end tools
Improved speed of endpoints
Revised points of entry into the data
Optimized indices for lightning-fast fetching
Improved our back-end logic and architecture
Optimized and refined every piece of our software
Another leap forward in speed comes courtesy of asynchronous script tags.
Rebuy users have the option of using asynchronous script tags to load Rebuy endpoints simultaneously with Shopify endpoints, offering a significant overall improvement to Shopify speed optimization because no data is "waiting in line."
We've also improved our user interface with smarter logic, improved design, and clearer overall legibility.
⚡ The result? You guessed it: faster page speed (and less time waiting for pages to load).
What Affects Shopify Site Speed?
Rebuy helps merchants by building with speed in mind. However, there are a number of common factors that affect your Shopify store speed.
Image files
Internet speed
Shopify themes
Complex or inefficient Liquid code
Number and size of Shopify apps installed
Physical location relative to Shopify and Rebuy servers
And more
It's important to note: The apps in your tech stack have a relative effect on your overall store speed and depend on the factors above.
💡If you struggle with Shopify speed optimization, we strongly recommend reading Shopify's tips to improve your Shopify store speed.
Ecommerce Personalization: The Complete Guide for Founders, Merchants, and Marketers
Your ecommerce personalization journey starts here👇
Stay Fast and Fresh with Rebuy
In today's attention-driven economy, every moment is precious. And in the world of online commerce, the importance of page speed cannot be overstated.
At Rebuy, we're here to support you in your quest for intelligent and lightning-fast shopping experiences for your customers. That's why we're committed to building solutions that prioritize speed and performance for your online store.
When you're ready to accelerate your growth, maximize conversions, and increase customer loyalty with onsite personalization, we're ready for you.
Request a demo today and dive into a new era of Rebuy performance.
•••
Try Rebuy free and see why the world's top brands use Rebuy to accelerate sales growth.
Interested in partnering with Rebuy? Let's do it.
To keep up with the latest trends, platform updates, and more, follow us on LinkedIn.