Case Study
Gamer Supps Launches New Product, Propels AOV to 8.91%
Gamer Supps, a leader in gaming energy and nutrition, used Rebuy to launch a new product, develop a new market, and propel AOV to new heights.
---
Use Case
Cart UX, Marketing, Product Discovery
Challenges
That feeling when you've just identified an opportunity to grow your business big time. James Werk knows that feeling. Werk is the Director of Sales for consumer goods brand Gamer Supps. Gamer Supps is a provider of healthy energy drinks and nutrition products for eSports athletes and everyday gamers. Werk and his team primarily serve gamers but soon noticed a new group of underserved website visitors: anime fans.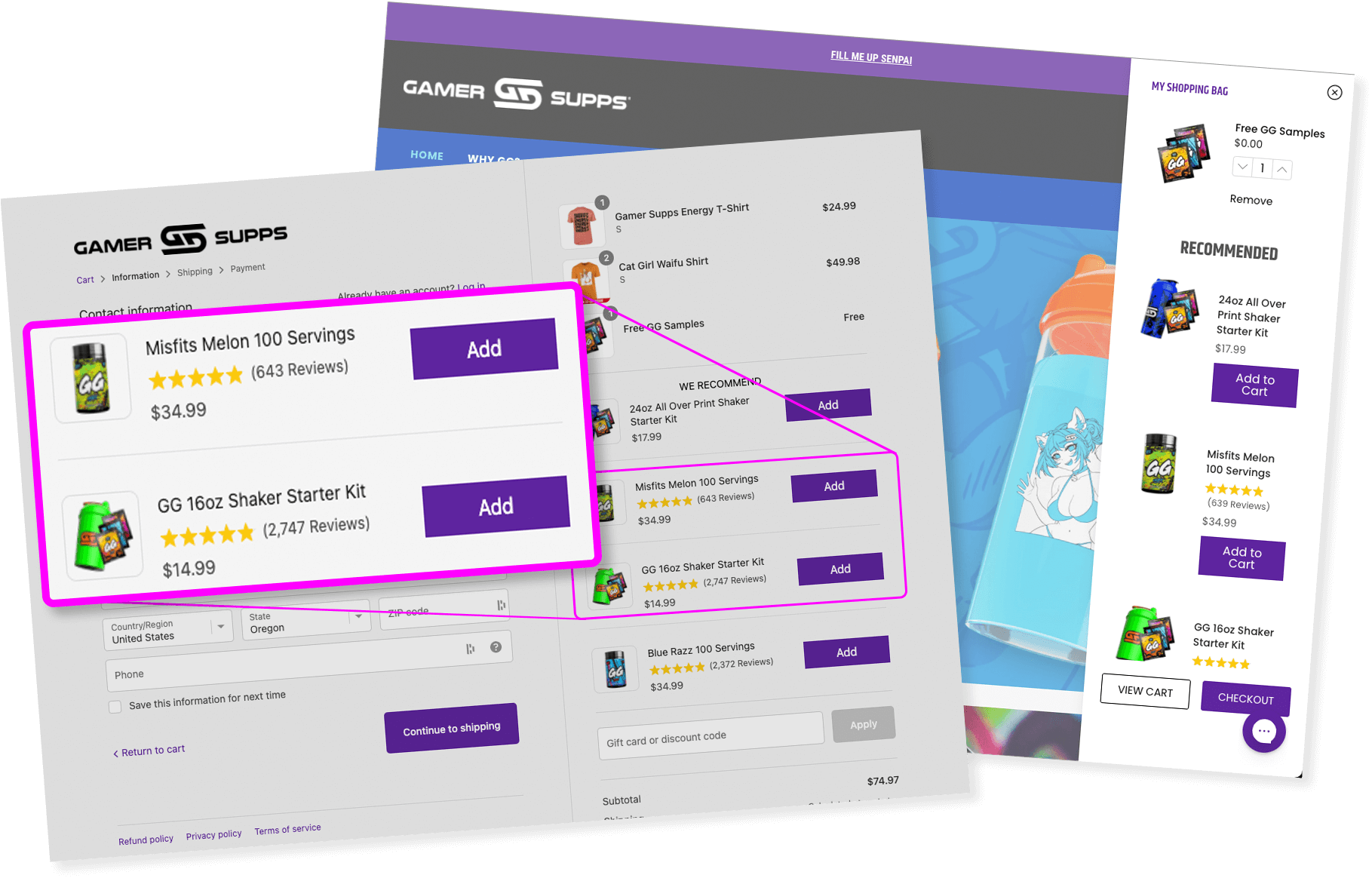 Gamer Supps uses influencer marketing and paid ads to drive lots of traffic to their online store. Gamers from around the globe hit the site and easily find what they're looking for, which is usually the GG energy drink. However, the anime fans and other non-gamers struggled to find products that resonated with them, and thus didn't spend much time (or money) on the site.
"I can go to a report and see exactly how everything is working. That's extremely beneficial."
Werk saw an enormous opportunity to develop a new market by helping an existing customer segment (anime fans) discover products designed for them, like anime-themed hoodies, t-shirts, and shakers. The challenge was implementing a sitewide merchandising solution that offered personalized shopping experiences to both groups: gamers, and anime fans that do not game. After installing five other solutions that didn't meet expectations, Werk found Rebuy Engine.
"It felt to me like Rebuy was more of an intelligent all-in-one marketing platform that was going to really make the UI look more professional on the site, and understand what recommendations we want, and when. It wasn't just a simple upsell/cross-sell," said Werk.
Strategy
Gamer Supps built a simple and elegant sales funnel using influencer marketing, pay-per-click (PPC) ads, and on-site merchandising from Rebuy. "We found that some influencers would drive tens of thousands of visitors who wouldn't always buy. Rebuy helped us showcase new products in a clean, intuitive way," explains Werk. "Gamers get all the info they need from the influencer endorsing our drink, whereas anime fans responded better to onsite merchandising."
To better serve those anime fans, Gamer Supps launched a new anime-themed Waifu shaker cup. The goal was to help anime fans find the new shaker cup and discover other anime-related items via product discovery. Werk achieved this goal using Rebuy to add dynamic home page content tailored to each visitor and data-powered upsells and cross-sells in the cart flyout and at checkout.
Results
In the beginning, Werk and the Gamer Supps team had set out to find a merchandising solution that looks great, increases average order value (AOV), and doesn't include disruptive popups. Shortly after trying Rebuy, Werk noticed 3 things: It looks sharp, it doesn't rely on popups, and it consistently results in higher order values. He viewed Rebuy's robust reports throughout the process to track and measure performance and liked what he saw.
"The AOV was WAY HIGHER than our typical launch."
By personalizing the shopping experience with Rebuy, James Werk and the Gamer Supps team propelled a successful product launch, cultivated a new customer segment, and achieved a very healthy AOV.
Gamer Supps saw an
8.91%

lift in AOV, with

8.18%

of total sales attributed to Rebuy. In addition,

12.47%

of orders included a product recommended by Rebuy.

•••
Want to see if Rebuy can meet your upsell, cross-sell, and merchandising needs? Let's chat. To keep up with the latest trends, platform updates, and more, follow us on LinkedIn. Visit the Gamer Supps online store here.