Case Study
Manssion Finds the Perfect Fit, Boosts AOV by 18.65%
Manssion goes all-in with popups, bundles, and artificial intelligence to offset customer acquisition costs and encourage product discovery.
---
USE CASES
📣 Popups
📚 Dynamic bundles
🔍 Product discovery
Challenges
Every entrepreneur knows that customer acquisition is an ongoing challenge. So when Feras Khouri discovered a way to profit despite rising customer acquisition costs (CAC), he went all in.
Khouri is the co-founder and CEO of Manssion, a designer of premium men's jewelry based in Los Angeles, CA. After launching the company in 2020, Feras and his team focused on offsetting CAC by increasing AOV and thus the ROI from every customer.
At first, they decided to build a recommendation widget in-house. But because it wasn't powered by artificial intelligence (AI), Khouri and his colleagues had to select each and every product recommendation by hand. This of course burned a lot of precious time. It also meant their site visitors didn't get the personalized shopping experience they expect.
They started looking for a solution that could offer a truly personalized upsell and cross-sell experience using AI. (And without the time-consuming manual work.)
"I love the flexibility in that I can be very particular about which products we recommend and the behavior of the different widgets." - Feras Khouri, Co-founder of Manssion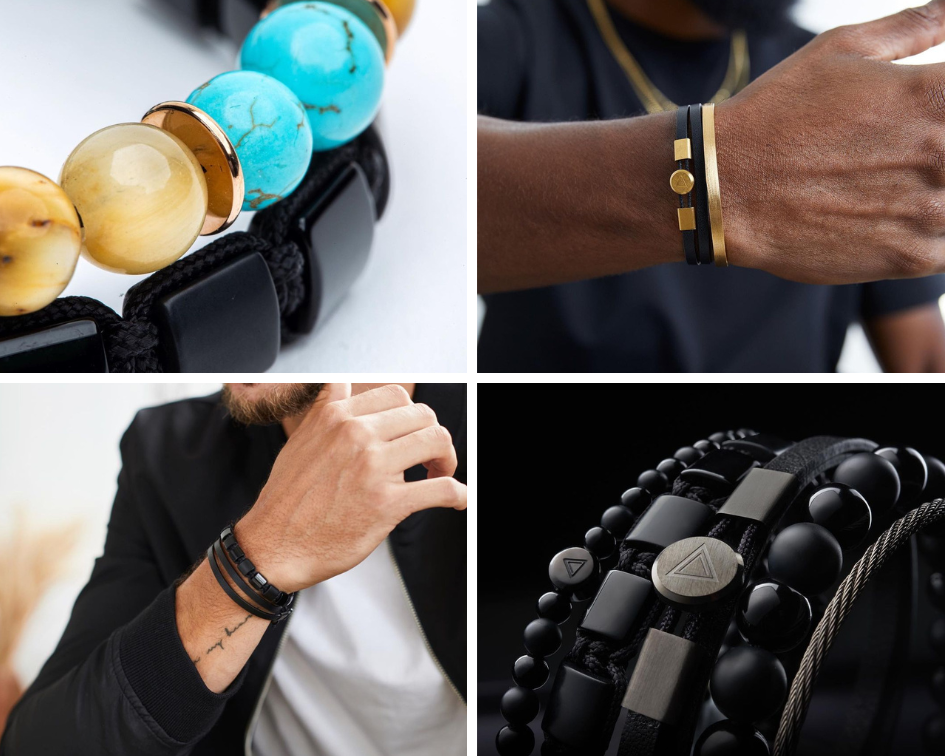 Strategy
For Khouri and Manssion, the name of the game is "bundles." The basic idea is to upsell shoppers to a "stack," which is essentially a bundle of 2-3 of Manssion's best-selling bracelets in one set.
They started by enabling the Rebuy Smart Cart™ and decked out their shop with sitewide personalization from there. They use a total of four AI-driven recommendation widgets at key points of the buyer's journey.
Adding predictive personalization at multiple touch points means personalized shopping experiences for every customer. (And more profits for Manssion.)
Let's take a quick look at how Khouri and team use each widget.
| | | | |
| --- | --- | --- | --- |
| Widget Type | Location | Language | Algorithm |
| Add-to-cart (ATC) upsell | Triggered popup | Stack & Save | Customized |
| Product cross-sell | PDP, under ATC button | The Perfect Pair | Rebuy AI |
| Product cross-sell | PDP, above reviews | Related Pieces | Top Sellers |
| In-cart cross-sell | Cart flyout | You May Also Like | Rebuy AI |
Add-to-cart Upsell Popup
To alert shoppers to their stacks, Khouri engages shoppers using a popup that's triggered when any item is added to the cart. In the example below, the Black / Silver Double-Wrap bracelet is added to the cart, triggering a popup that upsells the shopper to the matching stack: the Alexander.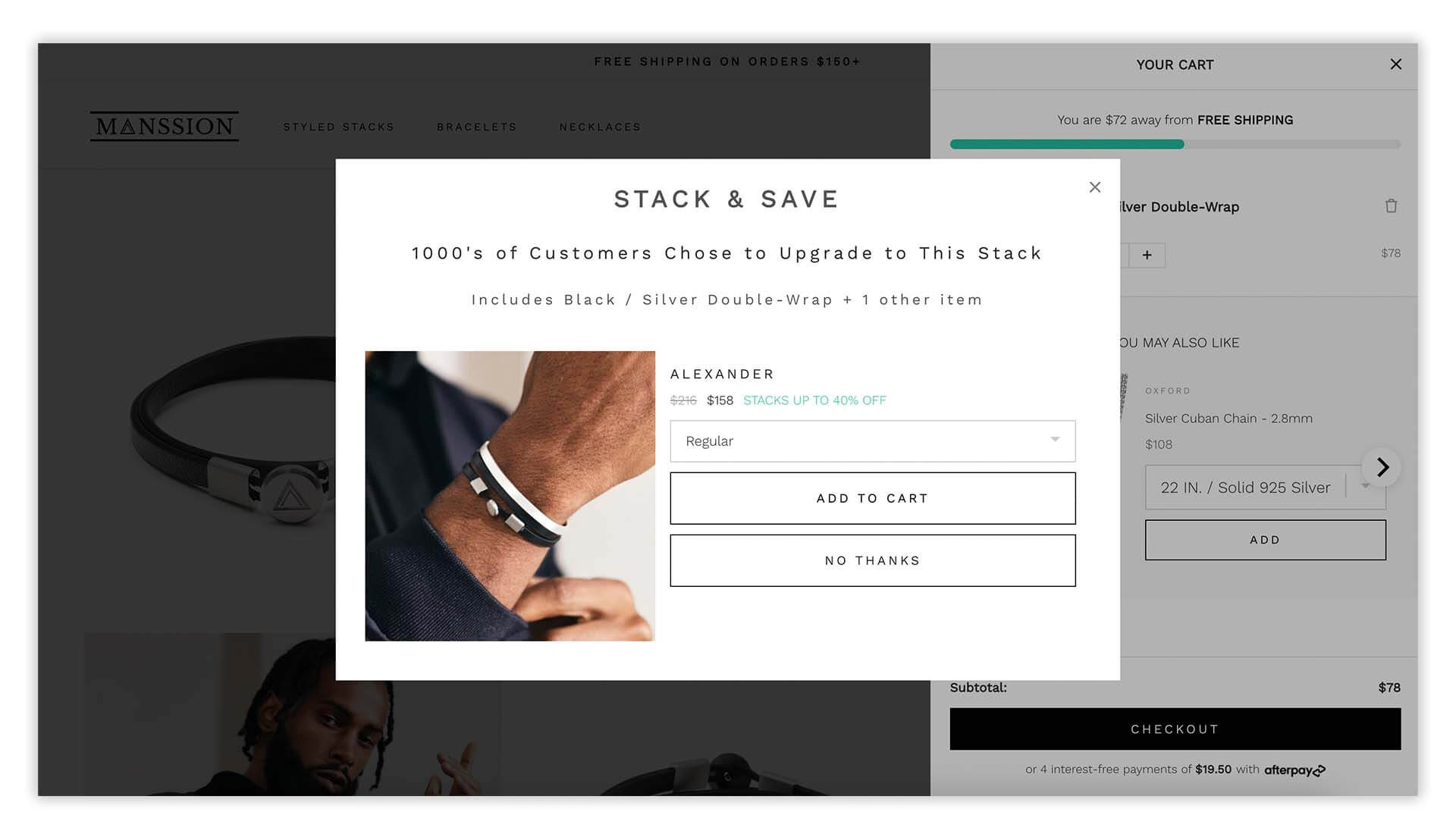 Manssion invests heavily in this initial touchpoint. To govern the popup widget, they've built a sophisticated ruleset comprised of over 40 rules.
Using the Rebuy Rules Engine, Khouri can fine-tune the offer logic that powers the ATC upsell popup. As a result, he's able to upsell the perfect stack every time based on what each shopper is adding to the cart. "I love the flexibility in that I can be very particular about which products we recommend and the behavior of the different widgets," says Khouri.
Below, you'll see the specific rule that tells Rebuy to offer the Alexander stack when a shopper adds the Silver Cuff or the Black / Silver Double-Wrap to the cart. Similar rules exist for Manssion's other stacks.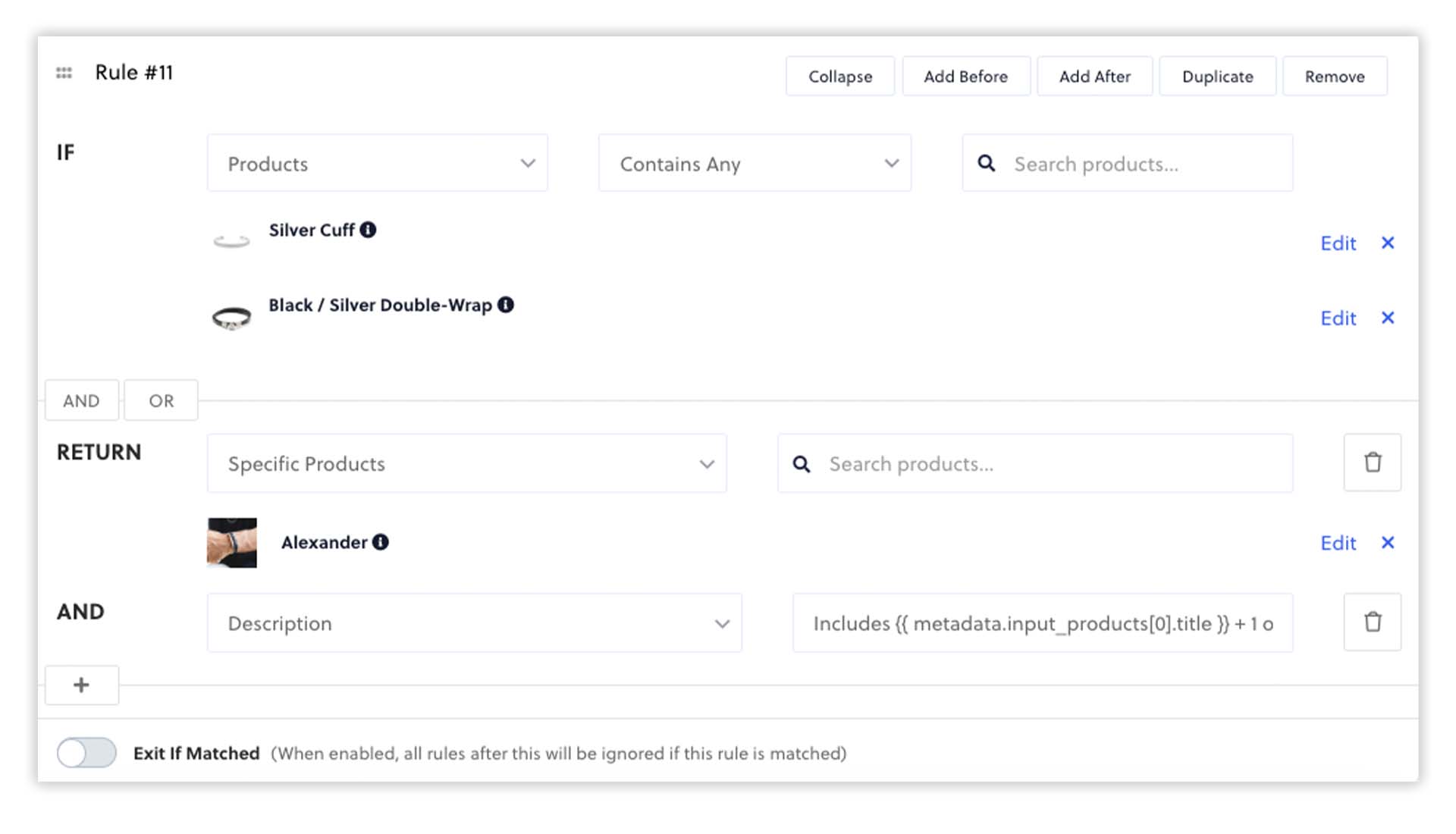 Khouri explains, "We know our stacks do fantastic. Enticing shoppers to upgrade from a single item to a kit of two or three items has made an immediate impact for us."
He's not wrong. The add-to-cart upsell popup is Manssion's top-performing widget, generating 34% of the company's Rebuy Generated Revenue (RGR).
"I got the widgets live and I realized our AOV and our attribution took a turn right away. You could see the impact literally from day one."
Cross-sell: The Perfect Pair
Khouri literally doubles down on the PDPs by equipping them with two intelligent recommendation widgets. The first one is a cross-sell widget labeled "The Perfect Pair." (This widget is also known as 'complete the look' or 'frequently bought together.')
The placement of the widget is unique because it appears directly under the Add to Cart button. Placing it in such close proximity to the ATC button ensures every shopper sees products that complement their initial purchase.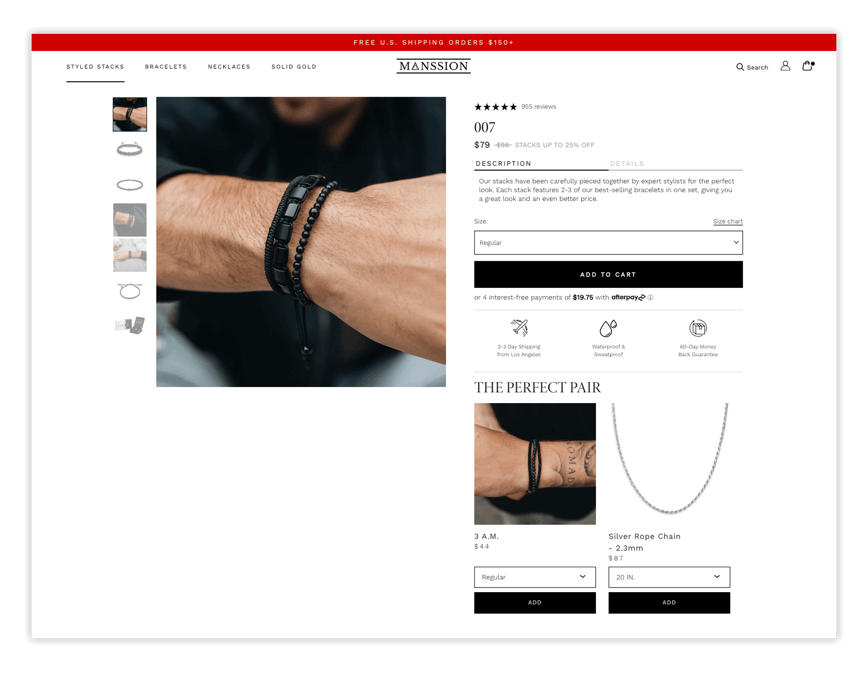 Khouri assigns Rebuy's powerful Recommended (AI) algorithm to manage this widget so every recommendation is personalized to every shopper. No manual work necessary!

Top Sellers: Related Pieces
The second widget on the PDP is another cross-sell widget labeled Related Pieces. This one is not necessarily related to what's in the cart and rather only recommends Manssion's top-selling products.
This widget occupies a more common placement further down on the PDP. The display style is set to 'carousel' and eight recommendations are shown. As with all Rebuy widgets in use on the Manssion store, variant selectors are enabled so shoppers can easily choose their sizes.
In-cart Recommendations
Khouri rounds out his quartet of AI-powered recommendation widgets with a tried and tested cart cross-sell in the Smart Cart. As with the Pair It With widget, Rebuy's powerful AI selects the best product to offer based on billions of data points.
The display style is set to 'carousel' and three recommendations are shown. The free shipping bar is enabled to encourage add-ons and increase AOV.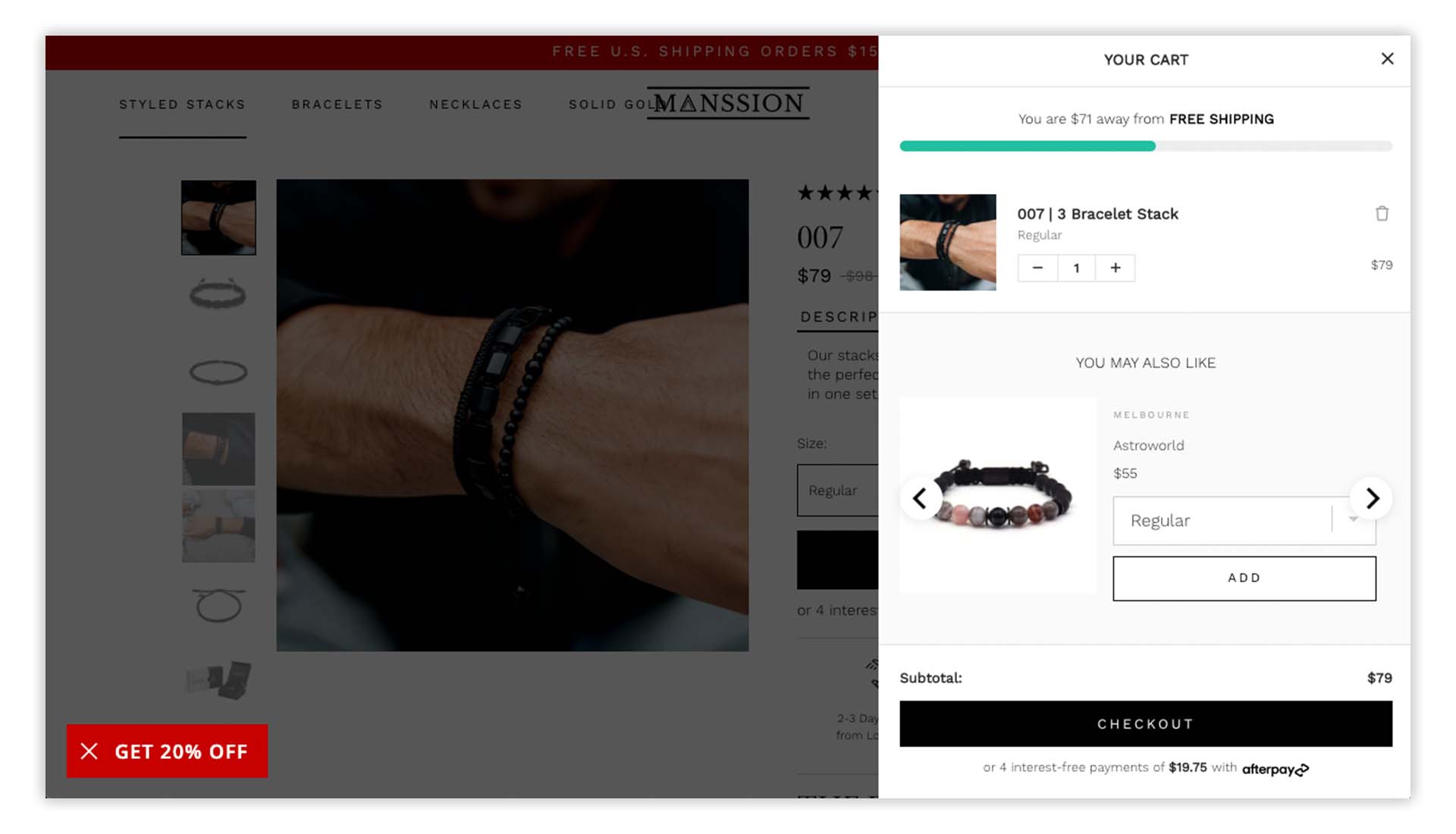 This strategy is paying massive dividends.
As Khouri explains, "It was important to us to show the breadth of our catalog. The AI really helps people see other things that they'd be interested in, in a very clean way."
Khouri realized he was on the right track when he saw the early results. "I got the widgets live and I realized our AOV and our attribution took a turn right away," says Khouri. "You could see the impact literally from day 1."
"That's where the value of Rebuy lies. It allows you to increase your AOV and potentially your CLTV as well."
Results:
By going all-in with Rebuy, the Manssion team more effectively offsets the cost of customer acquisition. Plus, they've set themselves apart with an intelligent data-driven online store delivering personalized shopping experiences to every customer.
What's more, they've saved countless hours, money, and energy by forgoing an in-house solution. Instead, they pamper their customers with personalized product discovery at scale, resulting in higher profits and happier customers.
Now, try this AOV on for size!
Ecommerce Personalization: The Complete Guide for Founders, Merchants, and Marketers
Your ecommerce personalization journey starts here.👇
Manssion saw an
18.65%

increase to AOV. In addition,

15.66%

of total sales were attributed to Rebuy and nearly

1 in 5

orders contained a Rebuy add-on.
Want to see if Rebuy can meet your upsell, cross-sell, and merchandising needs? Let's chat.
To keep up with the latest trends, platform updates, and more, follow us on LinkedIn.
Visit the Manssion online store here.