Case Study
Fanjoy Fuels the Creator Economy, Sees AOV Climb to 11.7%
Creative merchandising and consistent sales campaigns help Fanjoy introduce digital creators (and their merch) to new fans.
---
Industry
Apparel, Influencer
Use Case
Cart UX, Product Discovery
Challenges
The era of the creator economy is in full throttle thanks to tens of millions of independent content creators, curators, and community builders.
But where do you go to discover new creators and score your favorite viral creator merch?
For many shoppers, the answer is Fanjoy—the leading ecommerce merchandise and brand-building partner for the world's most beloved internet creators. Fanjoy manages merchandise sales for top creators like KNJ, Stephanie Soo, and Colby Brock. (They've even launched merch collections for digital creator-turned-boxer Jake Paul.)
The challenge? Introducing shoppers to new creators (and their merch). A challenge very familiar to Fanjoy frontend developer, Brandon Phan. "Most shoppers visit for one creator. Rebuy helps them discover all the other creators on the Fanjoy platform," says Phan.
Fanjoy needed a solution that not only introduced new creators to their customer base but was easy to install on multiple storefronts. And while Shopify themes are a great solution out of the box, the team liked Rebuy's extensive and straightforward use of data sources and the creative ways you can use them.
"The overall customer experience on a store with Rebuy is just elevated. There are so many opportunities to give users a better experience." - Brandon Phan, Front End Developer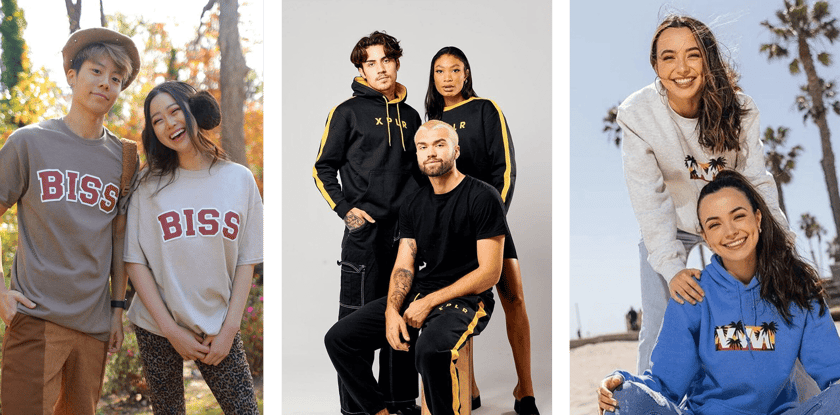 Strategy
Fanjoy's overall promo strategy centers on two types of campaigns: creator launches and mystery sales.
Creator launches use a two-step process: First, creators promote their new collection page to their vast audiences on social media. Then, as campaign traffic starts pouring, Fanjoy uses Rebuy to cross-sell items from the new collection as well as items from that creator's previous collections (leftover inventory). But the real discovery happens when they strategically cross-promote creators via in-cart cross sells.

A big part of the Fanjoy strategy is to use Smart Cart™ to put promotions in front of shoppers. Currently, the team uses a ruleset to promote the Fanjoy Anniversary collection. They're careful to include merch from various creators to introduce fans to creators they may not know. They assign Rebuy's powerful AI to recommend any additional products.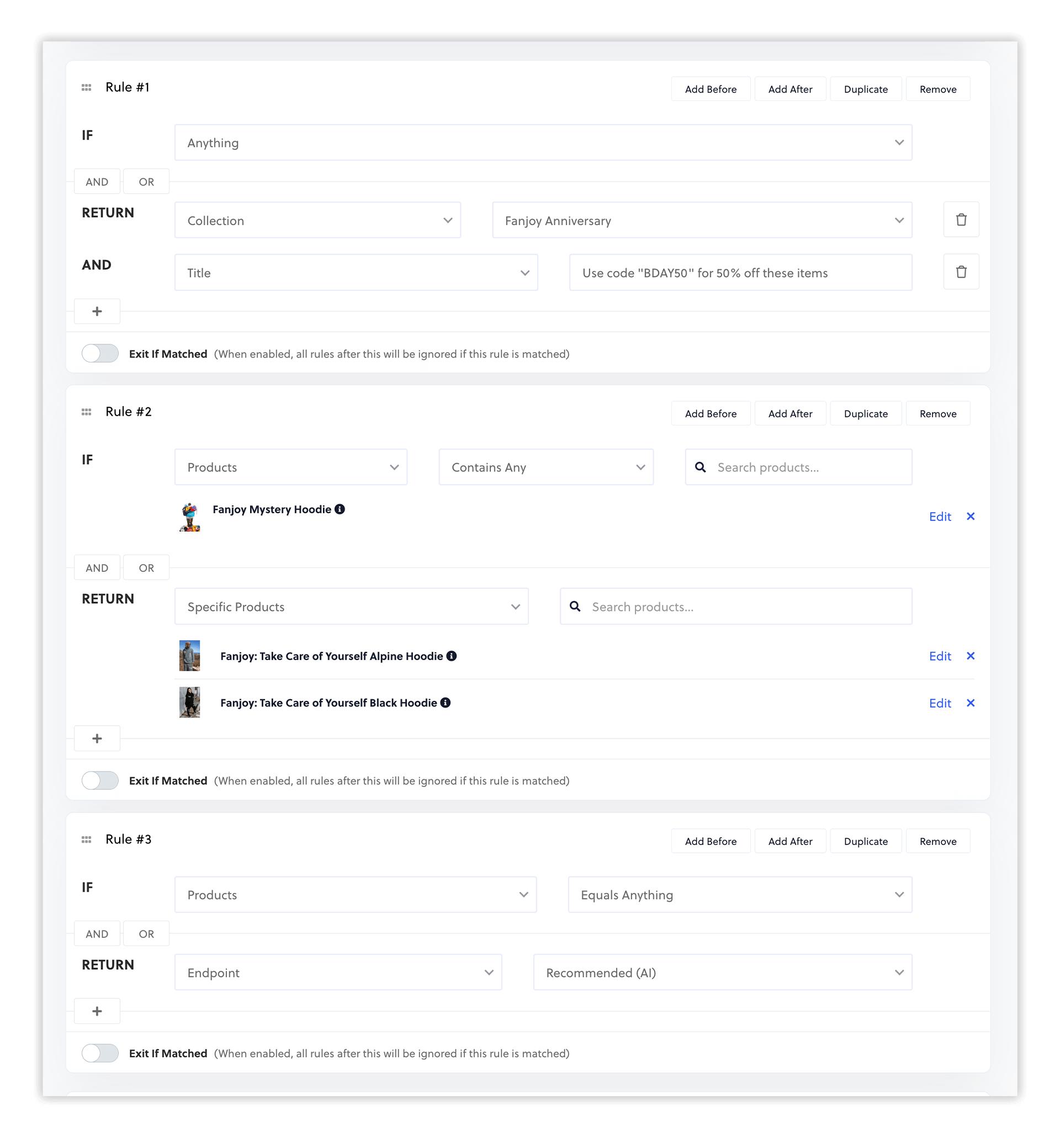 The team updates their rulesets regularly to align with new creator launches and mystery sales. "You can get extremely creative with the way you recommend products," says Phan. "The way you recommend collections, date ranges, you can recommend at certain times, maybe line in up with a certain promotion."
Fanjoy takes a unique approach to merchandising in the cart, too. Where most brands stick to 2-3 product recommendations, Fanjoy takes in-cart recommendations to the extreme, currently offering a whopping 20 (yes, twenty) cross-sells directly in Smart Cart.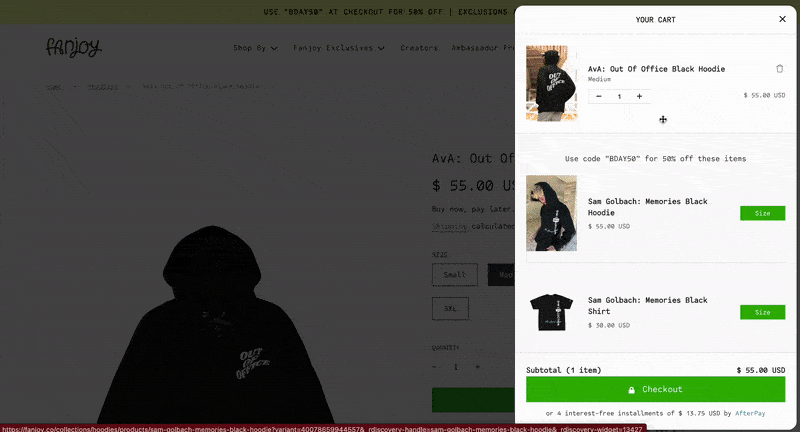 Other key tools in play include in-checkout add-ons with cross-sells and recently viewed items on the product detail page (PDP), shown below.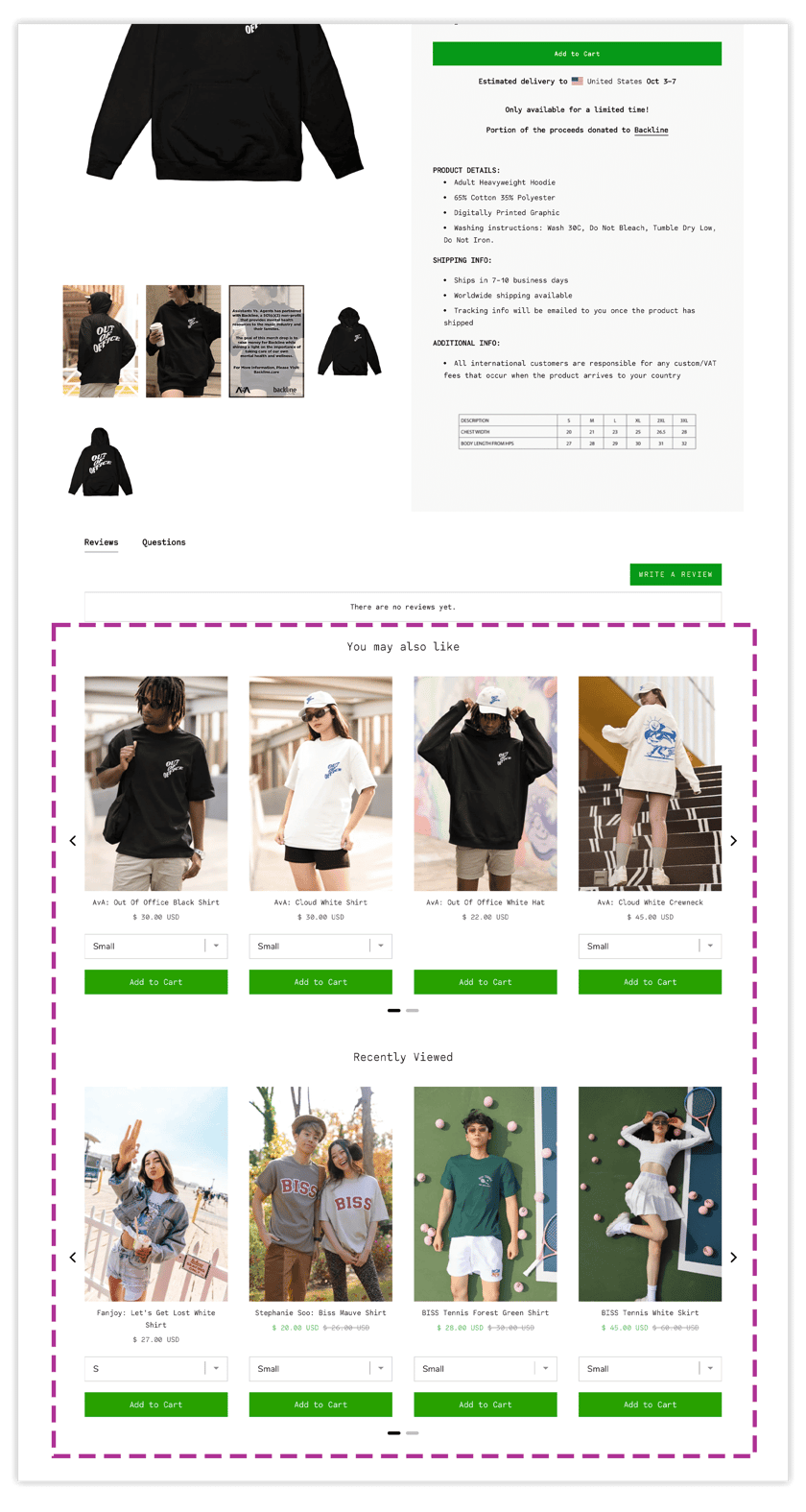 "My favorite part about Rebuy is the team. Every occasion I've had to talk to someone on the Rebuy team has always been a positive experience."
As Fanjoy continues to grow, Phan and the team plan to focus even more on cross-promoting creators in the future. "For example, if one creator hosts a podcast, we're looking at using Rebuy to recommend other podcaster-creators that we host as well," explained Phan. "You could promote YouTube creators with other YouTube creators. Tik-Tok creators with other Tik-Tok creators. There's a lot of room to play there."
Results
As a leading sales and merchandising hub for independent creators, Phan and team sought a personalization solution that was easy to install and set up and flexible enough to allow for even the most creative merchandising strategies. Lucky for creators everywhere, they found it—ensuring that, while the creator economy marches on, Fanjoy will be there to support independent entrepreneurs and help shape the future of the industry for years to come.
Fanjoy saw a
11.7%

increase to AOV. In addition,

10.45%

of total sales were attributed to Rebuy and nearly

1 in 5

order contained a Rebuy add-on.
Want to see if Rebuy can meet your upsell, cross-sell, and merchandising needs? Let's chat.
To keep up with the latest trends, platform updates, and more, follow us on LinkedIn.
Visit the Fanjoy online store here.