Case Study
Revant Optics Partners With Rebuy to Increase Units Sold by 8.5%
Revant supercharges its product tagging system in a killer collaboration with Rebuy and sees a substantial increase in revenue and total units sold.
---
RESULTS
📈 Units sold +8.5%
USE CASES
🔍 Product discovery
Challenges
Sometimes recommending the right product is like spotting a diamond in a sea of fakes.
So it was for the director of ecommerce & marketing at Revant Optics, Stephen Valesano.
Revant Optics is an online retailer based in Portland, Oregon, that designs, develops, and sells replacement lenses for sunglasses and prescription glasses.
Valesano and the Revant team have built a small startup operation into a successful award-winning business. But, they faced a daunting challenge.
Revant Optics has amassed a tremendous product catalog over the years. Over 80,000 different SKUs. And here's the kicker. Not all of them are compatible with each other. Some products, like a pair of replacement lenses, are only compatible with one set of frames.
"If you own a pair of Oakley Holbrook sunglasses, only 40 out of our 80,000 SKUs are actually relevant," says Valesano. "And so, doing cross-sells for those can be really tricky because traditional AI-driven cross-sells typically aren't intelligent enough to understand compatibility constraints."
In short, Revant wanted a fully automated system that can intelligently cross-sell according to each product's specific compatibility requirements.
And that's not all.
Revant's compatibility constraints required, in some cases, over 2,000 rules for each frame model they support. Writing those rules would take countless hours of tedious work. So another major challenge was to reduce the number of data source rules needed to offer intelligent cross-sells.
The Revant team briefly considered developing their own solution but decided it was too resource-intensive. So, they partnered with Rebuy to quickly upgrade their thriving online shop with intelligent merchandising at scale.
"From a revenue standpoint, it was the single easiest, fastest revenue boost I've ever seen." -Stephen Valesano, Director of Marketing & Ecommerce at Revant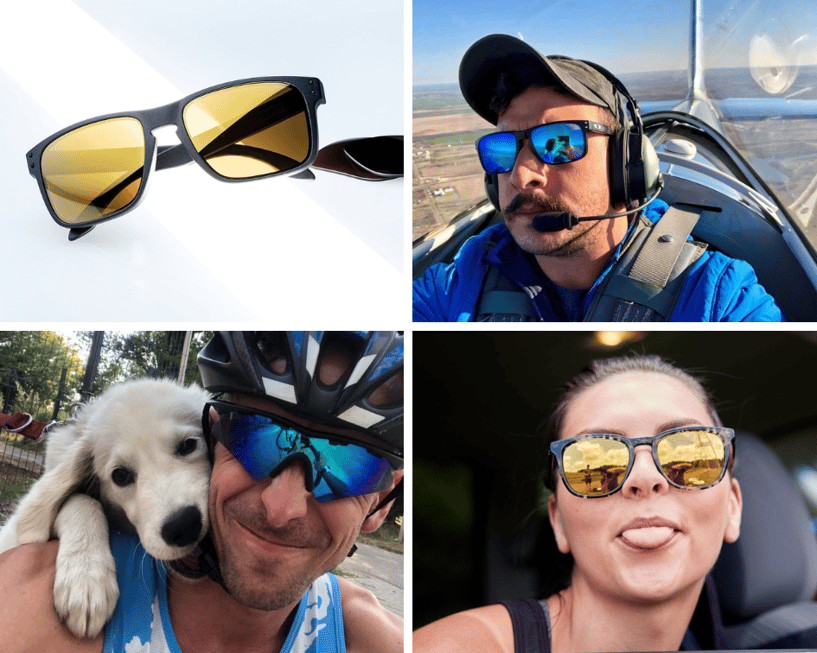 Strategy
The goal was lofty.
Simplify the process of recommending compatible cross-sells in a way that obeyed all compatibility constraints for each of Revant's 80,000+ SKUs.
But the strategy was simple.
Regular expressions.
💡 What is a regular expression? According to Intel, "Regular expressions are combinations of special characters you can use to construct search strings for advanced searches.
Did you catch it? Advanced searches. Essentially, regular expressions (RegEx) would allow Revant to easily offer hyper-targeted cross-sells that also meet Revant's stringent compatibility requirements.
They executed the strategy in two phases.
During the first phase, standard AI-driven cross-sells were installed in the Rebuy Smart Cart™ and on the checkout page. Only universal products (like cases, bags, and cleaning kits) were recommended in this initial setup.
In the second phase, Valesano and the Rebuy team worked together to supercharge Revant's tagging system with RegEx match logic.
"Compatibility is crucial to Revant's online merchandising strategy. Their contribution to functional requirements gave us a clear path to develop RegEx match logic that simplifies their rulesets and enhances their online experience with intelligent cross-sells and immediate ROI." - Collin Firenze, VP of Product at Rebuy
The idea was to drastically simplify the manual ruleset required to quickly and easily process Revant's entire catalog and all compatibility constraints associated with each product.
To bring that idea to life, the Rebuy product team built out RegEx match logic on top of Revant's already well-organized product tagging structure. Now, Revant uses Product Tags in tandem with RegEx logic to easily locate replacement lenses that meet specific brand, frame, and lens compatibility requirements.
For example, let's say a shopper adds a pair of Holbrook frames manufactured by Oakley to the cart. Rebuy sees the frames are tagged with brand:oakley and frame:holbrook, and thus returns the most relevant products (replacement lenses, for example) with those same tags.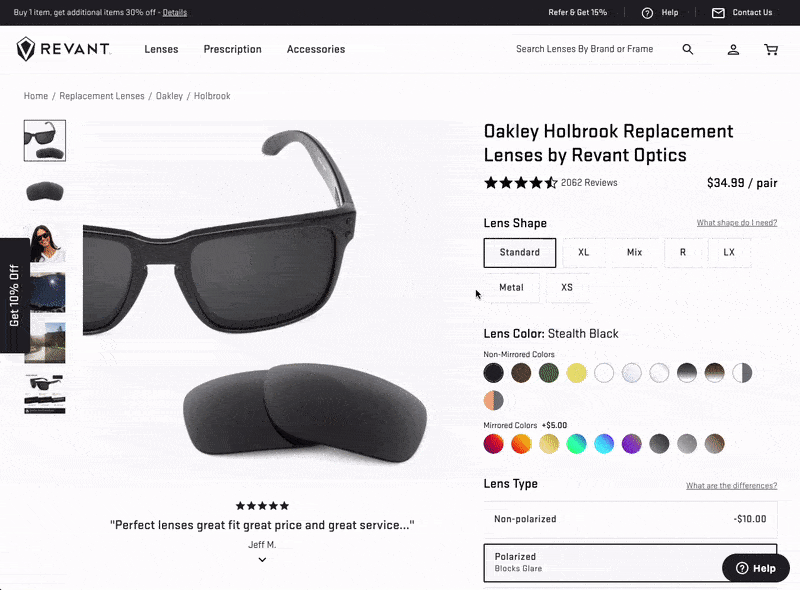 What about the thousands of rules Revant needed before? With RegEx, Revant has consolidated numerous data source rules into a single rule that instantly executes advanced searches based on product tags.
Below, we see how Revant uses RegEx match logic to locate replacement lenses that fit their specific compatibility criteria to ensure every recommendation is relevant based on brand, frame, and lens tier. One rule to rule them all. 😎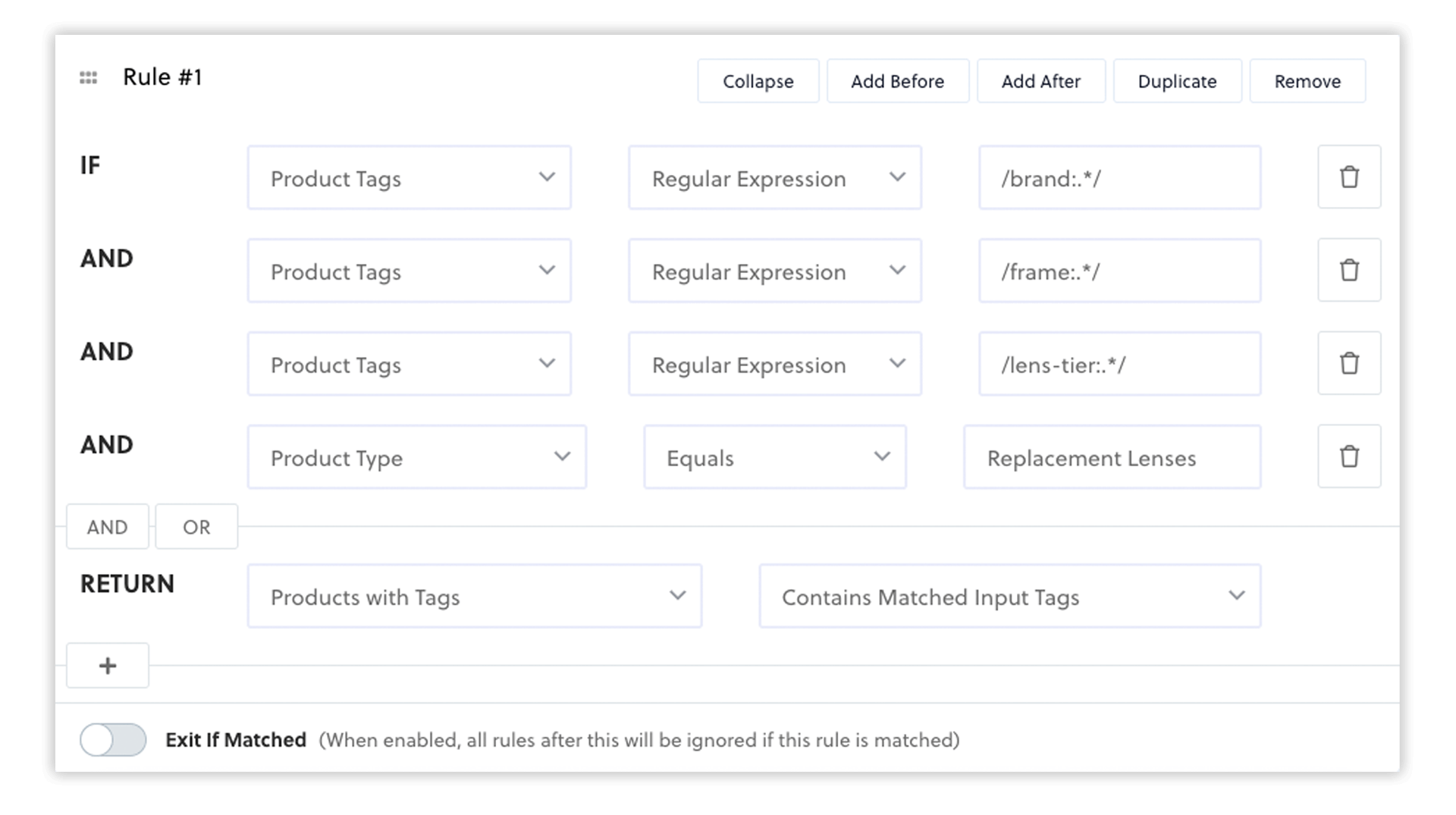 "We don't have to go through and make all those manual rules. And we had an immediate bump in cross-sells for replacement lenses across the catalog," says Valesano. "Now, we have just one rule that produces intelligent compatible cross-sells for our entire catalog. And that was a really big unlock."
Aside from the technical innovation happening, Valesano was impressed with the proactive problem-solving and collaboration he received from the Rebuy product team. "It's not something I would have expected from an app," he says. "I was shocked, to be honest. It's not a common experience and I was just blown away."
In terms of merchandising strategy and widget placement, Revant is just getting started. Currently, they're running hyper-accurate cross-sells (using RegEx match logic) in the Rebuy Smart Cart and on the checkout page, with plans to add hyper-personalized post-purchase offers.
"It was one of this year's key features we can point to and say, 'Yes, this made a measurable impact." - Stephan Valesano
Results:
Thanks to a little innovation and a well-organized product catalog, Valesano and the team at Revant have drastically simplified their lengthy ruleset and are seeing more sales than ever despite their complex compatibility requirements.
What's more, as long as they maintain and update their product inventory in Shopify, they'll never have to change their ruleset. Rebuy will continue to recommend relevant compatible products with virtually no interruptions. Add new products in Shopify and presto, Rebuy will update its recommendation logic to include them.
Plus they're saving countless hours they can now invest in other areas of their business. As Valesano points out, "It was one of this year's key features we can point to and say, 'yes, this made a measurable impact.'"
Ecommerce Personalization: The Complete Guide for Founders, Merchants, and Marketers
Your ecommerce personalization journey starts here.👇
Revant has seen total products sold increase by
8.5%

and estimates it saves

hundreds of hours

each quarter. In addition,

1 in 10

orders contained a Rebuy add-on.
Want to see if Rebuy can meet your upsell, cross-sell, and merchandising needs? Let's chat.
To keep up with the latest trends, platform updates, and more, follow us on LinkedIn.
Visit the Revant Optics online store to see Rebuy in action.