Partners
5 Questions with Rainy City's Rebecca Worsely
From dropshipper to brand builder to successful agency founder—Rebecca Worsley is making waves in the ecommerce tech scene.
---
Rainy City Agency works with Shopify Plus users to develop and optimize their online stores through innovative design and skillful engineering.
Simplify your customer journey by designing a flow that lets your customers know where to find your products at the touch of a button.
Use data-driven upsells and cross-sells on product details pages (PDPs), in the cart, and at checkout to improve your KPIs.
Worsely is a role model for women in tech and Rainy City has begun planning local events for women to learn more about opportunities in the tech sector.
2022 has been a banner year for Rebecca Worsely.
Worsely is the CEO & founder of Rainy City, a design and development agency for Shopify Plus. Based in Manchester, England, the fast-growing ecommerce agency specializes in KPI optimization for subscription brands and brands in the health and beauty industry.
Under Worsely's visionary leadership, Rainy City was recently named a Finalist for a European Ecommerce Award and again for a UK Ecommerce Award. Worsely herself was recognized by the Women's Business Awards as the Runner Up for the Female Founder of 2022.
As if that weren't enough, Rainy City celebrated its 5-year anniversary this year. "It's quite a busy time," Worsely says.
As the founder of a successful tech agency, Worsely is a role model for women everywhere. To encourage more women to learn about the tech industry, she's begun organizing local talks and meetups in Manchester.
In our latest interview, Worsely chats with Rebuy's Miles Shattuck about Rainy City's longform approach to web design, how they use Rebuy in their builds, and what they're doing to encourage more women to work in tech.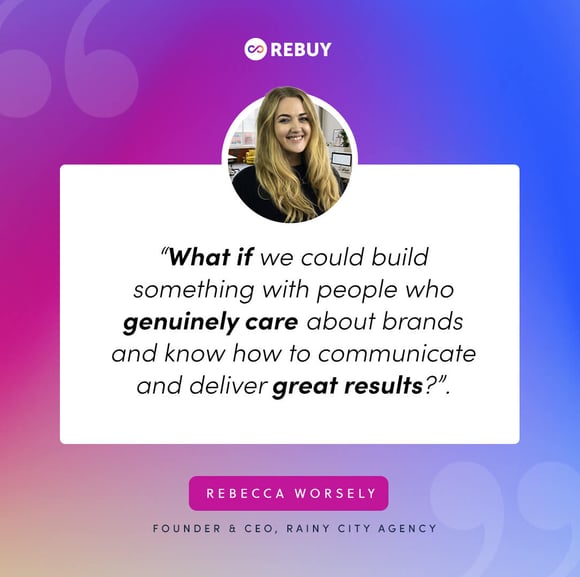 R
ebuy: What

inspired

you to found Rainy City?
Rebecca Worsley: I started as a merchant myself and got into dropshipping as part of the big boom when you could literally find any product and sell it with Facebook ads. I didn't really know much about brand building at that point. It was more about making money.
So I quit my job working in the fashion industry and started dropshipping. I wanted to learn how to build my own brand so we found a US-based supplier selling tee shirts and we built a store overnight using Shopify. By month two we had turned over $175,000.
It was exciting but again, we didn't know how to build a brand properly and create that customer lifetime value. Average order value (AOV), and conversion rate, it was all pretty new at that point. But Facebook ads were up and down. For some months it didn't work.
"Make sure people know where everything is at the touch of a button. Nothing is hidden away. There's a flow and a direction where we want people to go."
So we sold that, and I started building a skincare brand. I thought building my own products with my own supply and fulfillment would be a much more solid foundation to build a brand from. I was part of this brand-building boot camp, and there were other people in the group that also needed a website.
And that's when I built my first Shopify site. I was like, 'oh wow, I really love this platform, it's really cool.' And so I was building websites for people for $200. And it got to the point where I was making much more money doing Shopify than with the skincare brand.
So I made the decision to fully move into Shopify design and development and just learn what is was like to work with freelancers and agencies. It was pretty unreliable and communication wasn't great. And that sparked the idea, 'what if we can build something with people who genuinely care about brands and know how to communicate and deliver great results.' And it's just grown from strength to strength since then.
2. How is Rainy City

different

from other web development agencies?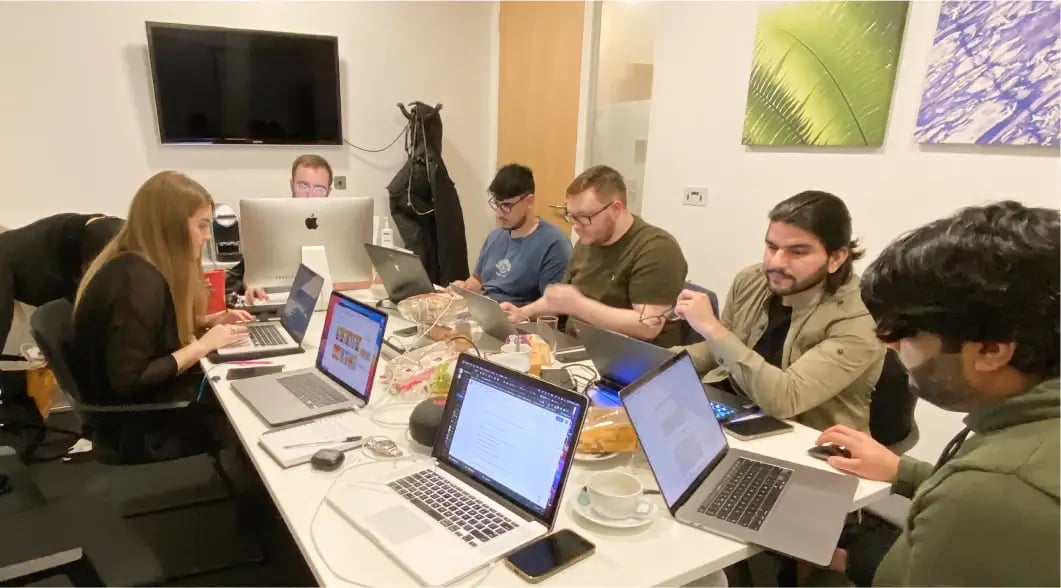 We genuinely care. We're still a small boutique-size agency with a team of 21. So every working on a project genuinely cares about it. No customer is just another number.
We definitely work differently from other agencies that you just send a list of action items to. We're a proactive partnership. We're constantly looking for opportunities on your website. Looking at the competitors. What's worked well, and how we can improve it more. What can we do to boost AOV, conversion rate, customer lifetime value (CLTV), and customer experience? I think that's what sets us apart.
We've taken on brands on retainer that have been with other agencies in the past. And they've just felt they were driving all the projects. There are so many developers out there. You've got to have that point of difference and look at things from a strategy point of view rather than just, 'we're a dev agency.'
3. What kind

of clients d

oes

Rainy City

work with?
My fav has got to be anything in the health and beauty niche. I think, number one, the portfolio pieces always look great. But we love anything to do with subscriptions as well, and I think building that recurring revenue and lifetime value for our customers is something we're really good at.
But we do like working with different brands as well. That's just our typical go-to is in the health and beauty. We're working on a site at the minute that does all darts. Dart tips. Darts that you throw. Dart apparel. We're working with a Japanese figurine company. So, we've got a pretty broad portfolio, but our favorite is always health and beauty.
4. How do you like to use

Rebuy

with your clients?
We like to use it on the PDPs (product detail pages). I think it works great, especially for anything in fashion and in health and beauty with "pairs well with" or "complete your look" to really encourage people that they don't have to just have one piece of clothing or one lipstick.
I see a lot of brands just list the product, and you have to click through to that product to see if you want to add it from the PDP. And I think, you're just adding more and more clicks to that user's journey. Like, let's make it as easy as we can. Let them add it to the bag straightaway from there. And we've got more chance of converting them.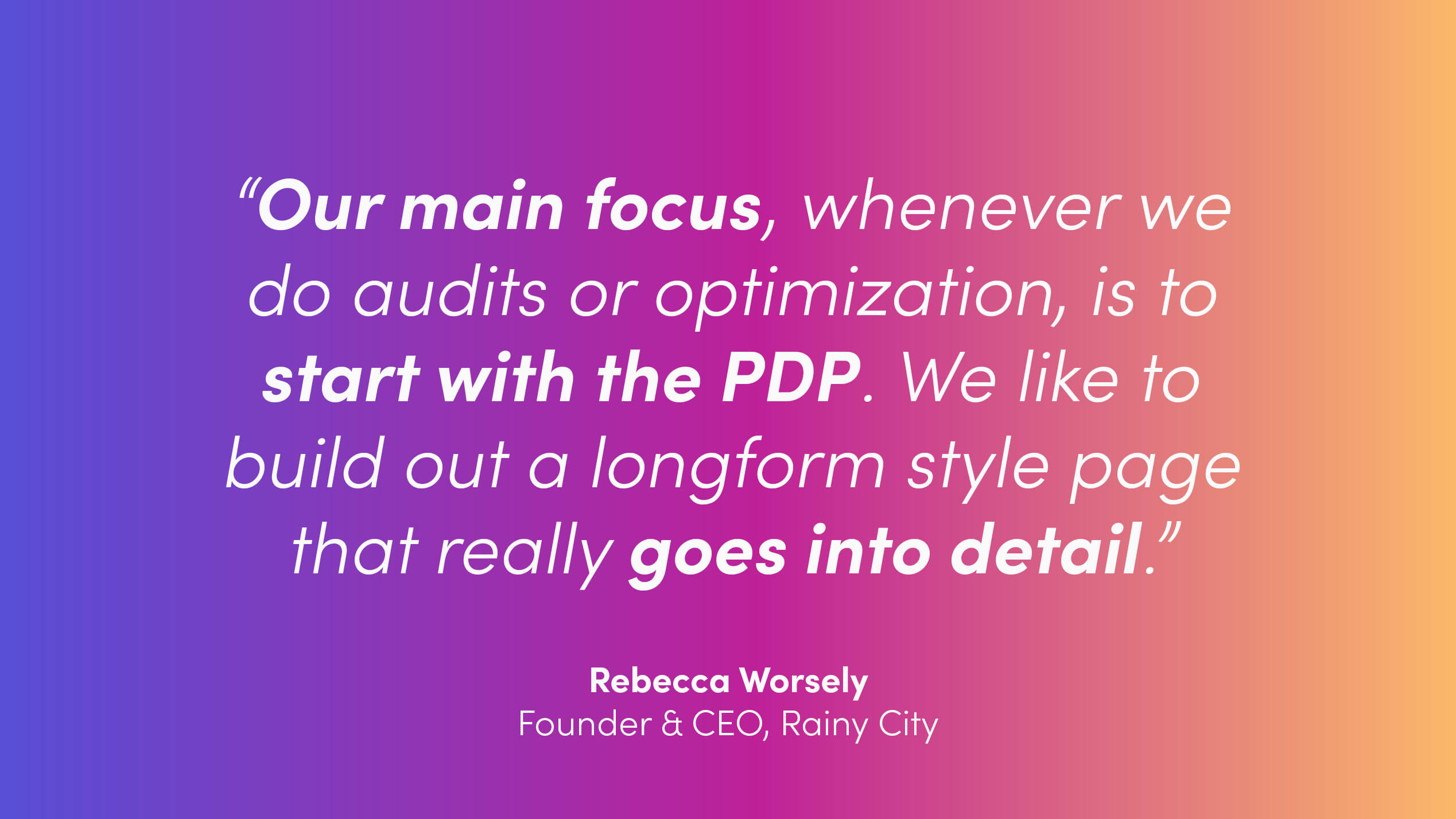 Another great place as well, I think, is in the cart. We typically always recommend slideout carts rather than pushing people straight to the cart page just to have that last touchpoint. Let's try and bump this order up as much as we can.
And more recently, in the checkout as well. I think that's a great place to add it, especially for the brands on Plus. And hopefully, other brands will be able to utilize that, as well, once Shopify releases that feature.
5: What is your approach to

web design

?
What we're pushing at the minute is, 'how can we make that customer experience and that user journey on a website really simplistic?' Really easy. Make sure people know where everything is at the touch of a button. Nothing is hidden away. There's a flow and a direction where we want people to go.
In my experience, ad agencies will send a ton of traffic to the collection page where there's a ton of different products. We always push brands to do presale landing pages where we take a softer approach. "Here's 5 reasons why this is the best lipstick that you'll every buy." And warming people through that way and then pushing them through to the product page.
"It's not just developing. It's project management. It's marketing. It's creatives. There're so many different routes that you can go down. It's a really fun, fast-paced industry that I think everybody should want to have a taste of."
Our main focus, whenever we do audits or optimization, is to start with the PDP. We like to build out a longform style page that really goes into detail. The goal for that page should be that if a customer lands on that page, they shouldn't have to leave it to find more information. So making sure you've got shipping information, any kind of guarantees, breakdown of the products, and also that it's digestible. We're not just showing chunks and chunks of text that no one's going to read through. Let's make it a little more engaging and exciting with icons and images.
And it might sound real simple, but that your CTA stands out. You wouldn't believe how many people use a thin grey outline for an add-to-cart [button]. And it makes the product look like it's sold out. You don't have to go down the road of having a bright green or bright red, not at all. But something that stands out against the rest of your page will make all the difference. I promise.
Bonus question #1: You were recently featured in an article from Manchester Tech. It was about how

women in tech

face a number of unique challenges. What advice do you have for women looking to start and grow a career in the tech industry?
It's hard. I think sometimes people don't realize how difficult it is to break into such a male-dominated area. I've been to loads and loads of events where there'll be me and another woman there, or a couple of other women, and we're so outnumbered. Sometimes it is a bit scary.
But it's all about knowing your worth and knowing your right to be there and that you've got your own place. I think it's about educating people, as well, on why women are great in tech, what we can bring to the table and how we can bring different ideas.
I think the space that we're in, in this Shopify ecosystem and Shopify industry, I think everyone's really great and everyone's really open-minded. I think it's just that we need to bring more people in. I don't think anyone's pushing anyone out in that way.
I think it's about how we can encourage more women to join in this space. Because there are so many different areas to it. It's not just developing. It's project management. It's marketing. It's creatives. There're so many different routes that you can go down. It's a really fun, fast-paced industry that I think everybody should want to have a taste of.
We're hosting our first event this year which is exciting. Whether it's a meetup for women in tech or some talks. We haven't fleshed out the concept yet but just to have that space where people can come and learn more about it.
Bonus question #2: Tell me about a

project

your team is working on now.
One of our biggest projects that we're working on right now is a hair care brand and it's a really famous UK brand. It's in all of the supermarkets and drugstores. That was a really exciting project. It's just launching at the minute. We've launched that in the UK. We've launched the US. And now we're going to go ahead and launch the German and European site.
And of course, we use Rebuy as part of that build. The amount of people we've shown it to like new merchants and potential brands we want to work with—they love that PDP. It's a really great PDP and it just looks amazing. We've actually just been shortlisted for the European health and beauty e-commerce website of the year award for that website. So that's exciting.
We've got some exciting things in the pipeline. We just finished designing our own theme for the Shopify theme store as well. That will go into development in the next couple weeks, hopefully launching at the end of the year. And the meetups and our new website in the next couple of weeks as well. So there's a lot going on. It's quite a busy time.
Bonus question #3?!: What are you reading or

listening to lately

?
I go through phases of reading books and then not picking one up for like five years, and I'm at that stage now, so…(laughs). I'm currently listening to Beyonce's new album which I'm sure everybody else is as well.
•••
---
Follow Rainy City on LinkedIn, then visit their website to request a consultation.
Try Rebuy free and see why the world's top brands use Rebuy to accelerate sales growth.
Interested in partnering with Rebuy? Let's do it.
To keep up with the latest trends, platform updates, and more, follow us on LinkedIn.