Integrations
Drive Revenue On Order Tracking Pages Through Personalized Product Recommendations with Malomo and Rebuy
We are excited to announce that Rebuy is now integrated with Malomo.
---
This post was contributed by our friends at Malomo.
Malomo is a shipment tracking platform that helps ecommerce brands turn order tracking from a cost center into a profitable marketing channel. We create branded tracking pages and shipment email workflows to help brands achieve their post-purchase and customer retention goals all while driving ROI.
By using shipment tracking, brands are able to drive repeat sales, increase customer satisfaction, educate customers, and lower support tickets. But, don't just take our word for it. Did you know that customers check their tracking 4.6 times per order? Or that 84% of customers are not likely to return after just one bad shipment experience?
That's neat, but why should I care?
More often than not, customer acquisition is the main focus for a brand, but what happens after that customer makes a purchase? What transactional emails and tracking pages are you sending your customers if any? Are they branded and highly communicative with valuable information? If something goes wrong, is your support team easy to access? Do you match the expectations your customers have?
Transactional emails have some of the highest engagement rates due to the important information they house as well as their separation from marketing emails. Because transactional emails are separate from marketing emails, customers cannot unsubscribe. So, if there are inevitable touchpoints with customers, why shouldn't they perfectly match your brand image and create a seamless customer journey.
Bokksu, a joint brand of both Malomo and Rebuy, has seen a 90+% open rate for their shipping emails as well as a click-through rate of 45.7%. In our Bokksu case study, we dive into the reasoning behind these very impressive numbers. We consistently see metrics that outperform industry standards like this with almost all of our brands.
We know this can seem like a lot if you're just diving into this space. So, we're here to break it down for you. Mainly, there are three things that you need to care about when it comes to the post-purchase space. Communication, cross and up-selling products, and data control.
Ecommerce Personalization: The Complete Guide for Founders, Merchants, and Marketers
Your ecommerce personalization journey starts here.👇
Communication
Going the extra mile really makes a difference when it comes to customer loyalty and retention- if you proactively, consistently, and accurately communicate with your customers, you put them at ease all while reducing cofusion and support tickets.
Cross and up-selling products
Customers are most excited about your brand after they place an order so the immediate communication with them should grow that excitement. The idea behind sending customers a branded tracking page is to capture their excitement and further engage them with additional product recommendations, educational content, and social media. This will increase repeat purchases before their first order even arrives.
Data control
If you aren't sending your customers to a branded tracking page, odds are you're sending them to boring carrier pages, which means you're losing possible data points. With the recent Apple and Google privacy changes, these data points have become even more important. With data on how many times customers are checking their order and for how long, brands can understand their customers, even more, to better serve them.
One of Rebuy and Malomo's joint brands, Tenzo Tea, understands the importance of these three initiatives and was able to reduce churn while increasing repeat purchases. Read the full article and check out what Steve O'Dell, founder of Tenzo, has to say:
"Malomo has allowed us to stand out for our customers after they buy- when customers are most excited about Tenzo and they've invested their money into our brand. We are making sure we show them we care and that we are there to support them in any way we can. I can't mention enough how important this is as a young brand. As a result of the change, we've seen a lift in our repeat purchase rate and a decrease in churn. These stats don't lie and combined make a huge lift to bottom-line growth."
Now we know the importance, where do we begin implementation?
When you really dive into it there are so many different ways to optimize your post-purchase experience. But for now, we won't steal too much of your time. Personalization is the name of the game. You're (hopefully) already sending customers their order confirmation and tracking information, so why not have it be a branded email and tracking page? We want your tracking page to have whatever it needs to have, from shipment information, blog content, products, reward programs, social media feeds, educational videos, support widgets and so much more! Easy access to all these resources makes it convenient for your customers to benefit.
You may want to also consider some additional perks for your customers. When customers see your intention to make them feel special, they'll greatly appreciate it. Consider what unique stamp you want to put on your brand's post-purchase experience- what will make you stand out from the rest? A free sample in their order, a thank you note, a promo code, a sticker, a birthday gift? A little intentionality goes a long way for your customer retention. Without intentionally laying out a post-purchase customer journey, you could be missing out on many beneficial touchpoints with your customers.
Double the strategy, quadruple the impact
As it becomes more and more common, the importance of investing time and thought in your post-purchase experience becomes even more crucial to your brand's customer retention. Here's where the Malomo x Rebuy integration compliments each other so well- we have the same goals in helping your brand. This ensures no matter what experience your customers are looking for, you'll have all your bases covered.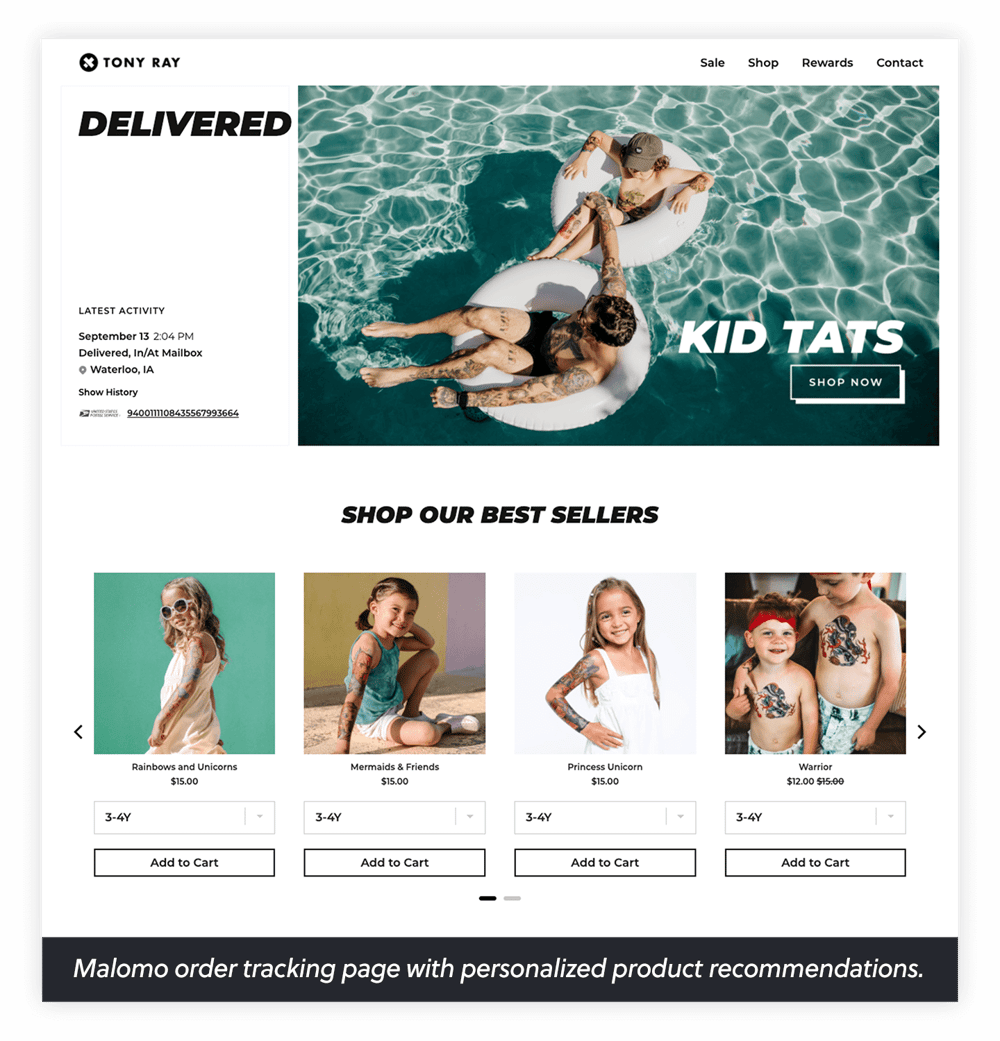 With our integration, you'll be able to provide your customers with additional benefits to drive repeat purchases, reduce subscriber churn, and increase customer lifetime value. Our partnership works to drive ROI through highly personalized product recommendations, conveniently placing products to cross and up-sell right in front of the customer, and reducing subscriber churn. With our integrations, your brand can utilize customer data to inform assets within your Malomo tracking page. You'll be able to present dynamic product images such as previously purchased or previously viewed as well as present targeted discounts to specific cohorts of customers.
With Rebuy and Malomo enhancing your customer experience, your customers will feel so cared for that they won't be able to hit the rebuy button fast enough.
Use Rebuy & Malomo together
Now available on all payment plans, the Malomo integration makes it easy for Shopify merchants to transform the order tracking experience into a money-making marketing channel with the power of data-driven personalization. Rebuy customers can try Malomo FREE for 30 days.
•••
Try Rebuy free for 21 days. Interested in partnering with Rebuy? Let's do it. To keep up with the latest trends, platform updates, and more, follow us on LinkedIn.