UX
📞The 90s Called and Want Their Shopping Cart Back
Web 1.0 shopping carts are too outdated for today's shopper. Learn why it's so important to update to a modern cart like the Rebuy Smart Cart™.
---
The internet has gone through several iterations since its creation in the early 90s.
The first generation of the web was Web 1.0 (or Web1) with its static website and minimal user interaction.
Then in 2005, Web 2.0 (or Web2) was born and introduced us to social media and interactive websites.
Today, the third generation of web technologies is starting to evolve: Web 3.0 (Web3).
Powered by machine learning and artificial intelligence (AI), Web3 is changing the fabric of the internet, with content almost entirely user-generated and highly personalized. Websites are smarter and more intuitive to provide users with a streamlined, seamless experience.
With Web3 still in its infancy, we're only beginning to understand its effects. One thing we do know is that ecommerce retailers who are still relying on Web1 features in their online storefront, particularly on their shopping cart page, desperately need to upgrade.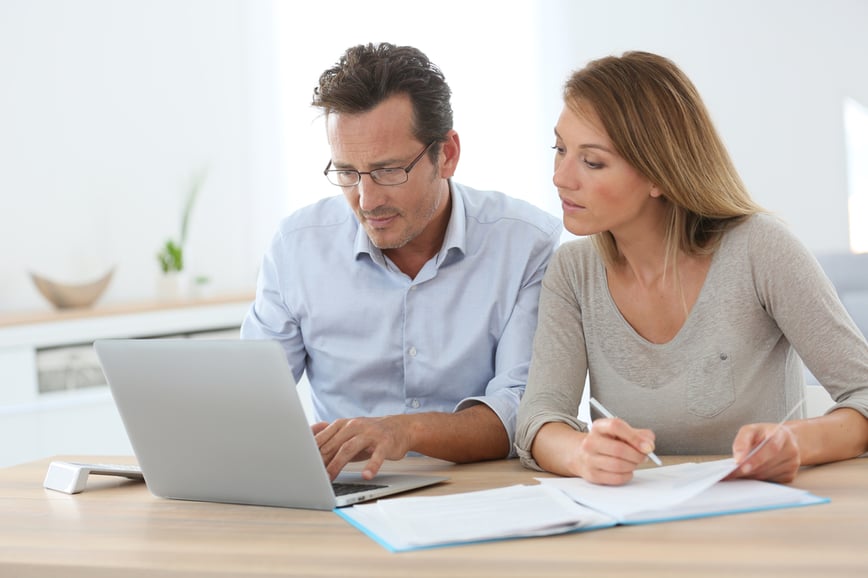 Today's users expect your online shopping cart (and the entire checkout experience) to be just as intuitive and engaging as the rest of the website. Online retailers who provide shoppers with a static cart page are likely losing a large portion of customers to competitors who have adopted Web2 and Web3 features.
Below, you'll get a look at the limitations of Web1 carts before learning why it's so important to update to a modern cart like the Rebuy Smart Cart™.
But first, let's chat briefly about...
The Evolution of Online

Shopping Carts
The first instance of online shopping started in England in the early 70s. English inventor Michael Aldrich invented a system that connected consumers' TVs to retailers' computers with a telephone line. This allowed customers to contact the shop electronically.
Then in 1992, Book Stacks Unlimited created one of the first instances of consumer shopping. The store started as a dial-up bulletin board before eventually rebranding as Books.com, which was eventually acquired by Barnes & Noble.
In these early days, shopping carts were very static and featured no user engagement. Most checkout pages were created from a standard template or themed shopping cart. Books.com's cart circa 1999 is an excellent example: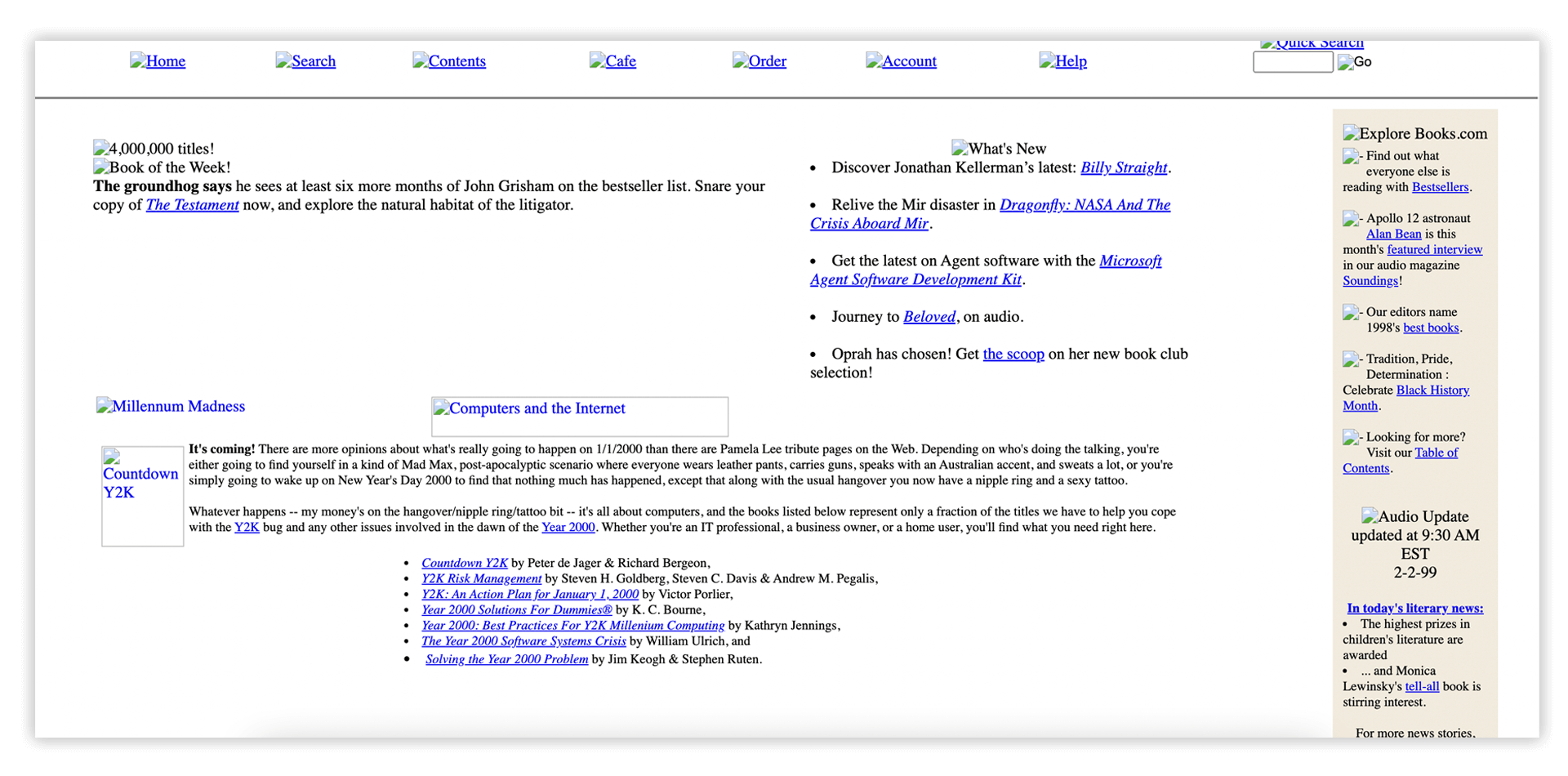 There was no additional content for users to engage with, no summary of the order, and no way to continue shopping. This "read-only" cart page ends shoppers' experience with checkout and causes stores to lose out on additional revenue. And while customers may have dealt with this type of web experience during the Web1 days, they don't now.
Web1 Carts Are

Holding You Back
Today's ecommerce experience is very different from the Books.com days, especially in terms of checkout pages. Modern shoppers expect to have a fast, simple checkout experience. They want to see their order summary, total price, shipping options, payment methods, and expected delivery times all on one page. If they don't get a consolidated picture of all of this information, 70% of consumers will abandon their shopping carts, resulting in lost revenue for stores.
Web1 cart pages do not allow for this type of experience. Essentially, Web1 allowed users to search for information and read it with no interaction. Content was entirely static, displayed in simple frames and tables that users can look at but not interact with. Navigation to and from a Web1 page was incredibly difficult, making it hard for shoppers to naturally discover new products or get product recommendations from the retailer.
And in-cart AI-driven product recommendations personalized for every shopper?
Fuggedabouttit.
The modern shopper is now all about that experience. They want to see highly personalized and relevant content that meets their specific needs. This is nearly impossible to achieve with Web1 shopping carts. Retailers still relying on this technology are likely becoming obsolete and missing out on numerous revenue opportunities.
Now that we've had a chance to reminisce about the good 'ol days, let's look at how you can...
Optimize Your Shopping Cart for

Web3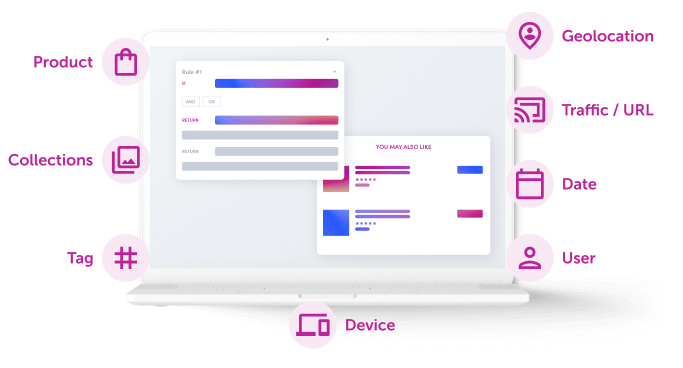 Upgrading from a Web1 shopping cart to a cutting-edge cart experience is easy with the Rebuy Smart Cart. Our intelligent shopping cart brings outdated and unintuitive carts into the present, providing shoppers with the highly personalized, seamless shopping experience they expect.
To understand what we mean, let's review the top features of the Rebuy Smart Cart. We spoke to Rebuy's own Sr. Lead of Product Marketing, Eli Holtz, who shared how these revolutionary features are bringing ecommerce stores into the future.
Customization
One of the major customer pain points Holtz identified is inconsistent user experience (UX) across the site. Many merchants offer a solid UX across their site proper. But they struggle to offer the same positive UX in the shopping cart. For example, the cart page may share the same colors and logos as the brand but needs further customization to create a cohesive experience.

To solve this problem, more merchants are installing the Rebuy Smart Cart. They enjoy its customizability and brand-matching capabilities. And with little to no coding required, it's easy to use for developers and non-developers alike. "Merchants can come to the Smart Cart and begin building their page and choose from several Rebuy apps," Holtz said. "They can choose what they want to display. For example, product reviews shown in the cart build trust in your brand and products, which has proven to increase conversion rate."
That said, those with the coding skills can get very creative with Smart Cart. Here's a modified Smart Cart designed by health and wellness brand Mixhers with dev support from the team at Electriq agency.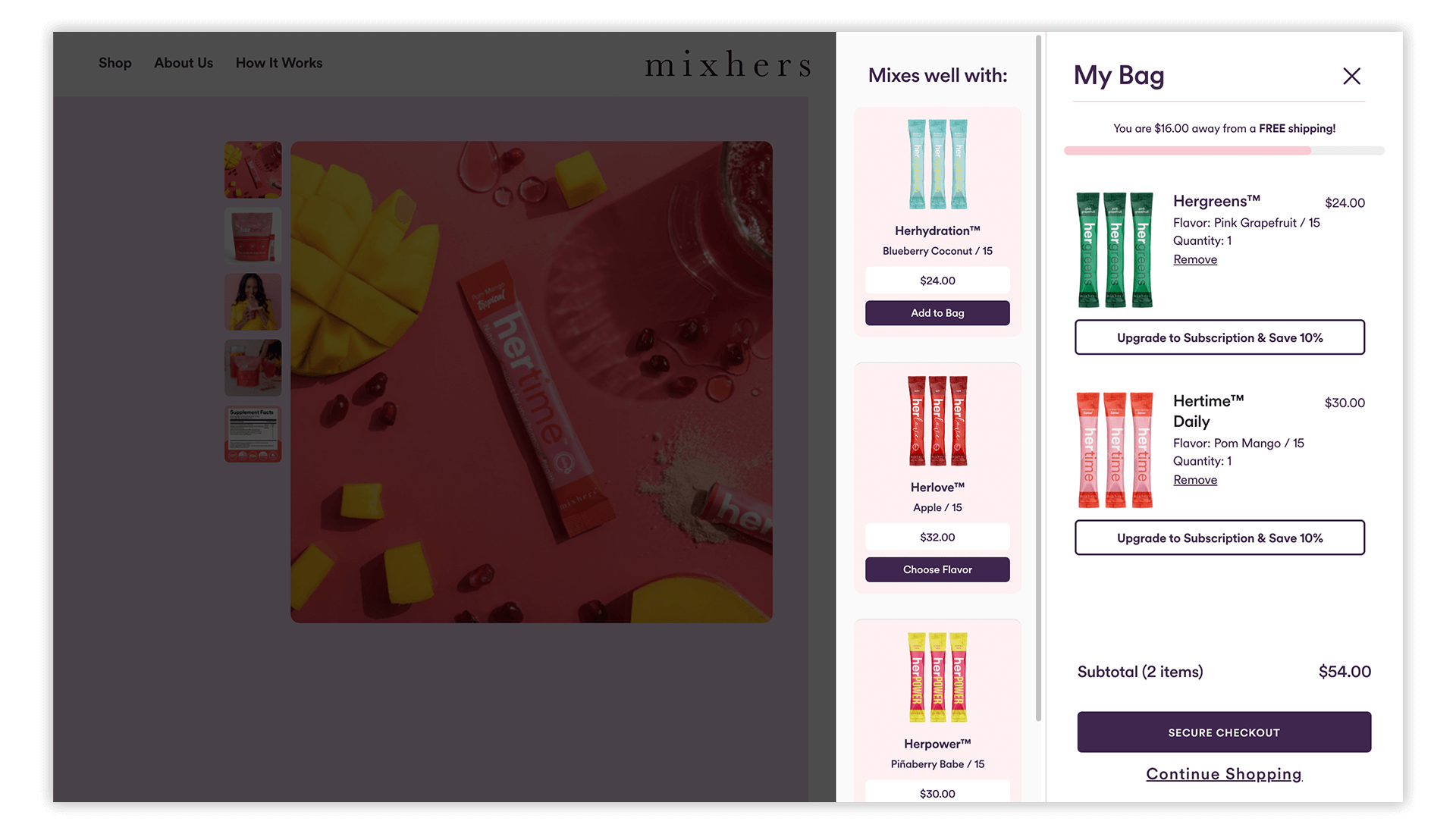 Personalization
A common challenge for ecommerce merchants is cart abandonment. Holtz described how many customers talk themselves out of buying products when they reach the cart page. The result is low conversion rates and discarded shopping carts.
The thing is, today's shopper wants and values personalized experiences. (Think Amazon and Netflix.) Rebuy helps by showing your customers highly personalized content based on their preferences. For example, here are just a few of the recommendations you can display to customers:
Recommended and similar products
Best sellers
Products frequently bought together
Recently viewed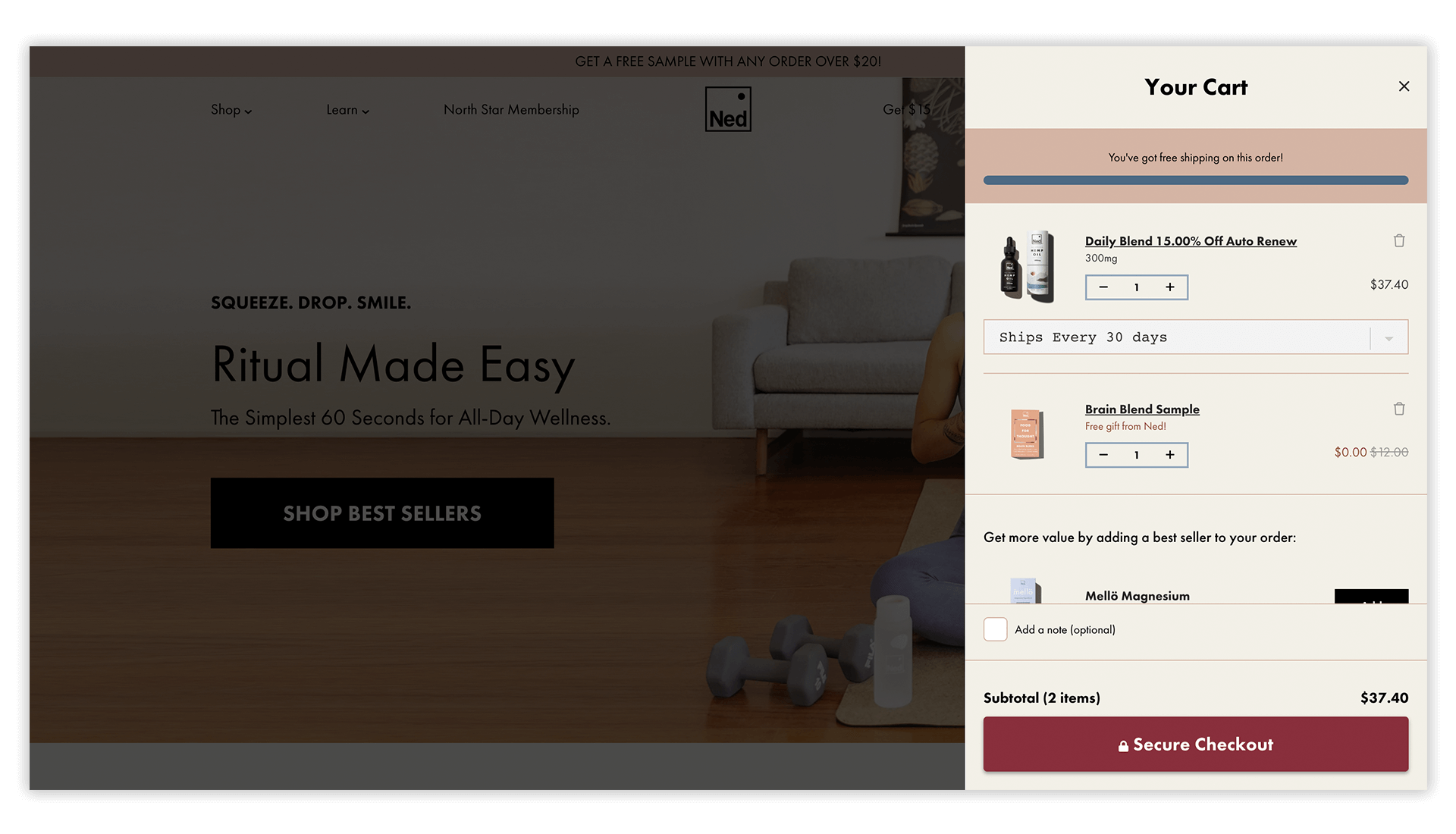 So, what does this level of data-driven personalization mean for your shopping cart? Well, it minimizes the likelihood your customer will hesitate in the cart, pondering whether they should or shouldn't buy from your brand. Personalized recommendations make it far more likely they'll "add to cart" and go on to complete the order.
App Integrations
App integrations are central to Rebuy's strategy to have the most flexible shopping cart on the market. "Today's ecommerce companies are sticking with the status quo for their shopping carts. This is leaving a huge gap in the cart experience and customers are filling that gap with uncertainty, deliberation, and postponement," explains Holtz. "Rebuy is pushing the envelope and bringing these carts into the future."
Rebuy features dozens of seamless app integrations that allow for more engagement, a faster checkout experience, and increased customer trust. Holtz highlighted Rebuy's integration with Route, which allows merchants to offer package protection at checkout. Ecommerce stores who include the offer have seen a 50% increase in customer purchase intent.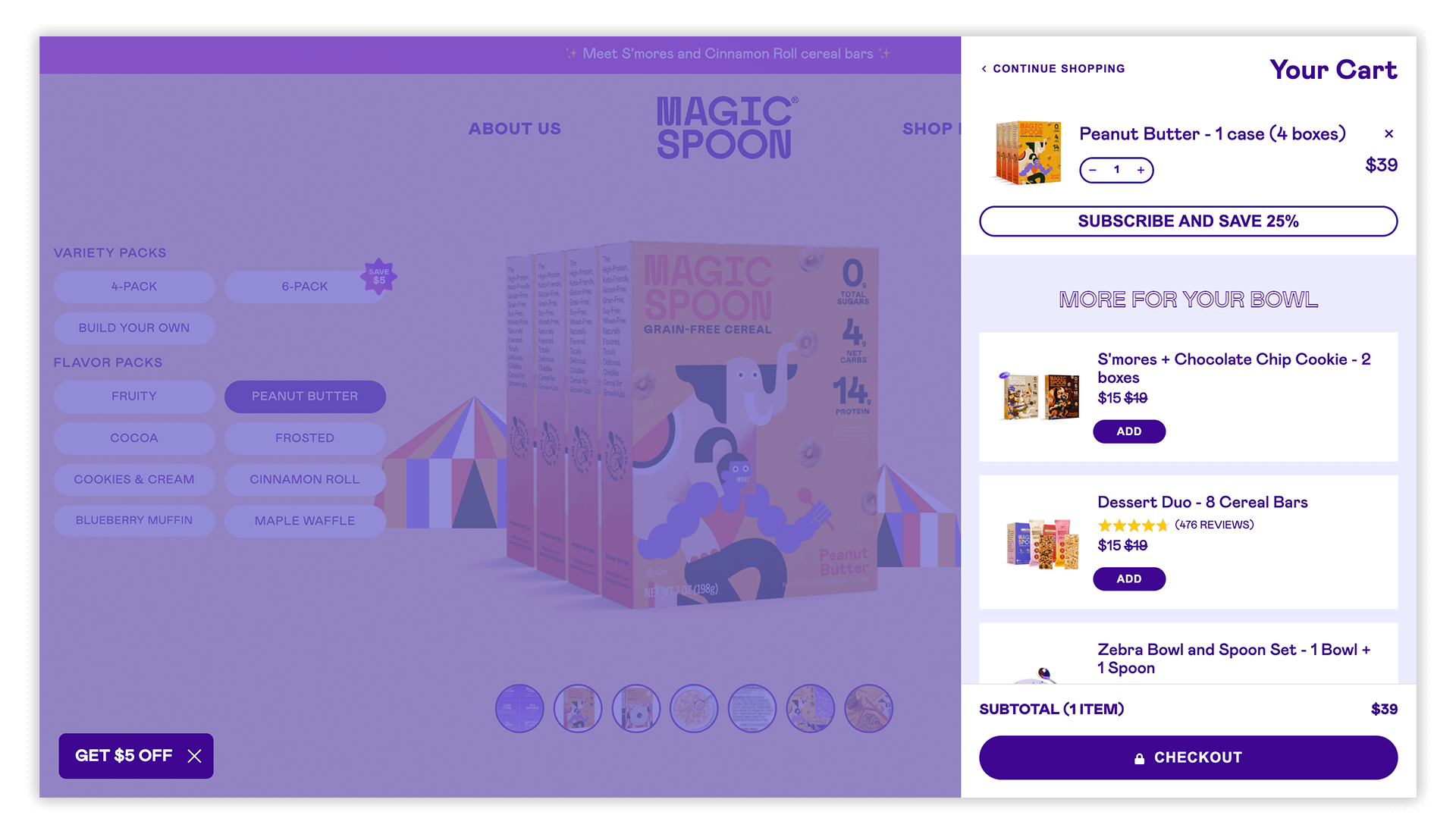 Rebuy also integrates with Okendo, a Shopify app that allows merchants to capture customer reviews and showcase them across their site. As a Rebuy Smart Cart App, however, Okendo reviews display in the shopping cart, too. By showcasing the reviews for relevant products, not only is the customer's original buying intent reinforced, but it's often increased. In fact, Rebuy customers using the Okendo integration have seen an ROI up to 9X higher than they would without it.
Another integration that's driving conversion rates is the Attentive integration. Holtz describes how merchants who utilize the text messaging solution have boosted both customer lifetime value (LTV) and conversions. "A customer that has opted in for SMS offers is seven times more valuable than a customer who hasn't," Holtz said.
Ecommerce Personalization: The Complete Guide for Founders, Merchants, and Marketers
Your ecommerce personalization journey starts here.👇
The Intelligent Shopping Cart of the

Future
Ecommerce stores who still rely on Web1 features are missing out on great opportunities. With the Rebuy Smart Cart, merchants can easily upgrade their ecommerce shopping cart and modernize their online store overnight. For Holtz and the Rebuy team, that means more successful merchants and a more modern shopping experience for all of us. "Rebuy allows you to go from Web1 or Web2 to Web3 all at once."
Get your free demo today and see what Rebuy can do for your shop!
•••
Try Rebuy free and see why the world's top brands use Rebuy to accelerate sales growth.
Interested in partnering with Rebuy? Let's do it.
To keep up with the latest trends, platform updates, and more, follow us on LinkedIn.