Smart Cart
Rebuy Smart Cart™: The Key To Improving Your AOV and Conversion Rate
Improve UX, convert more traffic, and boost AOV with Rebuy Smart Cart, the intelligent all-in-one shopping cart.
---
Smart Cart™ is an intelligent shopping cart designed to increase conversions and improve AOV by encouraging customers to add more items to their cart and make higher-value purchases
Rebuy's AI-powered personalization engine analyzes your sales and customer data to serve up personalized product recommendations right in the Smart Cart, which helps customers discover products they may not have seen otherwise.

Drive conversions and minimize cart abandonment with features like personalized product recommendations, tiered progress bars, one-click subscription upsells, free shipping bars, and variant selectors.
---
Is your shopping cart experience as smooth as a bumpy ride on a wooden roller coaster?
Let's face it. Too many brands take the shopping cart for granted. No wonder so many shoppers abandon their carts before reaching the checkout.
But what if you could trade in your basic cart for a brand new high-performance sports car?
That's where Rebuy Smart Cart™ comes in. This advanced shopping cart is the key to enhancing shopper engagement, increasing conversions, and elevating your store's AOV (average order value).
With features like personalized recommendations, one-click subscription upsells, and a tiered progress bar, Smart Cart takes your customers on a smooth and seamless journey through your store.
It's time to ditch that old jalopy and upgrade to a sleek and speedy AI-powered cart that will have your customers racing to the finish line with their purchases. Say goodbye to cart abandonment and hello to a fast and reliable shopping experience.
So buckle up and get ready to turbocharge your online store with the most intelligent and customizable shopping cart on the lot.
What Is
Smart Cart™?
The Rebuy Smart Cart is the intelligent, customizable shopping cart preferred by over 3,000 ecommerce brands. It's a feature-rich shopping cart system that uses artificial intelligence and machine learning to enhance the shopping experience and accelerate sales.
Smart Cart improves AOV and increases conversions by encouraging customers to make higher-value purchases and add more items to their cart with key features like:
Personalized recommendations
One-click subscriptions
Variant selectors
Seamless design that keeps shoppers engaged and focused on their shopping journey
Smart Recommendations

Increase Cross-sells and Upsells
Upsells and cross-sells are more profitable when they're driven by data. And Rebuy's AI-powered engine dives deep into customer data to serve up personalized product recommendations right in the Smart Cart. This helps customers discover products they may not have seen otherwise.
Smart Cart's system is designed to analyze customer data in real time. It can process information from customer profiles, including previous purchases, browsing history, interactions with the cart, and more.
Way more.
Using this data, Smart Cart can display different types of recommendations to customers while they shop. This includes complementary products, promotions on items frequently purchased by the customer, or items based on their past shopping behavior.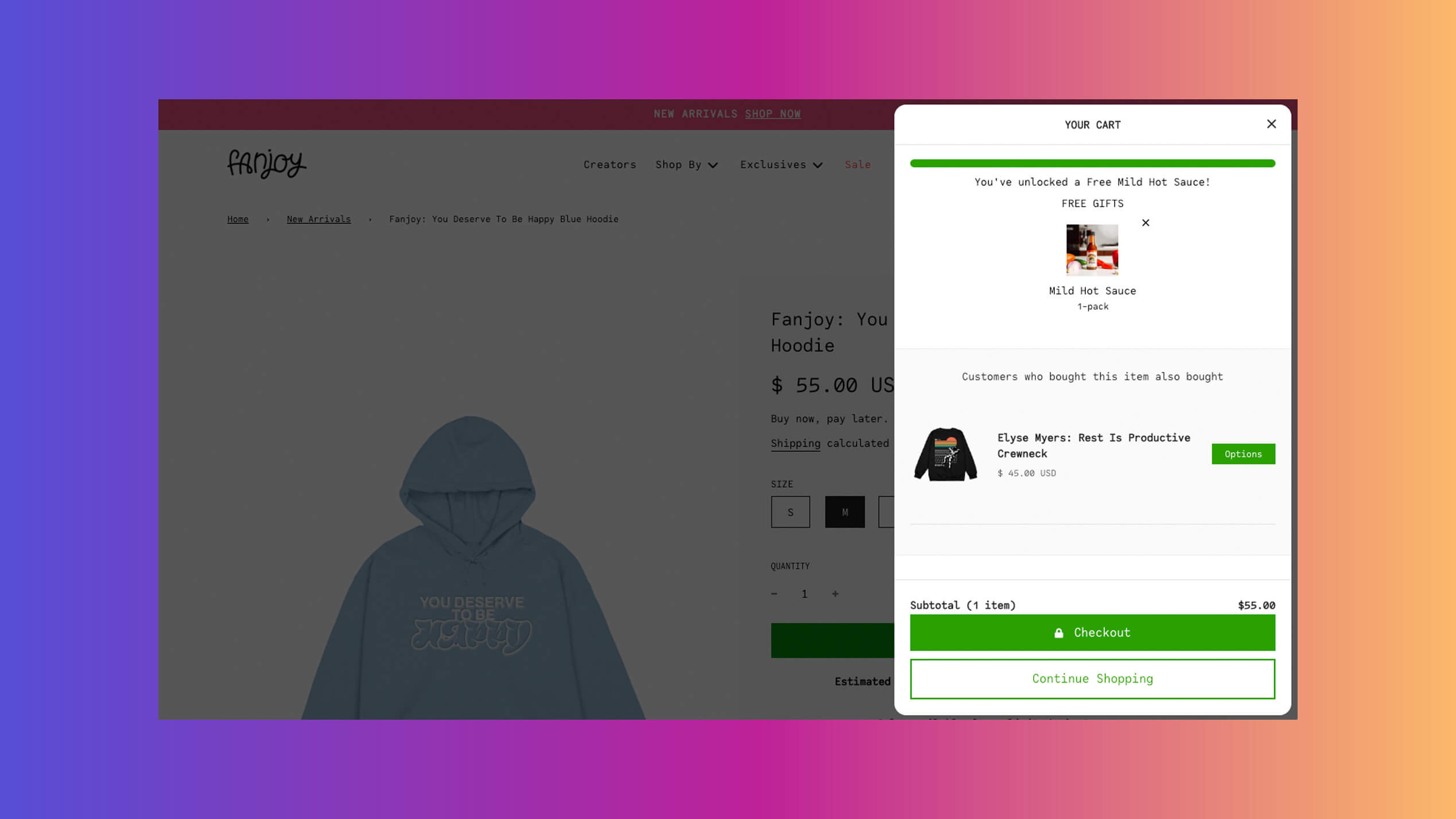 For instance, let's say a Fanjoy customer adds a shirt to their Smart Cart. They may then see "customers also bought" recommendations for a hoodie or cap that would perfectly complement their purchase.
This not only increases the AOV but also enhances the overall shopping experience by providing relevant and personalized product suggestions. In fact, this strategic cross-promotion in the Smart Cart has helped Fanjoy's AOV climb by 11.7%.
Switch to Subscription

Feature Generates Recurring Revenue
Big growth opportunities lie ahead for merchants who adopt a subscription-based model. eMarketer predicts that by 2023, revenue from subscription ecommerce will top $38 billion, which is more than double its revenue in 2019.
And that's great news because ecommerce merchants have seen their customer acquisition expenses skyrocket by 50% in the last few years. So, instead of focusing on lowering CAC, they're now looking to increase ROI for the customers they already have.
Enter Rebuy's Switch to Subscription feature to make it easier for customers to subscribe to your products or services. The result is an increase in customer retention, more sales, AND a higher lifetime value.
OLLY is one of the brands that is cashing in big thanks to subscription commerce. After overhauling their subscription program, the vitamin and supplements company added a "subscribe and save" option to its Smart Cart. Guess what happened next? Subscriptions started to fly.
But that's not all. Check out OLLY's jaw-dropping results:
25.06% increase in AOV
63% increase in subscription revenue
57% increase in subscriber count
8% increase in subscriptions as a share of total business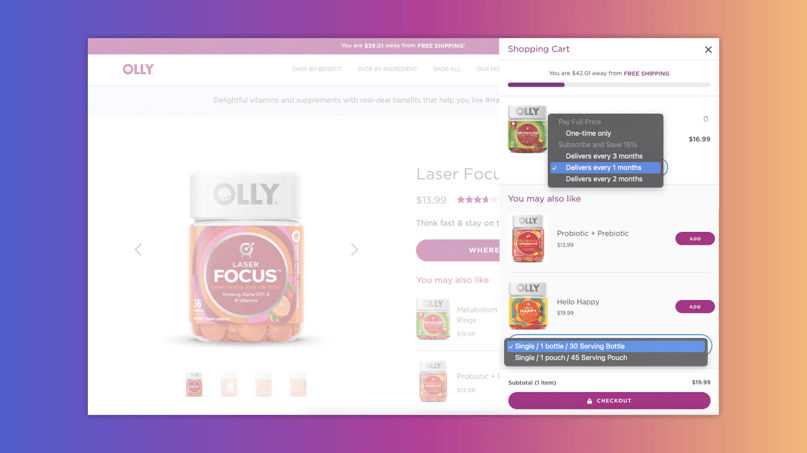 Plus, the brand's subscription numbers kept growing. In the five months since installing Rebuy, growth was up compared to the five months prior. This may be a cliche, but if you're not offering subscriptions to your customers, you're definitely leaving money on the table.
Tiered Progress Bar

Incentivizes Customers To Spend More
Customers love freebies.
And the Tiered Progress Bar in the Smart Cart is an excellent way to show customers just how close they are to scoring a free gift or free shipping. It encourages shoppers to add more items to their cart, thus increasing their order value and reducing cart abandonment.
The Tiered Progress Bar visually represents a user's progress toward a specific goal during the shopping process. For example, you can implement a progress bar that says, "You're $25 away from free shipping!" And then, on the back end, you can customize product recommendations within that price range. This makes it super easy for the customer to say, "Neat, here's a product I can buy that gets me free shipping." Click!
Gift With Purchase Via Tiered Progress Bar
The Tiered Progress Bar can also be used to reward customers with gift cards when they hit specific spending tiers. For example, reaching Tier 1 at $50 could unlock a $10 gift card, and Tier 2 at a $100 spend could reveal a $20 gift card.
It's an irresistible incentive that not only enhances the shopping experience but also fosters loyalty. Who wouldn't want to come back and make another purchase when they have store credit to spend? They might even share the gift card with a friend, who could end up becoming your newest customer.
Examples of the

Tiered Progress Bar in action
With Rebuy's Tiered Progress Bar, you can create up to four tiers of rewards: one free shipping tier and up to three free gift tiers are possible per bar.
Let's look at this example from oral care company Snow. Their Smart Cart features a tiered progress bar displaying four rewards. Customers can qualify for more rewards by adding more items to the cart. We love that customers can see the exact dollar amount they need to spend to qualify for the next reward.
This type of gamification is a powerful way to boost AOV and conversion rate.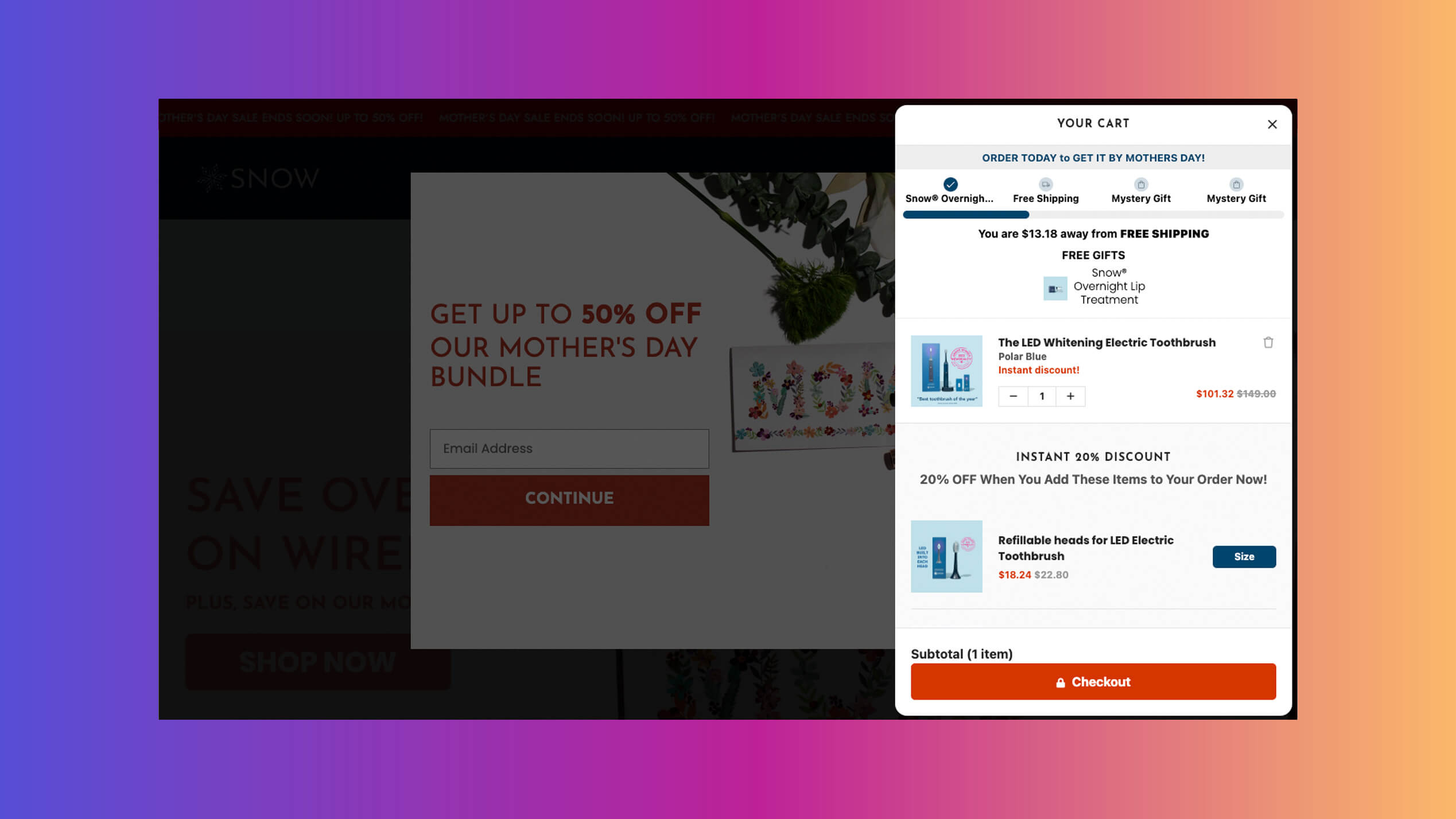 Here's a quick before-and-after look at how Magic Spoon uses the tiered progress bar to show a customer how close they are to bagging a free Magic Spoon. Magic Spoon's progress bar is one of the Smart Cart features that helped boost average order value for the brand by 14.75%!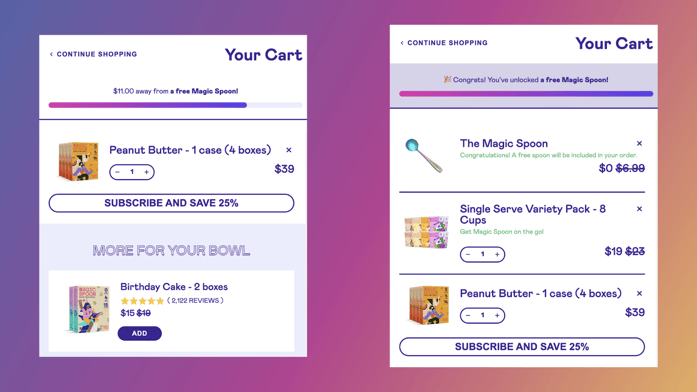 We wrap up our look at tiered progress bars with Promix Nutrition.
Advanced level: The Promix in-house development team does an impressive job customizing Smart Cart to fit their needs. Click the video below to see their 4-tier progress bar and see what's possible with a little customization.
Cart Flyouts

Create a Seamless Shopping Experience
Do you love adding an item to your cart and then suddenly being whisked away to a separate cart page?
Neither do we.
Unfortunately, that's what the shopping experience is like in many online stores.
This sudden diversion often prompts customers to instinctively proceed to checkout rather than continue browsing. And if they want to make changes or continue shopping, they have to navigate back and forth between the cart and product pages. If they've spent time applying filters to find the right size or color, you've undone all their hard work and made it harder to add more items to their cart.
The Smart Cart solves this problem. It takes the form of a cart flyout that offers a seamless solution within the shopping experience.
A cart flyout is a shopping cart that usually extends (or "flies" out) from the right side of the screen. Instead of sending users to a separate cart page, it shows a brief summary of their cart's contents in a small panel on the side of your screen.
The Smart Cart flyout effortlessly blends into the user interface, allowing users to manage their cart items without losing sight of the products they're interested in. This seamless experience keeps online shoppers engaged and focused on their shopping journey, eliminating the need for constant redirects to a separate cart page.
Transform Your Online Shopping Cart

Into a Well-Oiled Machine
Imagine if you could have your own fast, sleek, and stylish car without the help of an auto engineer.
That's exactly what it's like working with the Rebuy Smart Cart for your online store. It's a no-code, low-code, plug-and-play solution. This means you can fine-tune your product recommendations exactly how you like and stack rules together to give your shopping cart the extra horsepower needed to truly drive customers toward their purchase.
Test drive the Rebuy Smart Cart today and learn how it can help you stay ahead of the curve.
•••
Try Rebuy free for 21 days and see for yourself why the world's top brands use Rebuy to accelerate sales growth.
Interested in partnering with Rebuy? Let's do it.
To keep up with the latest trends, platform updates, and more, follow us on LinkedIn.