Case Study
It's a Sugar High! Licorice.com Sees AOV Soar 17% Overnight
A family of entrepreneurs launch a new business with no developers and taste sweet success.
---
RESULTS
🔥 AOV +17.16%
⏳ 100+ hours saved
INDUSTRY
🍬 Food & beverage
USE CASES
🛒 Cart UX
🎁 Gift With Purchase
⚡️ Plug & Play
Challenges
The Licorice.com customer success story is the story of a new shop with no developer using simple best practices to achieve success literally overnight.
Licorice.com is a provider of artisanal gourmet licorice from around the world. Founded by a family of fifth-generation entrepreneurs, the new brand was launched in 2020 and has found success serving 50+ varieties of licorice to passionate licorice lovers everywhere. The brand was even featured in Oprah Magazine's Gift Guide.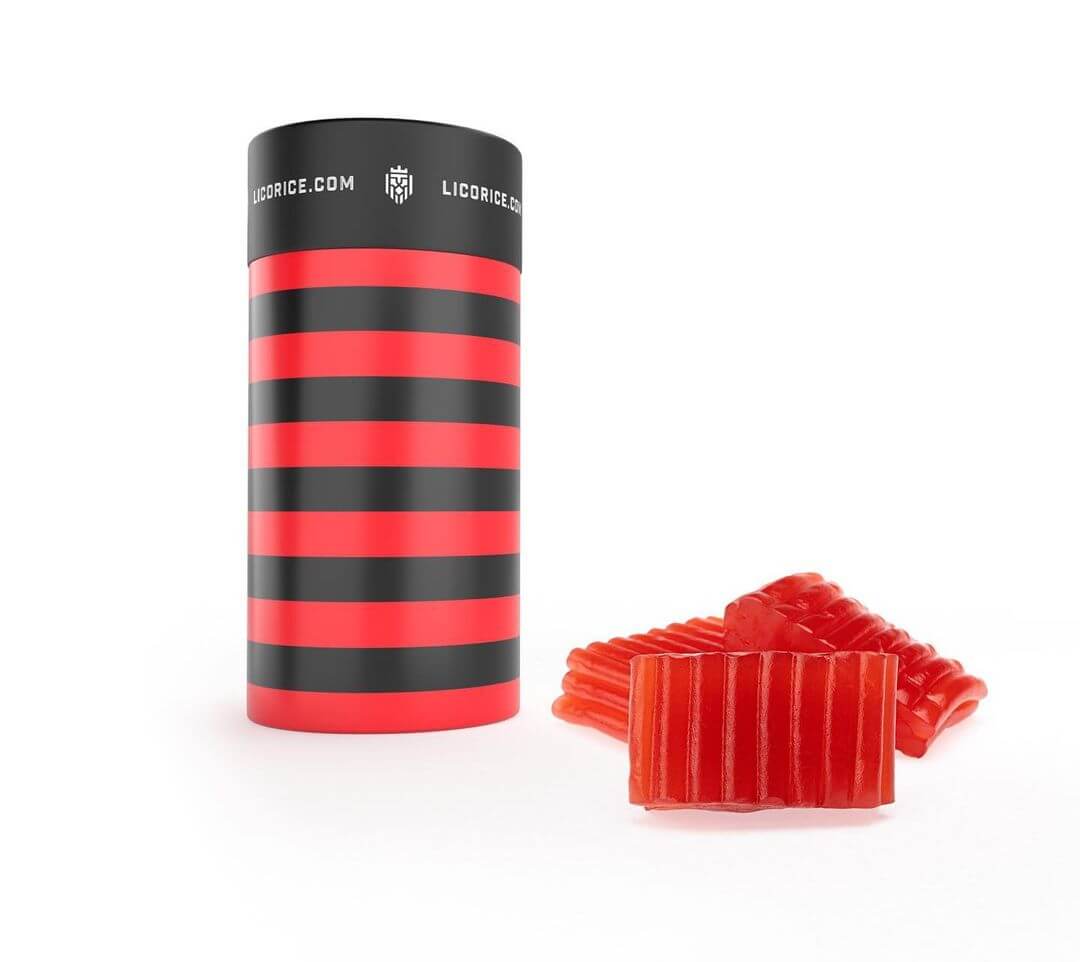 As a family of entrepreneurs, the Licorice team was more than ready for daunting early-stage business challenges like pricing, shipping, and attracting customers. However, they knew scaling a commodity product wouldn't be easy.
Once the shop was up and running, the small and mighty team faced perhaps the most difficult challenge of all: Offer the right products to the right shoppers at the right time. To achieve this, they sought a merchandising solution that was highly effective yet easy to implement.
"It would have taken us hundreds of hours of dev work to do. But we just plugged in Rebuy and we were good to go."
Strategy
The Licorice strategy boils down to this: Simple best practices that return big gains. With no developer on the roster, they preferred a straightforward no-code approach to their onsite merchandising. As the president of Licorice.com explains, "We have a small team and we aren't able to build out homegrown tech, so having an out-of-the-box solution was amazing."
First, they installed and activated Smart Cart to immediately improve UX, convert more traffic, and boost AOV. Next, a carousel packed with personalized product recommendations was added to every product description page (PDP). Finally, two additional cross-sell widgets were placed on the Shopify checkout page.
"We have seen tremendous success using the Rebuy Smart Cart."
Three cross-sell widgets, and a 'free shipping' bar, were added directly into Smart Cart. The cross-sell widgets leverage real-time shopping behaviors and intelligence from historical consumption patterns to generate the most relevant product recommendations possible.
Typically, the shipping bar increases AOV by showing every shopper how much more to spend to earn free shipping. In this case, however, the shipping bar is being used to offer a gift with purchase (GWP). "We have seen tremendous success using the Rebuy Smart Cart," said the company president.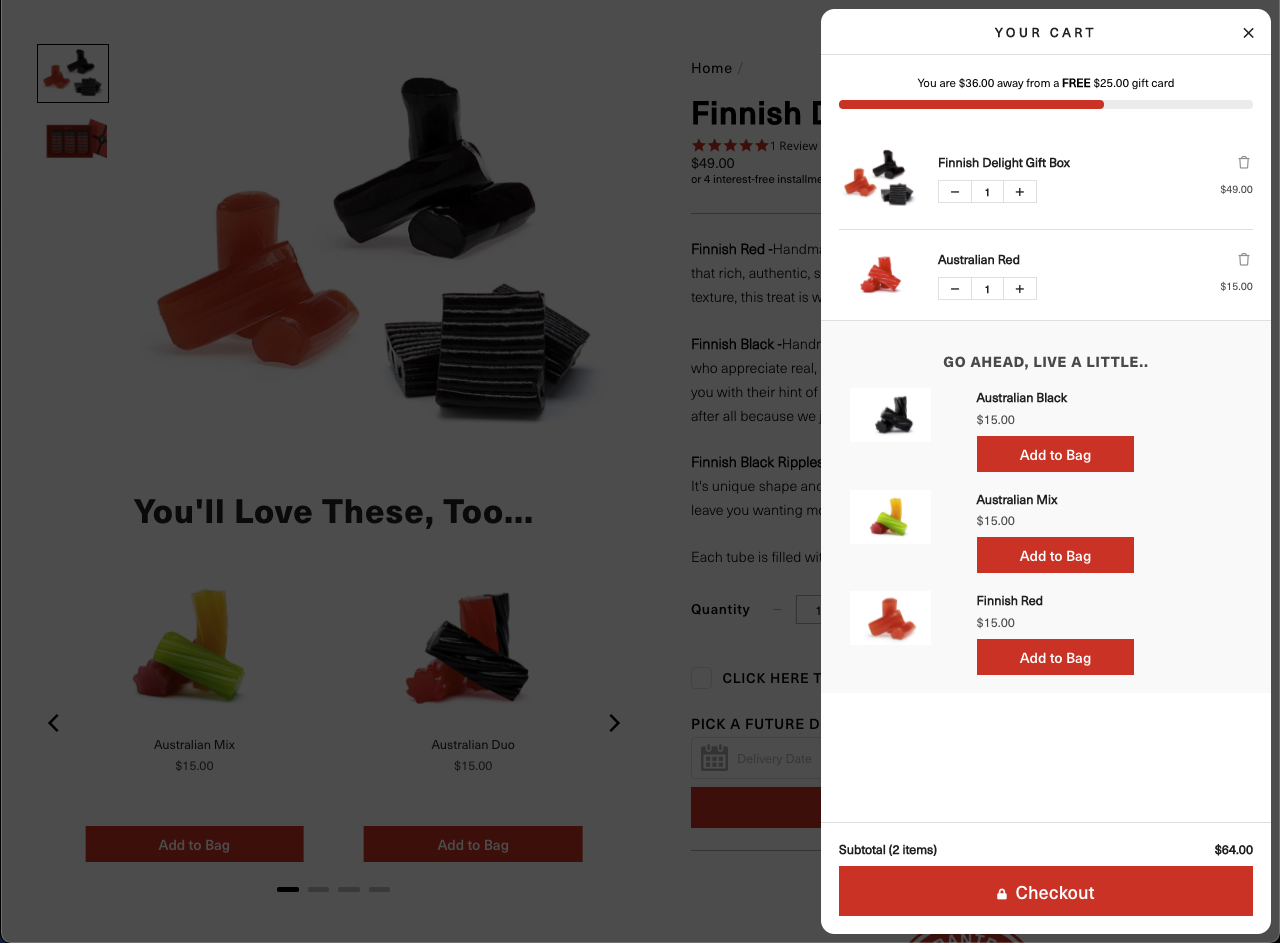 In true set-it-and-forget fashion, no custom rulesets were employed initially. Licorice simply installed and let Rebuy's powerful AI determine the best product recommendations. Only minimal styling changes (colors, button sizes, and text) were made to Smart Cart and widgets. No product discounts or additional merchandising strategies were used.
Results
The Licorice team was on a family vacation when they activated the Rebuy app. When they woke up the next morning, they were ecstatic to see that sales had exploded overnight. "It would have taken us hundreds of hours of dev-work to do. But we just plugged in Rebuy and we were good to go," said the company president.
There's no sugarcoating it. By employing simple best practices using Rebuy's A.I. and powerful out-of-the-box capabilities, the Licorice story proves that a small team with no proprietary tech and no developer can still enjoy the sweet taste of success.
Ecommerce Personalization: The Complete Guide for Founders, Merchants, and Marketers
Your ecommerce personalization journey starts here.👇
Licorice.com saw a
17.16%

lift in AOV, with

14.64%

of total sales attributed to Rebuy. In addition,

1 in 3 orders

included a product recommended by Rebuy.
Try Rebuy free and see why the world's top brands use Rebuy to accelerate sales growth.
To keep up with the latest trends, platform updates, and more, follow us on LinkedIn.
Visit the Licorice.com online store here.