Post Purchase
Upgrade: Capture Buyer Intent With Post-Purchase Offers for Shopify
Unlock the power of personalized product recommendations to drive massive post-purchase profits.
---
Updated: February 2023
If you manage an online store, then you know how important it is to provide personalized shopping experiences for your customers.
A major opportunity exists to provide such an experience while increasing your AOV at the same time using post-purchase offers. Post-purchase offers are sales offers presented to customers immediately after they make a purchase (but before the Thank You Page).
The moment after an order is placed and before your customer leaves your store is full of opportunities for product discovery.
But historically, there have been a few pain points associated with post-purchase offers.
Your customer had to re-enter their credit card info.
Duplicate orders were created. (One for the original order and another for the post-purchase add-ons.)
Your solution required you to make the same static post-purchase offer to everyone.
You couldn't run A/B tests to optimize your post-purchase offers.
You could only display one offer.
To solve these challenges, we're excited to announce that Rebuy offers one-click post-purchase offers at checkout to all merchants on Shopify and Shopify Plus.
And now, we've added two popular features to boost your AOV even further: A/B Testing and Upsell & Downsell Flows. (Details below.)
"Fantastic app to boost AOV. After testing some competitors, this is by far the most powerful upsell, cross-sell, and post-purchase app out there." - Seed Golf
Introducing Smart One-Click
Post-Purchase Offers
Unlock the power of the Rebuy Rules Engine to power personalized upsells and cross-sells that drive massive post-purchase revenue immediately after your customer places an order.
You no longer have to worry about managing duplicate orders or sending follow-up emails, and you're not stuck offering the same static product to everyone.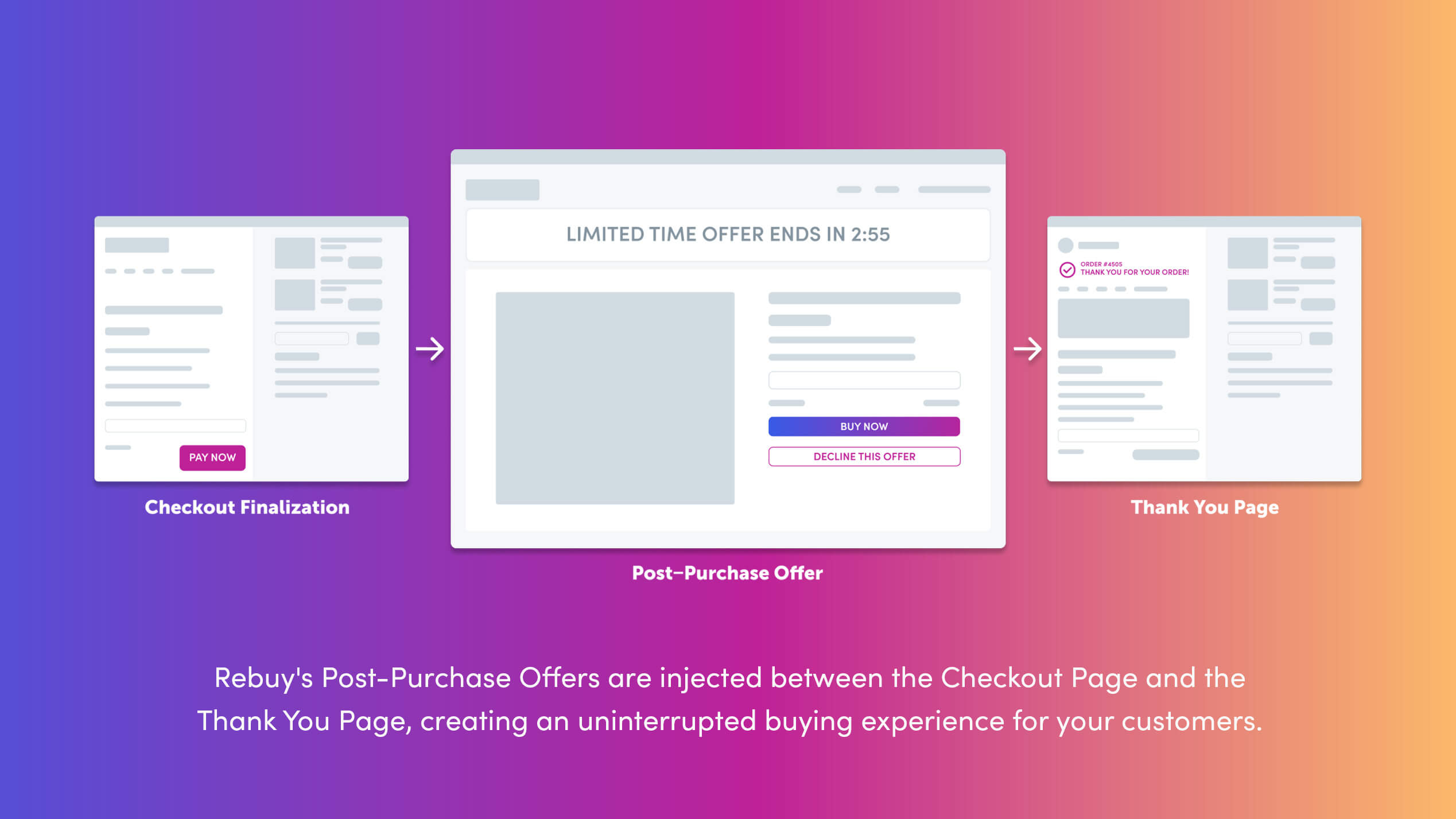 Want to test which post-purchase offer performs best? Now you can. Want to present a second post-purchase offer? Now you can!
When you fill in the after-checkout gap with Rebuy Post Purchase, you increase revenue, product discovery, and customer engagement. Win, win…win.
In the post-purchase stage, you have 100% of your customers' attention.
And the best part? You can get creative with images, timers, discounts, and custom messaging to make your post-purchase upsells and cross-sells simply irresistible.
Too many brands skip the post-purchase stage and leave piles of money on the table. Whether your customer's buying journey is long and complex or as simple as a click, it's not complete without an effective post-purchase touchpoint.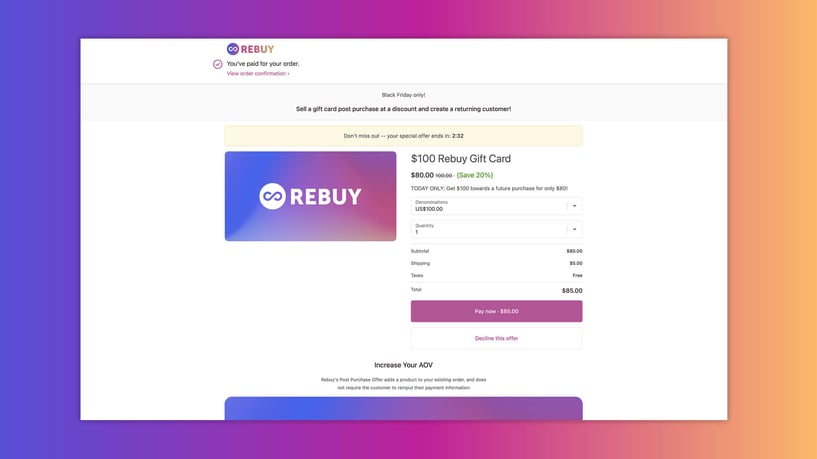 Feel The Power of
Post Purchase
Impress your customers when they're most excited about your brand. Use the power of Rebuy to unlock new opportunities to accelerate your sales, reduce expenses, and create lifelong customers...all at the same time.
Increase AOV 📈
Are your current promotions losing steam? Use the post-purchase stage to introduce new products and promotions to your recently-converted customers and watch your AOV take off.
Save Money 🛟
Shipping costs. Logistics costs. Overstock costs. Ad spend. They add up. Rebuy Post Purchase helps you reduce these expenses by increasing your ROAS and consolidating multiple orders into one.
Build Loyalty 🤝
Your customers are busy. How can you make sure they don't miss your emails and social posts advertising your latest promotion? In the post-purchase stage, you have 100% of your customers' attention. It's the perfect time to kickstart a customer loyalty loop with intuitive and personalized post-purchase offers.
💡 What about my conversion rate? You're asking the good questions, now. One of the most interesting things about a post-purchase offer is it can't hurt your conversion rate since the offer happens after the initial purchase.
Easy for you.
Easy for your customers.
One click: With just one click, your customer can add a last-minute item to their order.
One order: Rebuy edits the original order so your customer doesn't have to re-enter payment details and you save on costs for shipping, fulfillment, and more.
Plug and play: Build your own rules, or use Rebuy's powerful recommendation algorithms out-of-the-box to recommend the perfect last-minute add-on.
Product Discovery: Make it easy for your customers to discover similar or relevant products.
What's New:
A/B Testing and Flows
As part of our enhanced Post Purchase rollout, we're introducing A/B Testing and Upsell & Downsell Flows—two new features designed to help you further optimize the post-purchase experience.
A/B Testing
Want to know which personalized product recommendation will generate more revenue for your shop? Well, you no longer have to rely on your intuition.
A/B Testing (or 'split testing') gives you the power to test two different data sources so you can be sure you're offering the product your customers are most likely to buy.
For example, you could test Rebuy's AI recommendations against a custom ruleset you built. Or you could test two product offers to see which gives you a higher AOV.
After entering the test information, select the day and time you want Rebuy to automatically end the experiment and choose the winner.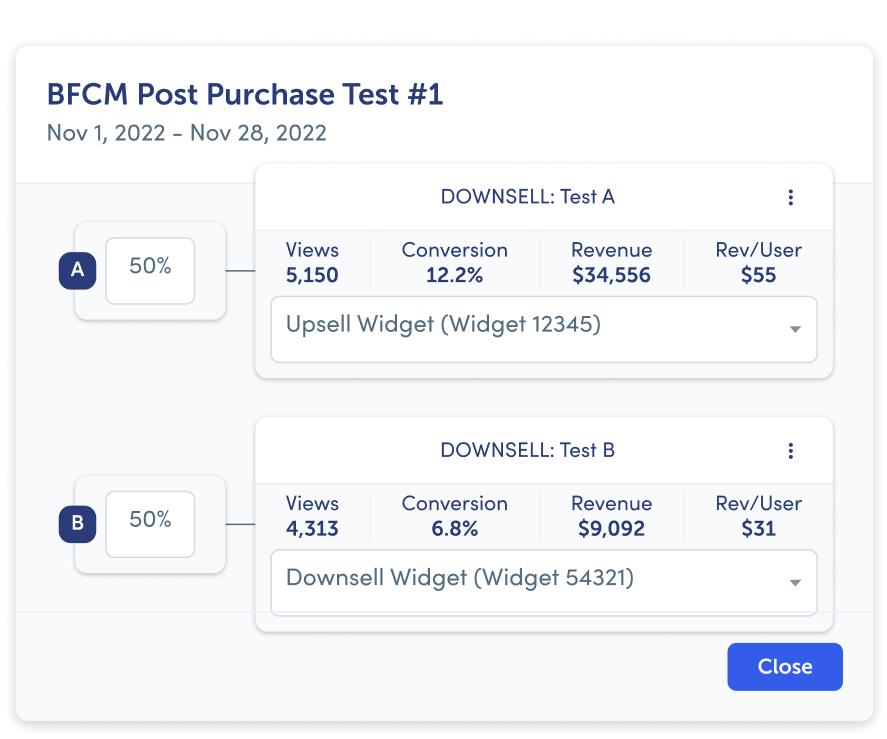 Upsell & Downsell Flows
Setting up a new flow is quick and easy and takes less than two minutes. While the default setup uses Rebuy AI to cross-sell products complementary to what your customer just ordered, you can easily customize your flows based on your business needs.
Two frictionless flows are now available to help you increase AOV.
Post-Purchase Upsell Flows
If the customer accepts the initial post-purchase offer, use a Post-Purchase Upsell Flow to offer them a more desirable, higher-priced option. For instance, you could propose a premium product or a bundle. These upsell flows are only activated when a customer accepts the first post-purchase offer.
Post-Purchase Downsell Flows
If your customer declines the initial post-purchase offer, you can use Downsell Flows to give them a second chance with a more cost-effective add-on they might prefer. Downsell flows can help to encourage fence-sitters to take action and purchase a little more from your store.
💡 PRO TIP: Offer free gifts via Rebuy Post Purchase to pique your customers' interest.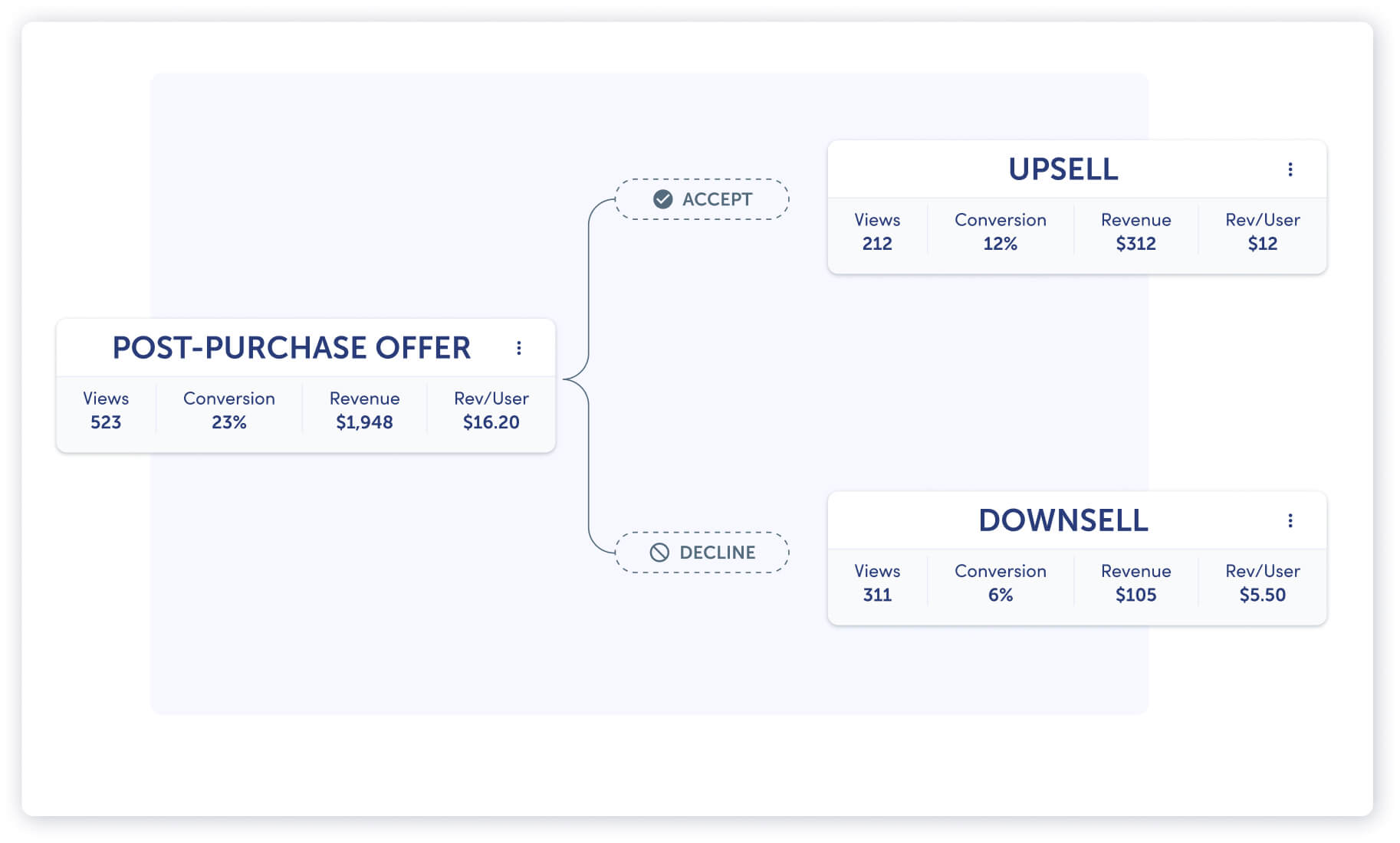 Our Rules Engine Makes It
Possible
Plug and play with Rebuy's AI to offer the most relevant products right from the get-go, creating personalized post-purchase experiences for every customer. Or, customize your post-purchase strategies using the Rebuy Rules Engine for a more tailored experience.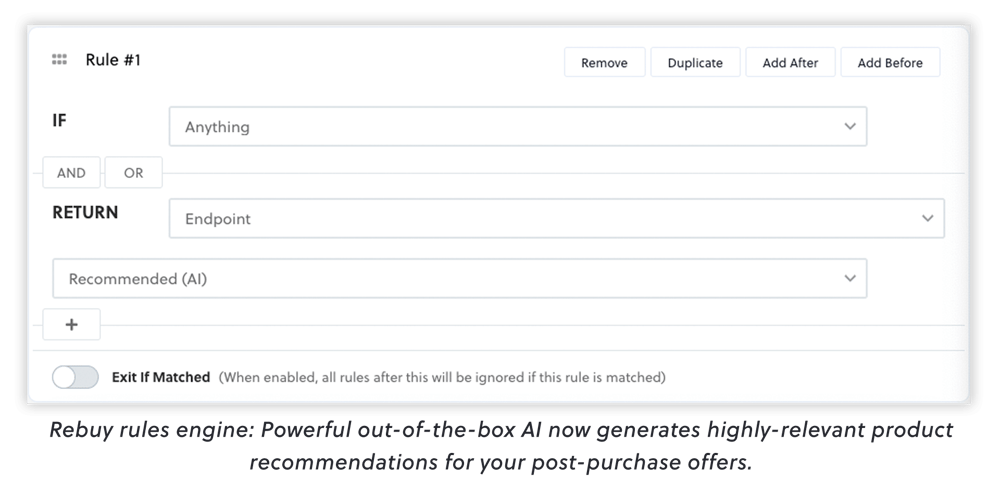 Transform Placeholder Moments Into
Revenue-Generating Experiences
Now available on all Rebuy payment plans, Rebuy Post Purchase is a powerful tool for Shopify and Shopify Plus merchants to capitalize on buyer intent, increase AOV, reduce ad spend, and offload old inventory. With the addition of two new features (A/B Tests and Upsell & Downsell Flows), Rebuy Post Purchase has even more potential to drive post-purchase profits for your business.
Ecommerce Personalization: The Complete Guide for Founders, Merchants, and Marketers
Your ecommerce personalization journey starts here👇
•••
Try Rebuy free for 21 days.
Interested in partnering with Rebuy? Let's do it.
Keep up with the latest trends, platform updates, and more, follow us on LinkedIn.