Features
Introducing One-Click Post-Purchase Offers In The Shopify Checkout
Unlock the power of personalized product recommendations to drive massive post-purchase profits.
---
If you manage an online store, then you know how important it is to provide personalized shopping experiences for your customers.
A major opportunity exists to provide such an experience while increasing your AOV at the same time using post-purchase offers. Post-purchase offers are sales offers presented to customers immediately after they make a purchase (but before the Thank You page).
That point after an order is placed and before your customer leaves your store is full of opportunities for product discovery.
It's a magic moment in the buyer's journey.
But historically, there have been a few pain points associated with post-purchase offers. They required your customer to re-enter their credit card info. On top of that, duplicate orders were created. (One for the original order and another for the post-purchase add-ons.) Sometimes it's the app you use. For example, your merchandising solution may require you to make the same static post-purchase offer to everyone.
To solve these challenges, we're excited to announce that Rebuy now offers one-click post-purchase upsells at checkout to all merchants on Shopify and Shopify Plus.
Unlock the power of Rebuy's personalized upsells and cross-sells to drive massive additional revenues immediately after your customer places an order.
NEW: Smart one-click post-purchase offers
Now, you can unlock the power of Rebuy's personalized upsells and cross-sells to drive massive additional revenues immediately after your customer places an order. With smart one-click post-purchase offers, you no longer have to worry about managing duplicate orders, and you're not stuck offering the same static product to everyone.
Easy for you. Easy for your customers.
Super low friction and a much better customer experience are what you can expect from this new product update. And as an online store owner, you'll be happy to know it also dramatically eases fulfillment pains on the merchant side.
One click: A one-click post-purchase offer improves UX and eliminates extra clicks.
One order: Rebuy edits the original order so you don't end up with extra orders that aren't necessary.
Plug and play: Use Rebuy's plug-and-play AI to recommend additional data-powered product recommendations post-purchase.
Higher AOV: Post-purchase offers present big opportunities to increase cart size while introducing new products to your recently converted customers.
Our rules engine makes it possible
Plug and play with Rebuy's AI to offer the most relevant products right from the get-go, creating personalized post-purchase experiences for every customer. Or, customize every post-purchase offer using the Rebuy rules engine for a more tailored experience.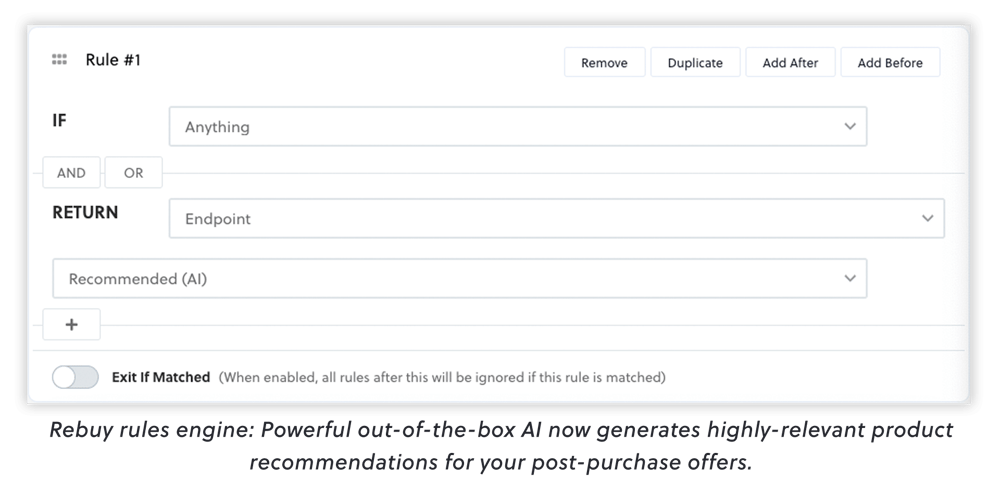 Post-purchase offers are a great way to boost your AOV. There is no impact on your conversion rate (CR) because your customer is adding recommended products to the original order. And because your AOV increases without investing much time or money, you can spend more on advertising and thus improve your return on ad spend (ROAS).
Get started with one-click post-purchase offers
Start increasing your AOV and ROAS with zero impact to your CR. Provide post-purchase shopping experiences your customers love. Add dynamic one-click post-purchase offers to your store today. Sign up for a demo to get started.
•••
Try Rebuy free for 21 days. Interested in partnering with Rebuy? Let's do it. keep up with the latest trends, platform updates, and more, follow us on LinkedIn.