Retention
How to Boost Customer Loyalty & Retention: Supercharge Post Purchase
Want new ways to boost customer loyalty and retention? Optimize the post-purchase experience with personalization, data-driven discounts, and more.
---
👋 Strapped for time?
Here's a quick summary of the article: Customer retention is more valuable than acquisition. To enhance loyalty, create a personalized post-purchase experience.
Incorporate your brand identity throughout the post-purchase journey to build customer loyalty even further.
---
Customer retention beats customer acquisition any day.
Wow your customers with an amazing post-purchase experience, and you will have a customer loyal to your brand. Bore them with a generic thank you message, and you'll have to work harder to bring them back.
When creating a cadre of dedicated buyers, the fun starts after checkout. Build a personalized, buyer-focused, and engaging post-purchase experience to help you boost customer loyalty and retention.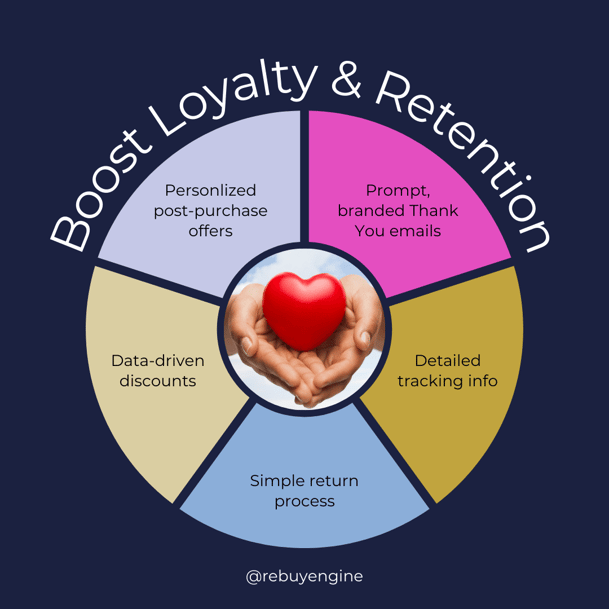 1. Share

Personalized Recommendations

Before They Close the Browser Window
That was the click of the buy button you just heard. And for a few more moments, you have your customer's full attention. Give them something else to catch their eye before they switch tabs.
When your post-purchase experience highlights other products that get your customers excited, you give them a reason to come back for more.
The easy option is to suggest more products based on an item they just bought. Use AI to identify the top items most commonly purchased with that item — slippers with pajama pants or cuticle cream with nail polish.
Take the recommendations a step further with intelligent personalization based on customer behavior and buying history — or lack of one. Showcase your signature product to new customers and focus on your newest additions for long-term customers. Encourage repeat purchases with personalized recommendations.
These upsells and downsells help you gather even more data on product pairings and what customers want while also increasing your AOV. And the best part is you take the friction out of the sale by making it one-click. They don't need to re-enter the payment information they just gave you.
2. Send Prompt – and Branded –

Thank You Emails
When you focus on customer loyalty, don't skimp on the gratitude. Everyone expects the thank-you pop-up that confirms the purchase went through. On-brand post-purchase thank you emails show your customers that you appreciate them and, if done right, keep them engaged in your products.
Your customers expect to hear from you once the transaction is complete. Post-purchase emails see average open rates of just over 40%, compared to a typical 20% open rate for traditional ecommerce emails. Take advantage of the attention you have with a well-timed thank you email.
Whether this is a combo email with the order confirmation or a separate "we appreciate you" missive, thank your customer in a way that matches your brand identity. This can be flashy animated graphics, a sassy message, or a calming color palette. A consistent voice and visual style build brand identification and loyalty and can also get your on-brand messaging shared through word-of-mouth or your customer's social media channels.
In addition to the on-brand message of gratitude, say good things about your customer loyalty or subscription program. Let them know what they get for joining. This is also a great place to include helpful links to educational content you've created. Sprinkle your thank you email with these little gifts of appreciation.
3. Provide Detailed

Tracking Information
Customers now expect real-time updates on their purchases. Why? Because getting notified as your Uber approaches and when your pizza is in the oven has become the norm. Clear and updated tracking information keeps shoppers excited about their incoming packages. And it builds trust that creates loyal customers.
Starting with transparent shipping options during checkout helps you set accurate customer expectations. Then notify them as soon as the package gets a mailing label and the shipping clock starts. In every communication, be timely and clear. Let your customer know when to expect the package and if something comes up that might delay it. Such accurate and easy-to-understand updates minimize customer frustration and "where is my order" customer support tickets.
✍️ Pro Tip: Drive extra revenue on your order tracking pages using Rebuy's integration with Malomo.
If possible, link to your website for tracking information instead of FedEx or USPS. These small touches give your customers more exposure to your brand, and you can encourage them to sign up for your email list or customer loyalty program.
In addition to in-transit updates, send a quick "order delivered" email so customers know to check their mailboxes for their new treasures. Not today, porch pirate!
4. Simplify the

Return Process
A clear return policy and process show your customers that being happy with their purchase is your top priority. A simple return process with as few barriers as possible not only helps with customer satisfaction, but that clarity also sets expectations and builds trust.
Your customers probably found your return policy on your website, especially if they are new to your product line. It should also be in your post-purchase communication. If there are caveats to a return, such as a specific time frame or reason for sending the item back, don't hide them in the fine print. Be clear and up-front on your website and in the order confirmation emails. Include a return label — or easy access to one — in your tracking emails for easy returns and more satisfied customers.
Returns are a necessary frustration for any ecommerce site focused on customer relationships and retention. A clunky return policy can drag down your net promoter score and create customer frustration. Use your return data as a learning opportunity. Monitor and analyze return metrics to see how you can improve your customer experience and communication. Once a return is completed, ask for customer feedback so you can optimize your processes.
5. Entice Repeat Customers With

Data-Driven Discounts
Once your customer has had time to enjoy their new purchase, kickstart a customer loyalty loop with irresistible post-purchase offers and discounts driven by data.
Build AI-powered personas to segment your audience by purchase history and preferences so you can send relevant and personalized emails post-purchase. For example, create FOMO by teasing early access to a new product launch to those who have purchased tangential products. Include language that aficionados of that product line would understand but wouldn't make sense for your larger client base.
Use automation to create a flow that will recommend helpful products based on what a customer purchased. Incorporate dynamic discounts based on the price of the items they purchased before or include limited-time offers on excess inventory. With data on your product margin, you can guarantee these personalized offers are cost-effective for that specific time period.
Intentional and personalized post-purchase incentives get your customers excited about their next purchase. And the more information you gather about your customers, the better you can provide more accurate recommendations, improving their customer lifetime value and your bottom line. Satisfied customers are a lot less likely to show up in your churn rate.
Ecommerce Personalization: The Complete Guide for Founders, Merchants, and Marketers
Your ecommerce personalization journey starts here👇
Use Your Brand to Build

Customer Loyalty
Now that you've won your customer with a great product, bring them into your full line-up. Use this opportunity to connect them to your brand and expand their view past the individual item they purchased.
No matter your mission or your niche, instill your brand identity into your post-purchase communication to drive customer retention and brand loyalty. Let your brand voice spell out why your existing customers should keep coming back: the best customer experience, an array of personalized options, or consistently innovative products. So when their taste changes and they are ready to try something new, they look to your brand first because they remember how much they enjoyed shopping with you.
Are you looking for ways to identify the best messaging and personalization options to improve your customer experience, both before checkout and post-purchase? Rebuy A/B Testing helps you build a loyal customer base with messaging and offers that resonate across the customer journey.
•••
Try Rebuy free and see why the world's top brands use Rebuy to accelerate sales growth.
Interested in partnering with Rebuy? Let's do it.
To keep up with the latest trends, platform updates, and more, follow us on LinkedIn.