Merchandizing
Upsell and Cross-sell 101: What You Need to Know
Learn the difference between upsells and cross-sells, why they're essential, and how to use them to boost AOV and drive more sales for your shop.
---
The best online shopping experiences occur when customers feel like they've found the perfect product or service for their needs. And sometimes, it's up to you as a merchant to help them discover their next favorite product through upsells and cross-sells.

Upselling and cross-selling are strategic ways to offer a better shopping experience. They show a product's value without using aggressive sales tactics. Below we break down the difference between upsells and cross-sells and why they're essential. Along the way, we'll throw in some tried and tested tactics that are guaranteed to boost your AOV and drive additional revenue for your online store.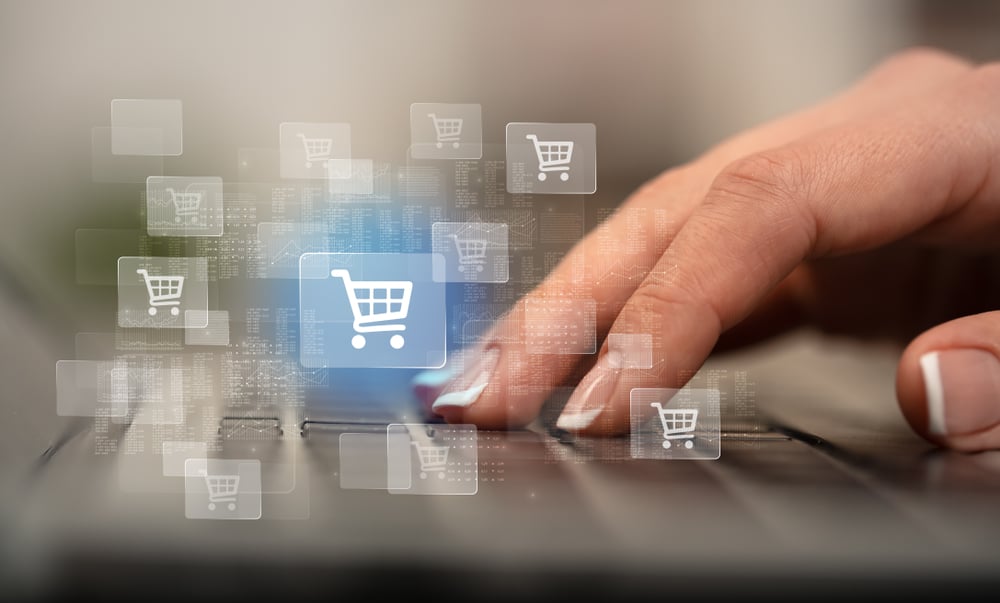 What Is The Difference Between
Upselling and Cross-selling

?

Before making any changes to your online shop, let's get clear on what cross-selling and upselling really mean.

Cross-selling is a sales technique that encourages customers to spend more by buying related products. Think of fashion brands enticing customers to "complete the look" by offering complementary items. For example, someone shopping for swim trunks could also want sandals and sunglasses.

Upselling is a sales technique that asks customers to buy a more premium product. Think of upselling as upgrading: instead of selling more products to complement the original purchase, you're upgrading the original purchase altogether.

Let's say you're ready to buy a $130 running shoe—until you learn about the high-end features of the $160 running shoe. Can you run in either shoe? Sure. But if the $160 model offers a smoother ride, more cushioning, and is made with sustainable materials, it's seen as the more premium product.
Create Benefits

for Buyers (and Your Business)

Cross- and upselling can produce major benefits for your business when implemented the right way. Here are just a few advantages to consider.

Better customer experience. Two of the most appealing aspects of ecommerce are ease and convenience. Cross-selling and upselling eliminate the need for further research and reduce decision fatigue. As the merchant, you already know which products will improve the customer experience. So, go ahead. Offer them!

Stronger customer loyalty. Not everyone has a personal shopper, but cross- and upselling can make it feel like they do. Personalized recommendations based on past purchases make a customer feel known and understood. Plus, research shows it costs 6X - 7X more to acquire a new customer than to retain a current customer. Personalized product suggestions create a better overall experience and earn you customers for life.

More sales. You have no problem getting people to visit your site, and a lot of them even make purchases. But one-item shopping carts aren't the goal, here. After all, you're looking to grow your store fast and shatter your sales records! Look at Amazon, the pioneer and champion of cross-selling. You may have heard by now—personalized product recommendations have accounted for 35% of Amazon's revenue. Even one extra item in every other cart adds up quickly and can improve average order value (AOV) substantially.
Get Started

With Upselling and Cross-selling

Knowing exactly when and where to offer upsells or cross-sells depends on your particular business. Luckily, there are several great methods to try so you can find the right combination for your store.

A good way to start is to add product recommendations at these three key points of the customer journey.
On the Product Detail Page (PDP)
Our previous "complete the look" example works well here. Have a look below at how Flaunt cross-sells complementary products on the PDP.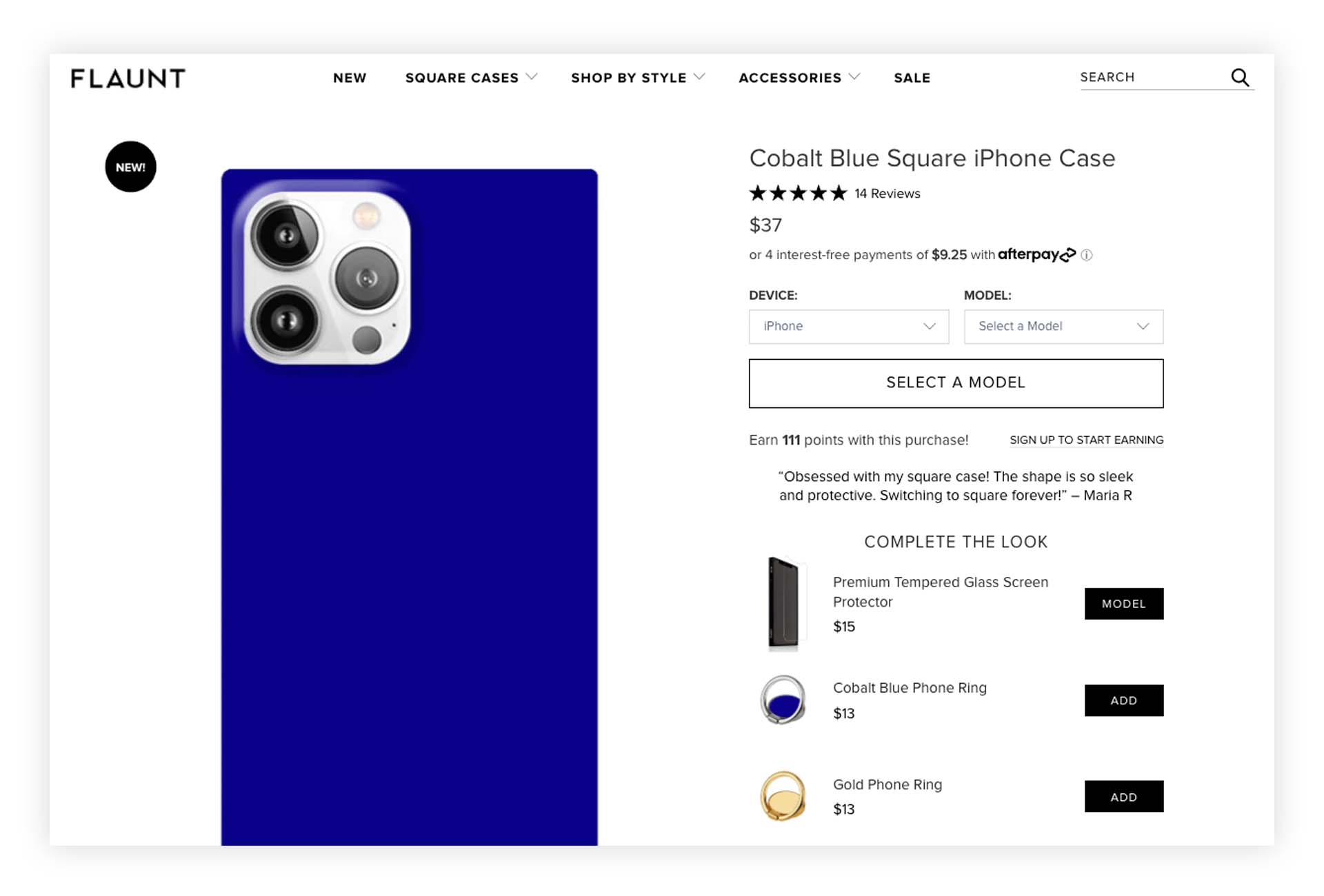 The product being viewed is an iPhone case. Based on Flaunt's historical sales data and shopping behaviors, it's likely the customer viewing this case will also purchase a screen protector and/or a phone ring. So, Flaunt wisely cross-sells these items on the PDP.
Showing items frequently bought together helps buyers envision the complete package. For an even more personalized experience, offer items the shopper has recently viewed.
In the Shopping Cart
If your customers have added items to the shopping cart, then purchase intent is high. Take advantage of this opportunity! For example, Fanjoy uses an intelligent cart flyout to upsell relevant items when shoppers view their cart. This tactic is an excellent way to increase AOV and reduce cart abandonment.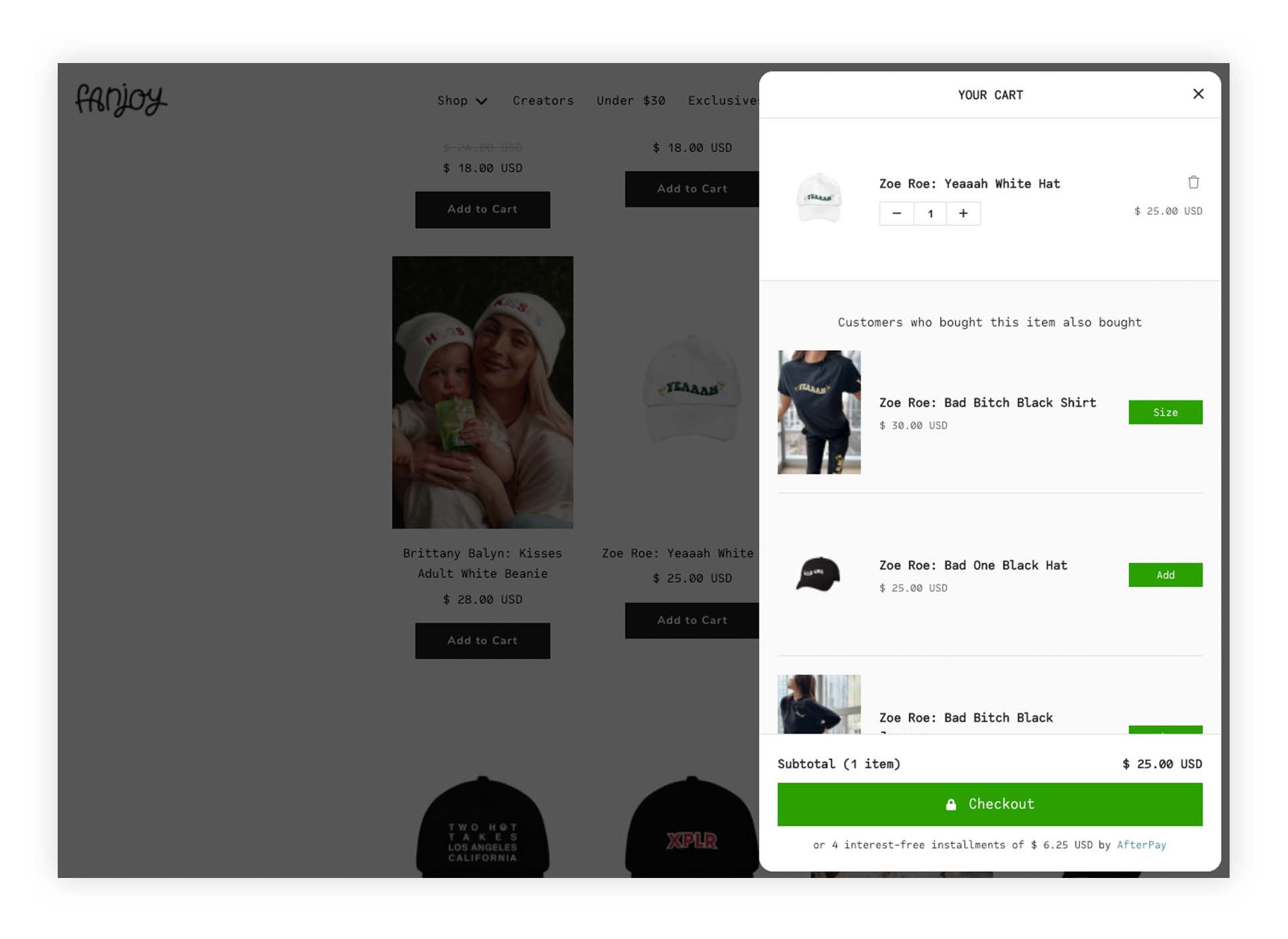 Post-purchase
Post-purchase offers are presented after the checkout page but before the thank you page. (As opposed to pre-purchase upsells that occur before the checkout page.) Because purchase intent peeks at this moment, major opportunities exist here to increase AOV. What's more, one-click post-purchase offers can also improve retention and build customer loyalty. Consider offering discounts here to increase conversions.
A few other things to keep in mind:
Upselling and cross-selling work best when your product recommendations are highly-relevant and tailored to your customer.
Bundling like items together at a discounted price is a smart

cross-selling tactic

.
Use data to personalize the shopping experience for your future customers. Why? Because customers are

80%

more likely to buy from brands that offer personalized experiences.
It's All About the
Shopping Experience
Ultimately, your customer wants an amazing shopping experience. By offering personalized product recommendations through proven cross-selling and upselling practices, you can provide an amazing experience to them every time. And that benefits everyone.
•••
Ready to see Rebuy in action? Schedule a demo.
Take advantage of our 21-day free trial and install Rebuy today.
To keep up with the latest trends, platform updates, and more, follow us on LinkedIn.