Upsells and Cross-sells
5 Product Recommendation Examples From Brands That Skyrocketed AOV
Explore 5 real product recommendation examples driving growth and loyalty.
---
Use real-time customer actions and historical buying data to transform your shopping cart into a personalized, customer-centric powerhouse. Customization and personalization are key to boosting sales and average order value.

Highlight your best-selling products on the homepage with an on-brand product carousel. This instantly grabs customer attention, accelerates the purchase process, increases engagement, and ultimately boosts sales.

Optimize your Product Display Page (PDP) with AI-powered widgets that provide smart, personalized recommendations. From suggesting related products to encouraging purchases from a collection, these strategies enhance the shopping experience, increase potential sales, and elevate your average order value.
---
🚨 News flash 🚨
If you have an ecommerce store and product recommendations aren't part of your playbook, then your competitors are leaving you behind.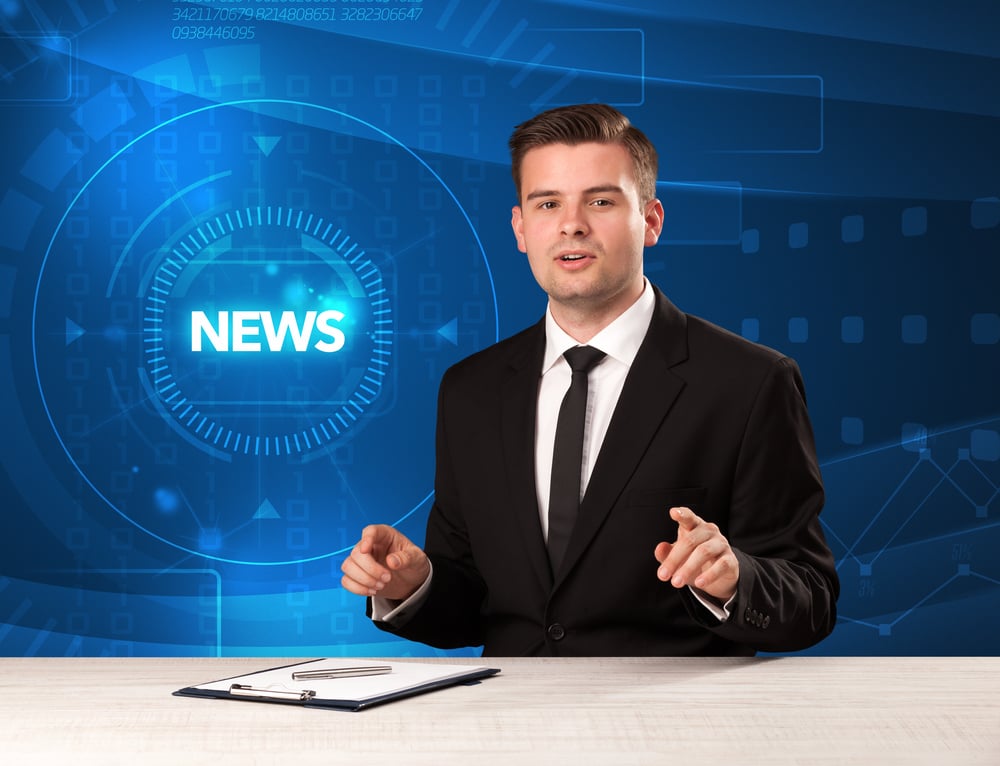 Here's the kicker: 54% of retailers agree that product recommendations are the main driver of their average order value (AOV). And it's not just about boosting your sales numbers. It's also about creating those "Oh, I never knew I needed this, but now I can't live without it" moments for your customers. They get a personalized experience, and you earn their trust and loyalty.
"But how can I use product recommendations to elevate my online store's shopping experience?"
We're glad you asked.
Take a look at these best-in-class product recommendation examples from five brands that catapulted their AOV into the stratosphere. Pull out a pen and pad, and take notes on how to replicate their success and supercharge your AOV.
1. Licorice Harnesses the

Power of Data

to Satisfy Its Customers' Cravings
Licorice.com handcrafts more than 50 unique types of licorice and serves it to licorice fanatics across the globe. Not bad for a family-run business!
But being a small family-owned business also meant they had no developer to power up customized product recommendations for their customers. What they needed was a no-code, easy-to-execute, highly effective solution for their onsite merchandising.
Enter Rebuy. Our AI-powered product recommenders figure out the best product suggestions for customers without needing a single line of code.
Licorice uses Rebuy Smart Cart™ equipped with a powerful cross-sell widget, a "free shipping" bar and the Shop Pay accelerated checkout button.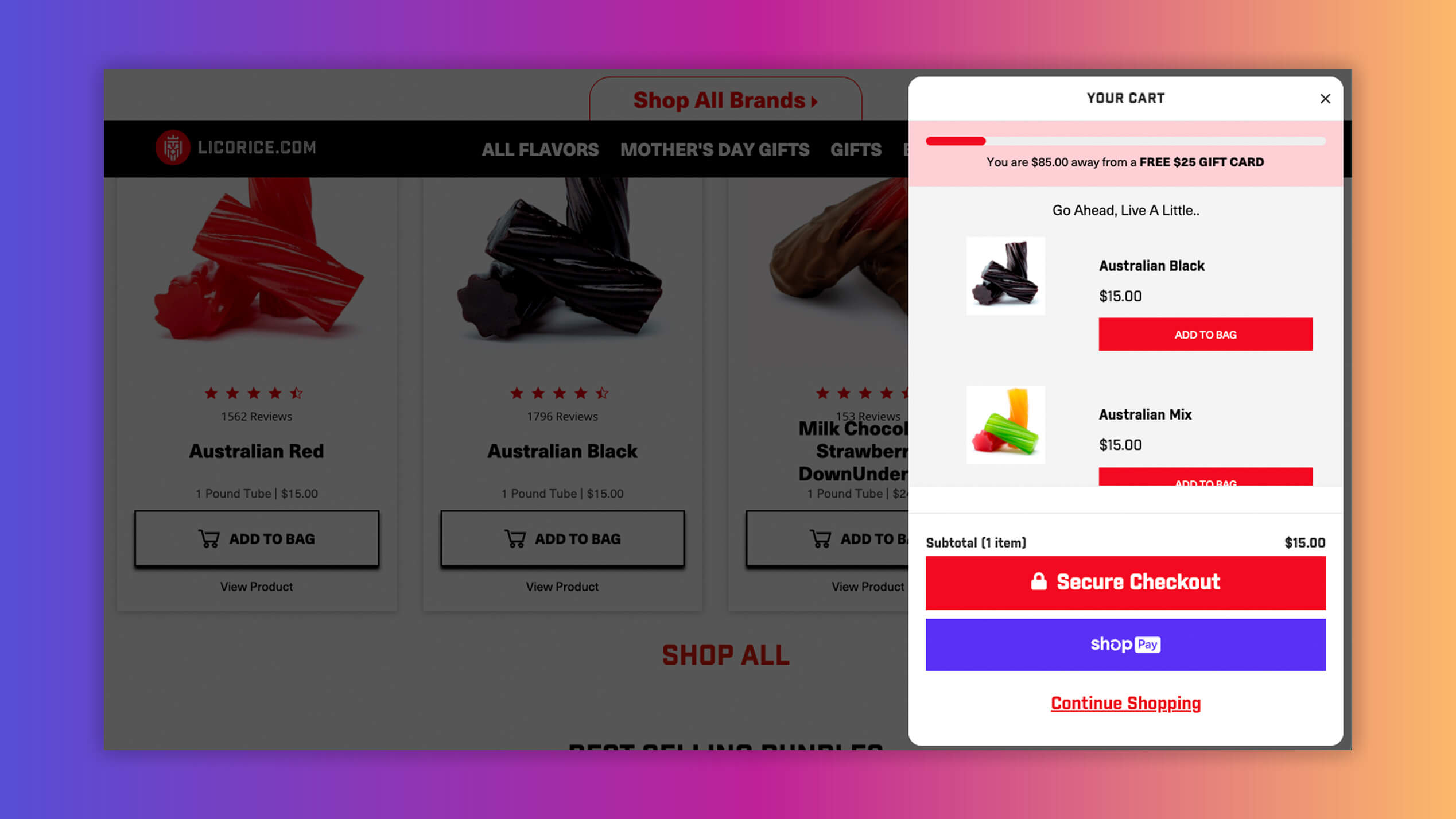 These widgets tap into real-time shopping behavior and customer purchase history. It allows Licorice to give a personalized touch to each customer experience, resulting in a nice uptick in their average order value. They've seen a 17.16% AOV lift, with Rebuy accounting for 14.64% of total sales. Plus, one out of every three orders now includes a Rebuy-recommended product.
Takeaway: By leveraging both real-time customer actions and historical buying data, you can turn your shopping cart into a smart, customer-centric powerhouse. Data enables you to understand customer preferences better. That way, you can whip up personalized recommendations to help you sell more. Remember, customization and personalization are the keys to boosting your sales and average order value.
2. OLLY's
Best Sellers
Take Center Stage on the
Home Page
OLLY is a vitamin and supplement brand that's on a mission to make popping vitamins something you actually look forward to.
Instead of just rattling off a laundry list of ingredients, they focus on what their products can do for you. Energy boost, stress relief, you name it. They also help guide customers to relevant products swiftly by showcasing best sellers on the homepage.
Jennifer Peters, OLLY's senior DTC manager, lets Rebuy's product recommendation engine determine the most popular products at any given time.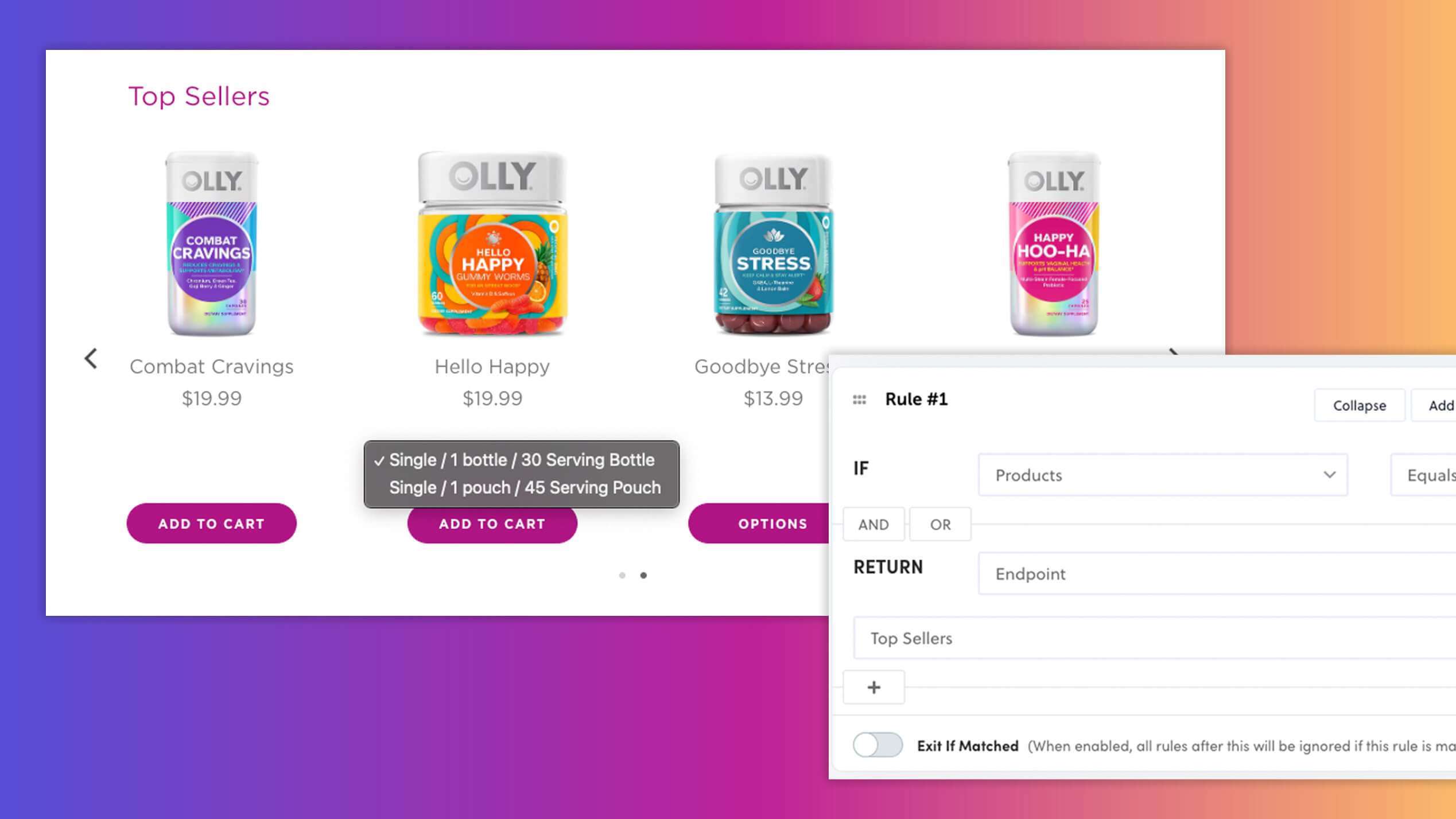 Shoppers can even select their serving size, add it to the cart, and bypass the product details page (PDP) if they want. This strategy speeds up the buying process, elevates the user experience, and saves time. The homepage carousel accounts for 14% of the total RGR (Rebuy-generated revenue) and played a critical role in boosting OLLY's AOV by 25.06%.
Takeaway: Placing your best-selling products on your homepage can drive sales. An on-brand product carousel instantly grabs your customers' attention and guides them toward products that are most likely to catch their interest. This can accelerate the purchase process, increase customer engagement, and ultimately boost sales. Remember to keep your homepage dynamic and reflective of your customers' preferences. It's often the first thing your customers see — so make it count!
3. The Nat'v

Product Display Page

is a Deal Closer
nat'v is a brand that's revolutionizing women's underwear with its eco-friendly approach. But they hit a snag — customers were having trouble finding matching pieces to complete their looks. So Nat'v turned to Rebuy to give their customers a better experience.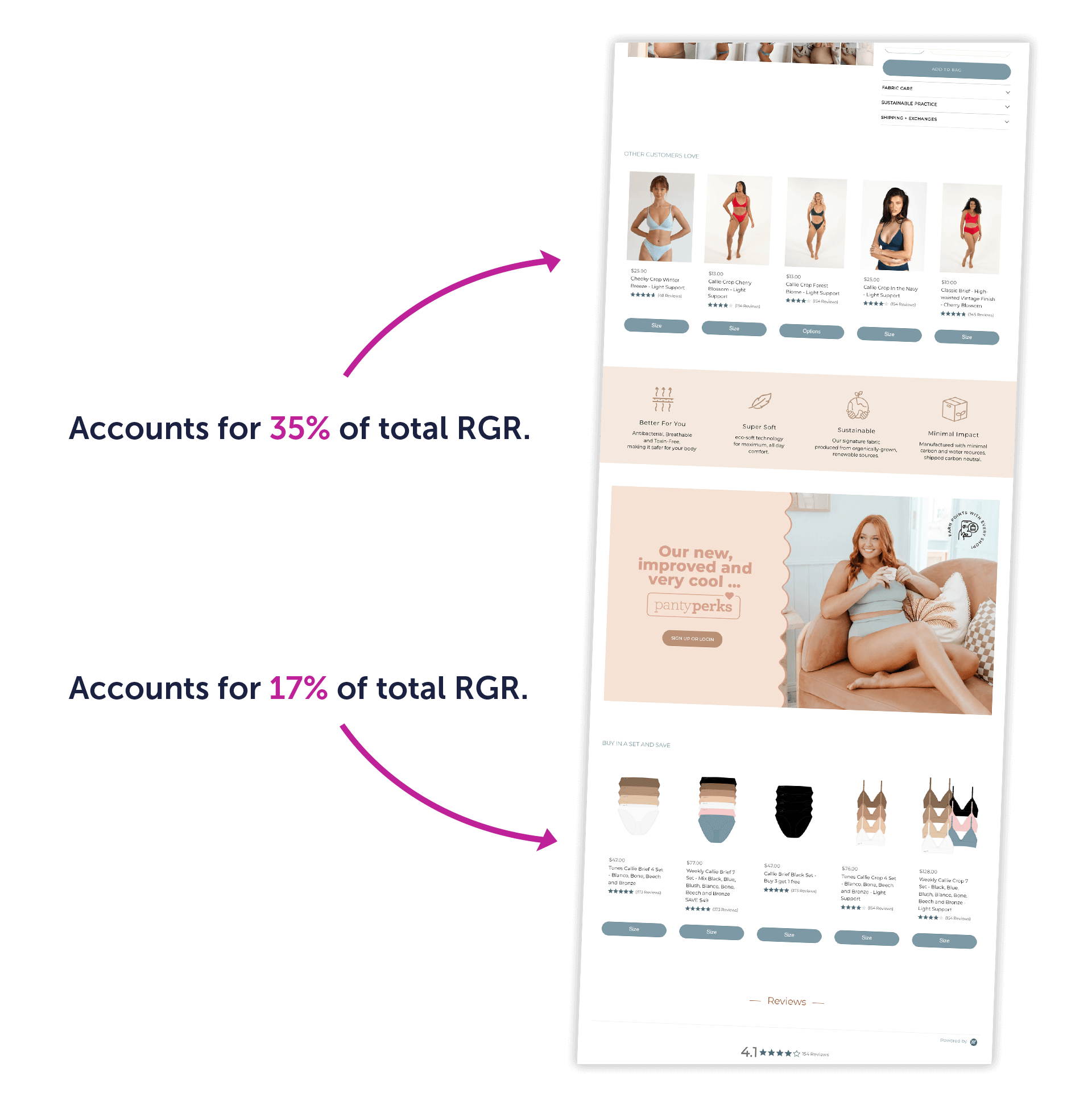 The PDP is arguably the most important page on your online store. Think of it as your closer, the page that seals the deal with customers. So to optimize the PDP, two powerful display widgets were added to the nat'v product pages. Both widgets use a grid display style that runs across the entire page, offering five product suggestions.
The first widget, titled "Other Customers Love," lives right under the "Add to Cart" button. It uses Rebuy's AI recommendation system to suggest similar products based on what's already in the cart, historical sales data, and more.
The second widget, "Buy It In a Set," encourages customers to make purchases from a collection.
Together the two widgets on the PDP account for an impressive 52% of nat'v's total RGR. This strategy also helped nat'v increase their AOV by 8.3%!
Takeaway: Optimizing your PDP is critical to converting customers. By using AI-powered widgets that provide smart, personalized recommendations, you not only create a better shopping experience but also increase your potential sales. Whether it's suggesting related products based on shopping behavior or recommending a particular product from a collection, these product recommendation strategies will help boost your total revenue and AOV.
4. SiO Beauty Embraces

Onsite Personalization
SiO Beauty is a revolutionary line of medical-grade solutions for combatting unwanted signs of aging. The beauty brand enjoyed early success with its skin care products. But they hit a wall as they scaled: Their customers weren't exploring the new product collections.
They turned to Rebuy to help solve this issue. It turns out that offering several types of product recommendations was a crucial part of the turnaround strategy.
First, Ivo Hahn, SiO Beauty's Senior Growth Manager, placed product recommendation widgets in the shopping cart.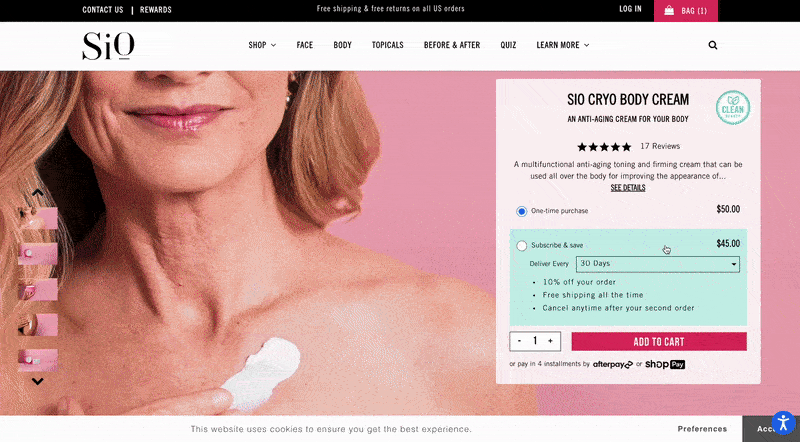 Next, she promoted Subscribe-and-Save offers on the PDP, in the cart, and on the home page.
To push AOV up even further, Hahn placed Add-to-Cart upsell pop-ups promoting bundles and more product suggestions on the Shopify checkout page. Finally, Hahn activated Rebuy's integration with Yotpo to add some weight to all upsells and cross-sells with social proof via star ratings.
The result? SiO Beauty saw a 16% increase in AOV and a 16.5% increase in subscription revenue, with 13.8% of total sales attributed to Rebuy.
Takeaway: Take a cue from SiO Beauty and strategically use different types of recommendation strategies for each touchpoint of the customer journey. From the homepage to the PDP, the cart page, and even the checkout page — each touchpoint is a chance to upsell, cross-sell, or promote complementary products. By tailoring the shopping experience this way, you'll drive customer engagement and boost your revenue. Make every interaction count!
5. SpearmintLOVE

Boosts AOV With AI
Imagine trying to handpick the perfect gift for a stranger from a store full of thousands of options.
That was the conundrum SpearmintLOVE, a leading independent online retailer in the baby and children's soft goods market, was wrestling with. They sell tens of thousands of products online. This makes it a beast of a challenge to know which products to put in front of each unique customer.
The answer? Artificial intelligence.
Alicia Kent, Director of Growth at SpearmintLOVE, shaved off hours of work each week by letting Rebuy's AI pick the right product for the right customer.
Kent put upsells and cross-sells on cruise control with the below ruleset that pairs custom language with Rebuy's AI logic. Rule #1 displays a "Need some ideas" message for an empty cart. (When the cart subtotal is $0.) Once an item is placed into the cart, Rule #2 kicks in, letting Rebuy's AI pick the products for all personalized recommendations.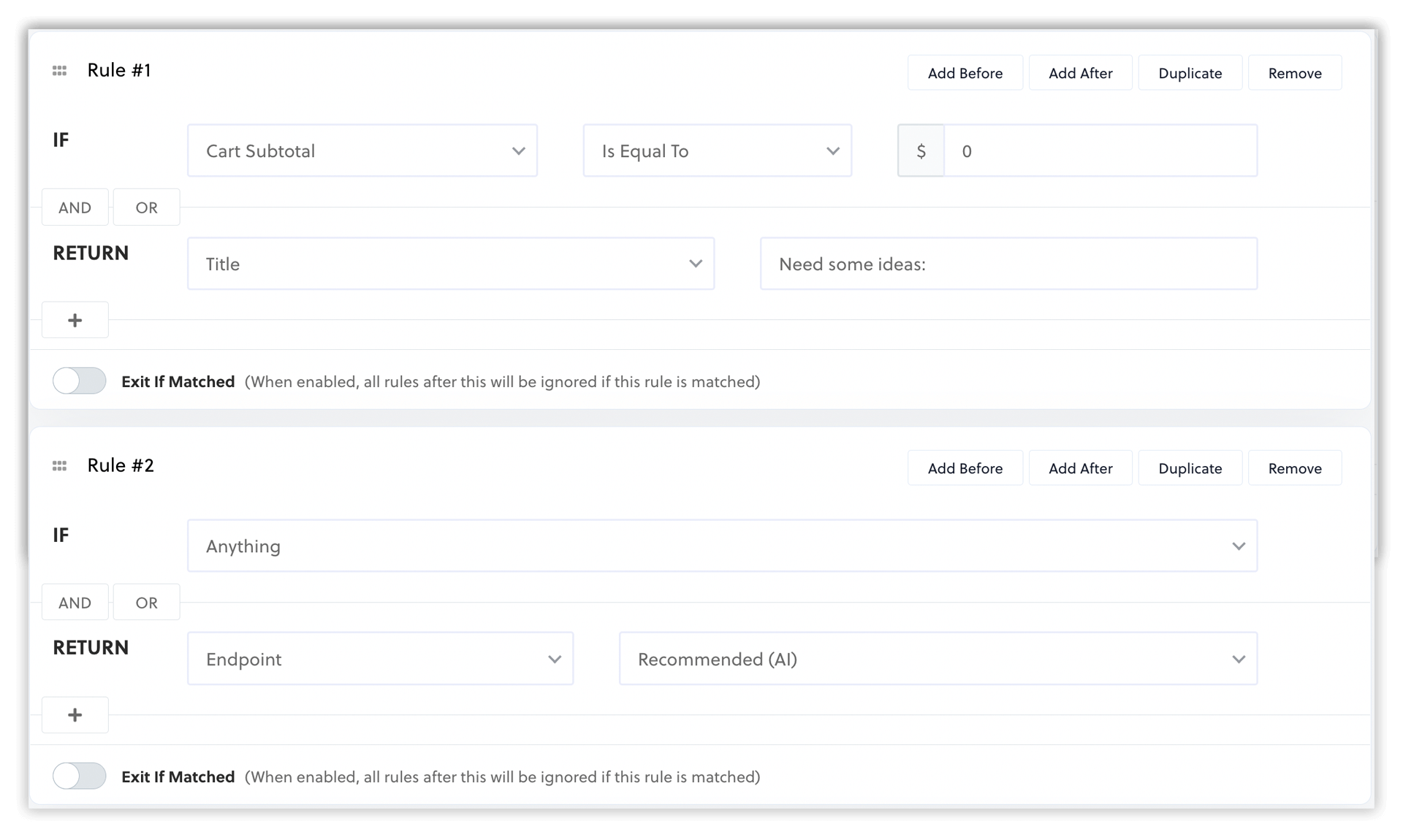 And for checkout, another rule displays products under $30, but only the ones that are in stock.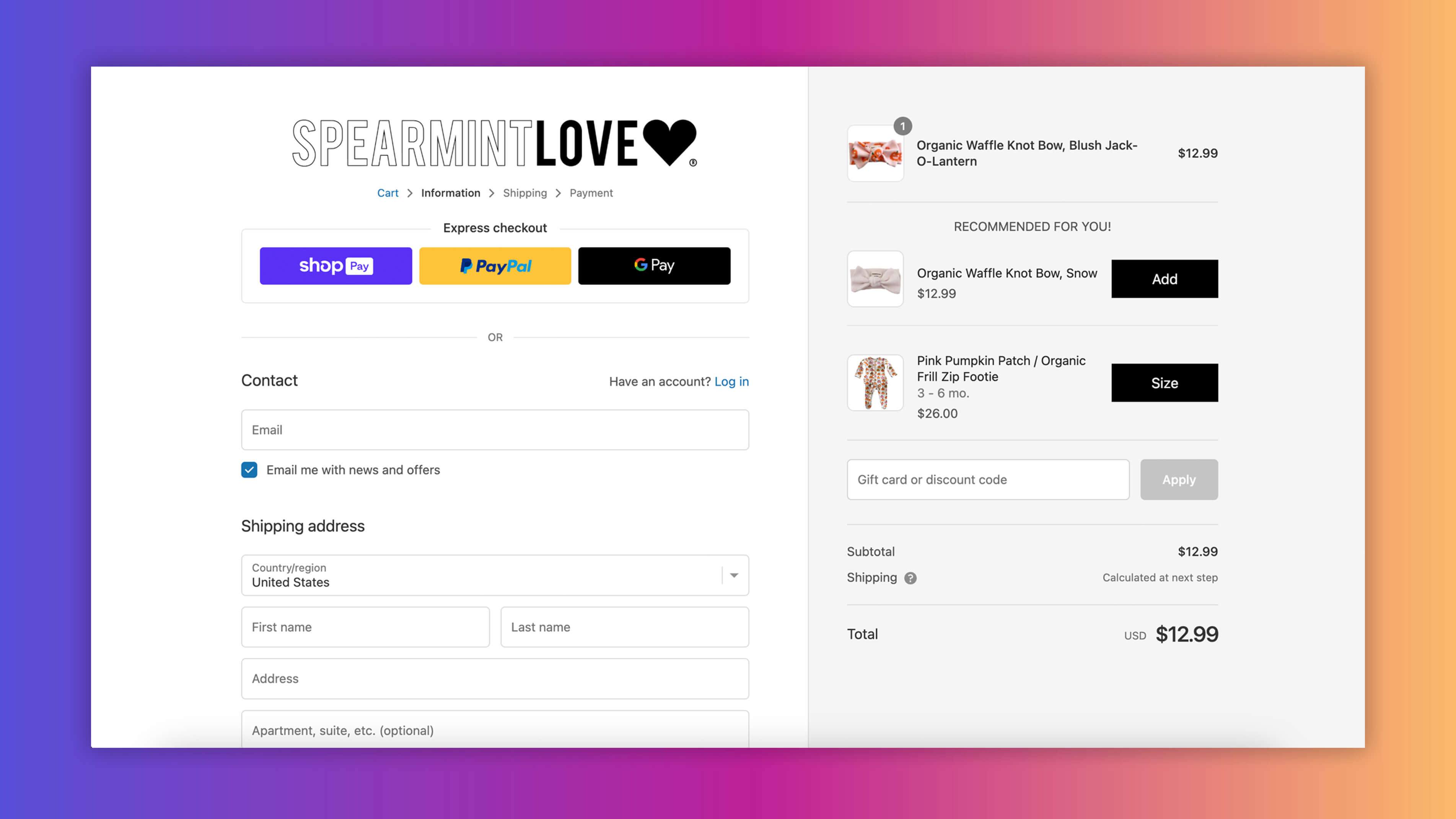 SpearmintLOVE checkout page recommendations
By letting Rebuy's AI tap into their customers' behavioral data, every shopper sees the most relevant products from their huge catalog every single time. And the cherry on top? Kent doesn't have to manually pick a single recommendation. She gets to sit back and watch the results roll in. Which were an 11.07% increase in AOV and nearly 10% of total sales credited to Rebuy. Plus, over 23% of orders included a product recommended by the system.
Takeaway: Let AI do the heavy lifting on your ecommerce site. Automate upselling and cross-selling by leveraging machine learning, saving your team time, and ensuring each customer sees the most relevant recommendations on every visit. This is about working smarter, not harder, and maximizing your sales while helping customers with their purchase decisions.
Ecommerce Personalization: The Complete Guide for Founders, Merchants, and Marketers
Your ecommerce personalization journey starts here👇
Skyrocket Your AOV With Rebuy
These product recommendation examples underscore the importance of targeted, data-driven recommendations to increase AOV. They show us, plain and simple, that tailoring the shopping experience to your customers isn't just a nice-to-have anymore — it's a MUST. By doing a deep dive into your customer's wants and needs, you'll transform your ecommerce platform into a powerful growth engine.
Need help with your product recommendation strategy? Let's chat.
•••
Try Rebuy free and see why the world's top brands use Rebuy to accelerate sales growth.
Interested in partnering with Rebuy? Let's do it.
To keep up with the latest trends, platform updates, and more, follow us on LinkedIn.